Northey takes USDA oath of office
Northey takes USDA oath of office
Former Iowa secretary of agriculture Bill Northey gets final nod to oversee farmer-focused programs at USDA.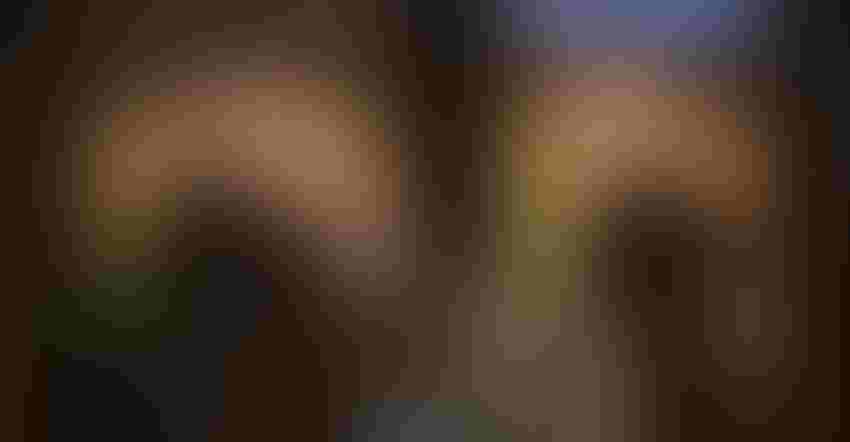 Agriculture Secretary Sonny Perdue administers the oath of office to Bill Northey at the Annual Iowa Ag Leaders Dinner. The event took place at the Paul R. Knapp Animal Learning Center on the Iowa State Fairgrounds, Des Moines, IA, on Wed., March 7, 2018.
USDA
On Tuesday, U.S. Agriculture Secretary Sonny Perdue administered the oath of office to Bill Northey at the Annual Iowa Ag Leaders dinner. Northey had served as Iowa's secretary of agriculture for more than 11 years before leaving that post to join the U.S. Department of Agriculture. Northey will serve as undersecretary for farm and foreign agricultural service at USDA.
Northey's clearance by the full Senate was held up after Sen. Ted Cruz (R., Texas) placed a hold on his nomination in an attempt to get a meeting with President Donald Trump on biofuel policy. After the meeting was held Feb. 27, Cruz dropped his hold, and Northey was cleared by the Senate hours later.
"After months of waiting, I'm thrilled to finally have Bill on board at USDA," Perdue said. "The patience he displayed throughout this process is an indicator of what kind of steady leader he will be on our team, and we are eager for him to get to work."
As part of the reorganization at USDA, Perdue created, the President appointed and the Senate confirmed Ted McKinney as the new undersecretary for trade and foreign agricultural affairs, as directed by the 2014 farm bill. The creation of the new mission area prompted the realignment of several agencies under a newly named undersecretary for farm production and conservation (FPAC), the position Northey fills. FPAC encompasses the Farm Service Agency, the Natural Resources Conservation Service and the Risk Management Agency. USDA is working with Congress to formally change the name of the mission area to FPAC.
Perdue added that Northey "comes to us at an important time, as farm incomes are down and expected to fall further. Additionally, with work on the 2018 farm bill already underway, Bill will play an integral role in the advice we offer to Congress."
In his role as Iowa's agriculture secretary, Northey worked closely with the National Association of State Departments of Agriculture (NASDA). NASDA chief executive officer Dr. Barbara P. Glenn said Northey's experience as Iowa agriculture secretary and his expertise on conservation, water quality and producers' needs will be tremendous assets to USDA.
"As NASDA advances our farm bill priorities, particularly with respect to enhancing locally led, voluntary and incentive-based conservation programs, undersecretary Northey will be instrumental in ensuring producers have the tools they need to be successful," Glenn said.
Sen. Chuck Grassley (R., Iowa) said Northey is highly qualified and honorable, noting that "his experience in soil conservation and renewable fuel development has helped grow and improve Iowa's agriculture sector. I have every confidence he'll use that expertise to do the same for the entire country."
Iowa Farm Bureau president Craig Hill said under the leadership of Northey, Iowa's agricultural economy has grown and diversified, and Iowa continues to be recognized as a national leader in conservation.
"Northey has been instrumental bringing new conservation opportunities and advocating for Iowa farmers seeking new and improved conservation practices on their farms. Northey has received praise and accolades for spearheading Iowa's Nutrient Reduction Strategy, which has been held up as a model for states in the Mississippi River Watershed," Hill pointed out.
"Northey's years of work improving water quality and conservation makes him extremely qualified to lead this new office within the USDA. It's important to have someone who truly understands agriculture in this important role, and Northey's experience as a farmer, success leading the Iowa Department of Agriculture & Land Stewardship and strong work ethic makes him a great fit for the position," Hill added.
Grassley noted that Northey, as a fourth-generation farmer, appreciates the ins and outs of farming. "That kind of understanding will prove invaluable as he works to implement critical national agriculture programs. I cannot think of anyone more passionate or better equipped to ensure America's farm programs are properly administered than undersecretary Northey," Grassley added.
In addition to his long service as secretary, Northey has also held other positions of leadership in agricultural fields. He is a former president of the National Corn Growers Assn. and served in state and local roles for the Iowa Farm Bureau.
Subscribe to Our Newsletters
Feedstuffs is the news source for animal agriculture
You May Also Like
---