Bipartisan senators speak out against Northey hold
Bipartisan senators speak out against Northey hold
Sen. Cruz's pressure to put a cap on RIN prices not finding support from Midwest senators.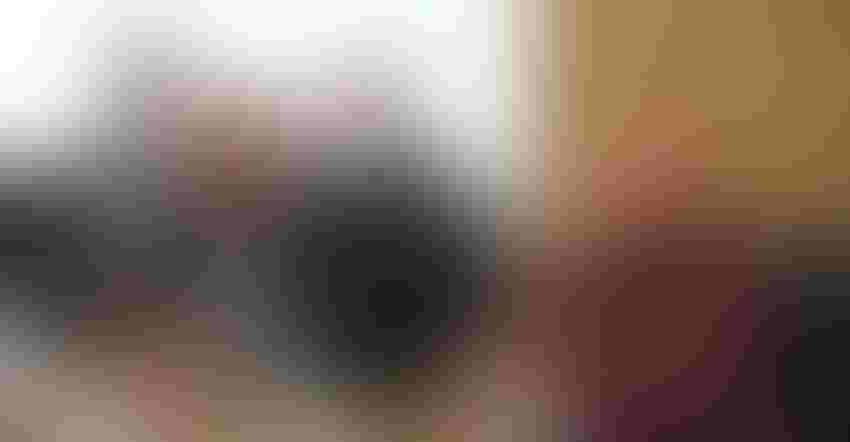 U.S. Secretary of Agriculture Sonny Perdue (right) was joined by Iowa Secretary for Agriculture Bill Northey on Friday, November 10th, 2017, for an agriculture tax and risk management roundtable at Rain and Hail's headquarters in Johnston, Iowa.
USDA
Senate colleagues joined together on the floor Wednesday afternoon to call for the immediate confirmation of Bill Northey, the nominee to serve as undersecretary of agriculture for farm and foreign agricultural services. Senate approval of the nomination is the last step in Northey assuming the position at the U.S. Department of Agriculture.
The Senate Agriculture Committee reported his nomination to the floor on Oct. 19, 2017, with unanimous bipartisan support. For more than three months, Northey's nomination has been held up by Sen. Ted Cruz (R., Texas) over Cruz's desire to push for reform of the Renewable Fuel Standard (RFS).
Sen. Chuck Grassley (R., Iowa) spoke on the Senate floor about the issue and was joined by Senate Agriculture Committee colleagues Sens. Debbie Stabenow (D., Mich.), the ranking member, Joni Ernst (R., Iowa) and Amy Klobuchar (D., Minn.).
Barring objection to Grassley's request for unanimous consent on Wednesday, Northey would have been confirmed to serve at USDA. Cruz objected, further delaying Northey's confirmation.
Grassley said he continues to be told that Midwest senators must accept Cruz's proposal for a guaranteed cap on renewable identification number (RIN) prices. The RIN system was developed as a flexible system that allows obligated parties to choose between investing in blending infrastructure or buying RINs for RFS compliance.
"I have been trying to work in good faith with the senator from Texas and have offered several options that would result in lower prices for RINs -- the compliance credits for the RFS," Grassley said on the floor.
Grassley's suggestions to lower RIN costs include increased market transparency to reduce speculation and making E15 fuel blends available year-round. Independent analyses do not support the claim that the bankruptcy of Philadelphia Energy Solutions (PES) was due to the RFS. In November 2017, the Environmental Protection Agency found, "After reviewing the available data, EPA has concluded that refiners are generally able to recover the cost of RINs in the prices they receive for their refined products, and therefore, high RIN prices do not cause significant harm to refiners."
North Dakota farmer Kevin Skunes, president of the National Corn Growers Assn., said, "Sen. Cruz claims he wants a 'win-win' that benefits corn farmers. Corn farmers' definition of a 'win-win' is providing regulatory parity for E15 and higher blends of ethanol, which would increase the supply of RINs to lower RIN values, and improving transparency in the trading system."
PES attributed its recent bankruptcy filing, in part, to the RFS. Grassley's staff this week released an analysis that finds that the biofuel blending requirement and the cost of RINs -- a compliance mechanism designed for flexibility -- have little to do with the success of refineries and were not significant factors in the PES bankruptcy.
Northey's qualifications
Northey is currently serving his third term as secretary of the Iowa Department of Agriculture & Land Stewardship.
"A farmer himself, he understands what American agriculture needs and has pledged to be a strong leader for our producers," Stabenow said. "Unfortunately, instead of serving our farmers and ranchers at USDA, his nomination has languished in partisan limbo because of an unrelated issue raised by a Senate Republican colleague not on the agriculture committee."
Skunes added, "Farmers need Bill Northey on the job at USDA, and Sen. Cruz's hold is harmful to farmers."
Renewable Fuels Assn. president and chief executive officer Bob Dinneen said it is "unconscionable" that Cruz is holding up the nomination of "in dogged pursuit of his very parochial agenda."
Dinneen added, "Bill Northey, by all accounts, is the right man for the job. Sen. Cruz should drop his hold on Mr. Northey, allow the President and (USDA) Secretary (Sonny) Perdue to complete their team and look beyond the talking points of a few mismanaged refineries to assure a more sustainable, all-of-the-above energy policy for all Americans."
Speaking before the House Agriculture Committee on Tuesday, Perdue said he felt like Northey's nomination was "caught in a crossfire" and noted that the position Northey is nominated for is very important as it deals with all of the customer-facing components at USDA, including the Farm Service Agency, Natural Resources Conservation Service and Risk Management Agency.
"It is frustrating it has nothing to do with Bill Northey," Perdue said, and asked members of Congress to do all they can to help remove that hold as soon as possible.
Subscribe to Our Newsletters
Feedstuffs is the news source for animal agriculture
You May Also Like
---