USDA nominee Northey finally cleared by full Senate
USDA nominee Northey finally cleared by full Senate
Sen. Cruz lifts his four-month hold on Iowa secretary of agriculture nominated for USDA undersecretary post.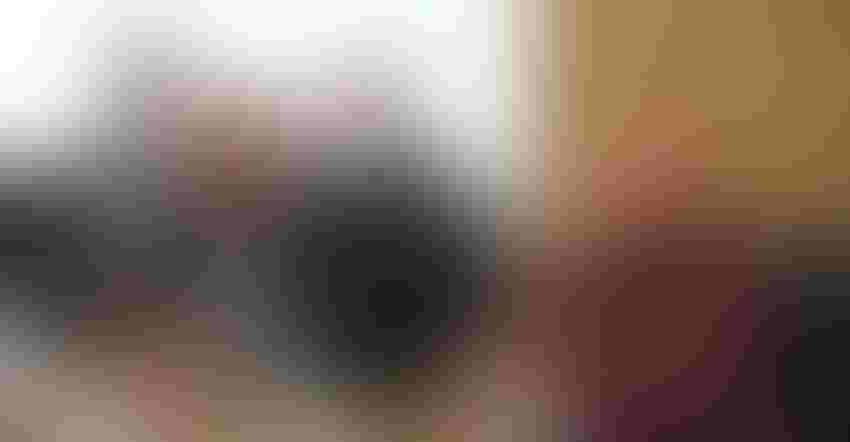 U.S. Secretary of Agriculture Sonny Perdue (right) was joined by Iowa Secretary for Agriculture Bill Northey on Friday, November 10th, 2017, for an agriculture tax and risk management roundtable at Rain and Hail's headquarters in Johnston, Iowa.
USDA
On Tuesday, after months of waiting, Bill Northey was approved by a voice vote in the U.S. Senate. Upon swearing in, Northey will serve as undersecretary of agriculture for farm and foreign agricultural services within the U.S. Department of Agriculture. In his new role, he will oversee the Farm Service Agency, Risk Management Agency and Natural Resources Conservation Service.
The Senate Agriculture Committee held a hearing for Northey's nomination on Oct. 5, 2017, but his final clearance was put on hold due to objections by Sen. Ted Cruz (R., Texas) over seeking a fix to the Renewable Fuel Standard (RFS).
Northey was favorably reported out of the committee with a bipartisan voice vote and has the support of more than 60 farm and conservation organizations. 
Senate Agriculture Committee chairman Pat Roberts (R., Kan.) said, "I'm pleased the Senate advanced Mr. Northey's nomination. I have no doubt he will be a champion for farmers and ranchers at USDA. Our committee worked in a bipartisan fashion to get Mr. Northey down the road to work at USDA."
His new boss, Agriculture Secretary Sonny Perdue, applauded Northey's patience over these many months, saying it demonstrates what a strong leader he will be at USDA. "Bill will come aboard at a crucial time, as his knowledge and expertise will be immediately put to use as the new farm bill is formulated to address the needs of American farmers," Perdue said. "In addition, his leadership will be key in the newly constituted mission area, where the Farm Service Agency, the Natural Resources Conservation Service and the Risk Management Agency will be providing an even better customer experience. I am excited to finally have Bill on board."
Iowa Corn Growers Assn. (ICGA) president Mark Recker said throughout Northey's distinguished tenure as Iowa secretary of agriculture, "he has been a tireless advocate for Iowa's corn farmers, and we are thankful to have someone with such a deep agricultural leadership background in this vital position."
Throughout his career in agriculture, Northey has been a leader in a variety of farm groups, including serving as ICGA president in 1991-92 and as National Corn Growers Assn. president and chairman in 1995-97.
Northey is a fourth-generation farmer who grows corn and soybeans on his farm near Spirit Lake, Iowa. In his three-terms as Iowa secretary of agriculture, Recker said Northey has "promoted science and technology-based solutions to better conserve our soil, water and air, helped to expand ethanol infrastructure in our state and helped tell the story of Iowa agriculture, including through his avid use of social media."
Recker added that ICGA looks forward to working with Northey "on several important issues, including pushing for new markets for agricultural exports, expanding the role of higher blends of ethanol in our nation's fuel supply, preserving funding for risk management and conservation programs in the 2018 farm bill and the rollout of the (genetically modified organism) labeling standard."
Iowa Renewable Fuels Assn. executive director Monte Shaw said for four months, Cruz used his hold on the confirmation vote as a "political football in an attempt to undermine the RFS." He added, "While it took too long, Sen. Cruz finally realized that Northey had no interest in being confirmed on the back of dismantling the RFS. Iowa Sens. Chuck Grassley and Joni Ernst head to the White House today (Tuesday) determined to push back against the false narratives Cruz continues to push in his efforts to gut the RFS and preserve the petroleum monopoly on our fuel supplies."
Renewable Fuels Assn. president and chief executive officer Bob Dinneen was also glad to see a resolution to Northey's nomination. "Bill is eminently qualified to help our nation's farmers, but unfortunately, his nomination fell victim to political games. There is no better champion for farmers than Bill Northey. He is the right man for the job and will be an enormous asset to USDA Secretary Perdue."
Dinneen added, "In 30 years advocating for ethanol, I have met and worked with hundreds of state ag secretaries. I can tell you without question or hyperbole that Bill has been the hardest working, most knowledgeable and most committed to farmers of anyone I have ever known. He will now bring that passion and expertise to farmers all across the country."
Subscribe to Our Newsletters
Feedstuffs is the news source for animal agriculture
You May Also Like
---