Ag groups warn Trump KORUS withdrawal misguided
Ag groups warn Trump KORUS withdrawal misguided
As early as Tuesday Trump administration could issue a 180-day notice to withdraw from South Korea free trade deal.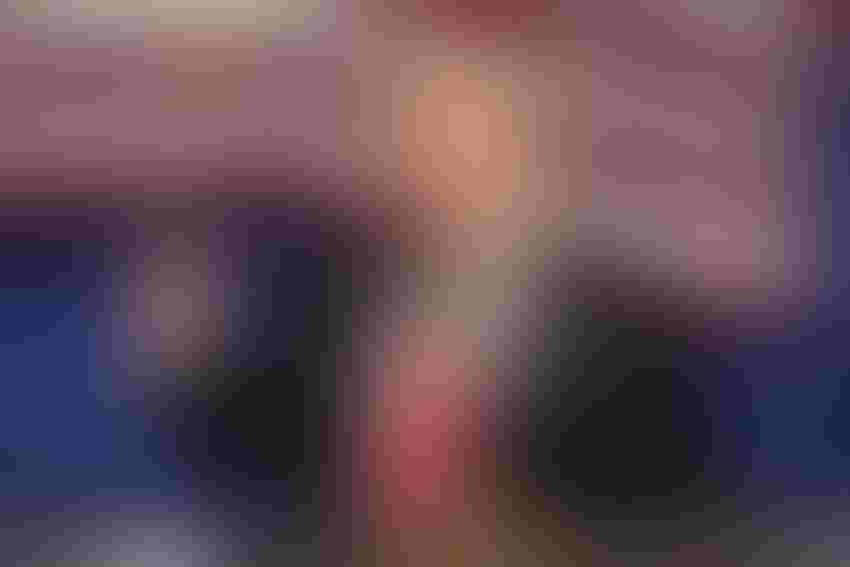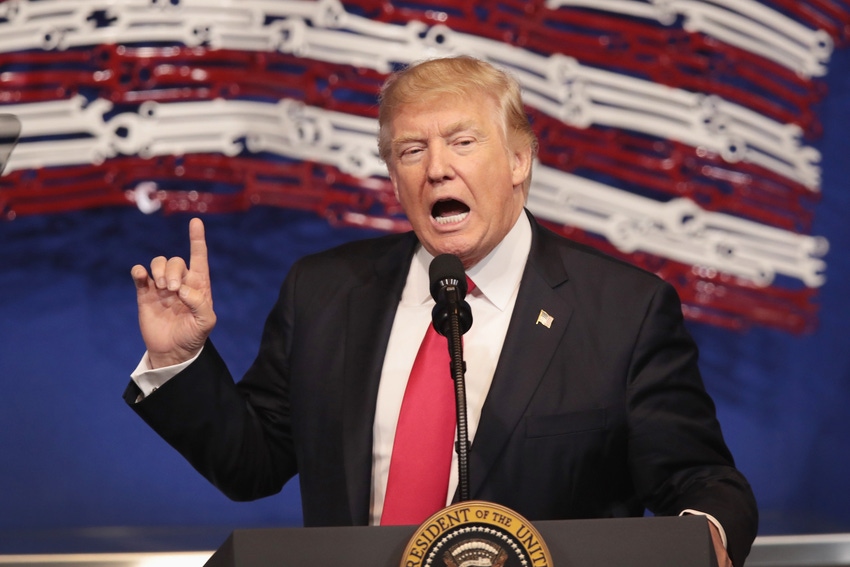 President Donald Trump speaks to workers at the headquarters of tool manufacturer Snap-On on April 18, 2017, in Kenosha, Wis.
Scott Olson/Getty Images
Reports indicate the Administration may issue on Tuesday a notice of intent to withdraw from the Korea-U.S. Free Trade Agreement (KORUS). Agricultural groups were quick in issuing a stern warning that withdrawal from the pact, and the larger strategy of brinkmanship with regard to trade agreements by the White House, could have disastrous consequences for the nation's farmers.
South Korea walked away from talks with the United States on updating the deal on Aug. 21, saying it needs further "investigation, analysis and evaluation" before making any decision.  Many agricultural groups have been trying to relay the benefits of the South Korea deal to U.S. agriculture and how harmful it would be if the United States withdraws.
American Soybean Assn. (ASA) president Ron Moore said in a statement to President Trump that a withdrawal from KORUS would hurt everyone. "As soybean farmers, we benefit greatly from exports, which contribute a $2 billion annual surplus to our nation's balance of trade. Trade makes our local businesses and our communities stronger. Yet whether it's South Korea, Mexico and Canada, or our neighbors on the Pacific Rim, we once again find ourselves fighting to communicate the value of trade to farmers," Moore said.
"With respect to South Korea, we supply nearly half of the 1.3 million tons of soybeans that country imports, with no tariffs as a result of the KORUS agreement. Most of Korea's soybean imports, however, come from our competitors in Brazil and Argentina. If we withdraw, reinstatement of tariffs will make it hard to maintain our market share and will further increase our competitors' advantage. And it would be devastating for our U.S. livestock customers who export meat products to South Korea," Moore said.
Moore also took issue with the disregard of how important trade is to American farmers and remaining competitive in the world market. "The idea that we're the only game in town when it comes to selling soybeans or other agricultural products abroad is false. So is the notion that there's always another country that will buy our commodities. Furthermore, even the threat to withdraw from this or any trade agreement is a dangerous course of action. Repeatedly walking our trade relationships to the brink, or actually breaking them, only weakens our standing abroad."
The U.S. Grains Council (USGC) warned it will lead to immediate and sustained losses in sales to the third largest corn customer. "Fully 96% of feed producers in South Korea now use DDGS, an astounding statistic for a product that barely existed in the market 20 years ago, and one critical to U.S. producers who have suffered lost business due to China's adverse tariffs decisions," USGC said.
"KORUS has solidified and enhanced our longtime and fruitful partnership with South Korea. Unilaterally walking away from it now is a rash move that will harm relationships we have built over a period of 40 years at the expense U.S. farm country," stated USGC.
The U.S. Wheat Associates (USW) and National Assn. of Wheat Growers (NAWG) also strongly urged the administration not to withdraw. Korea was the third largest volume importer of U.S. wheat in marketing year 2016/17.
"We believe it would be irresponsible to unilaterally walk away from this or any other trade agreement," said Mike Miller, USW chairman and a wheat grower from Ritzville, Wash. "Withdrawing raises the specter of retaliation against agricultural exports and creates unnecessary uncertainty in the market. Any disruption in the relationship wheat growers have built in Korea over more than 60 years gives Australia, Canada and even Russia an opening to move in and take business away from us at a time when we are all struggling to stay profitable. KORUS, like the North American Free Trade Agreement, has been very good for American agriculture."

"We think this trade agreement, negotiated in good faith and strongly supported in Congress, reinforces the Administration's stated goal to sell more agricultural products overseas," said David Schemm, NAWG president and a wheat grower from Sharon Springs, Kan. "We support finding ways to improve any agreement, but let's do that in a reasoned and respectful way, with input from all stakeholders so U.S. wheat farmers can gain greater access to world markets."
CEOs of the National Cattlemen's Beef Assn., the North American Meat Institute, and U.S. Meat Export Federation (USMEF) sent a letter at the end of July to USDA Secretary Sonny Perdue and Ambassador Robert Lighthizer of USTR to urge the administration not to jeopardize market access during a potential KORUS re-do.
Under KORUS, the U.S. beef industry has seen an 82% increase in annual sales to South Korea, from $582 million in 2012 to $1.06 billion in 2016, making South Korea the second largest export market for U.S. beef.
The National Pork Producers Council has also actively been sharing the detrimental effect on U.S. pork producers reverting to pre-KORUS tariffs would have. For the 12-month period ending May 2017, U.S. pork exports to South Korea were $444 million, making the Asian nation the No. 5 export market for U.S. pork.
Subscribe to Our Newsletters
Feedstuffs is the news source for animal agriculture
You May Also Like
---