Wastewater technology aims to reduce poultry production water usage
Wastewater technology aims to reduce poultry production water usage
Micro-Tracers product will be tested for its ability to disinfect poultry scalder water onsite with emphasis monitoring Salmonella and Campylobacter levels.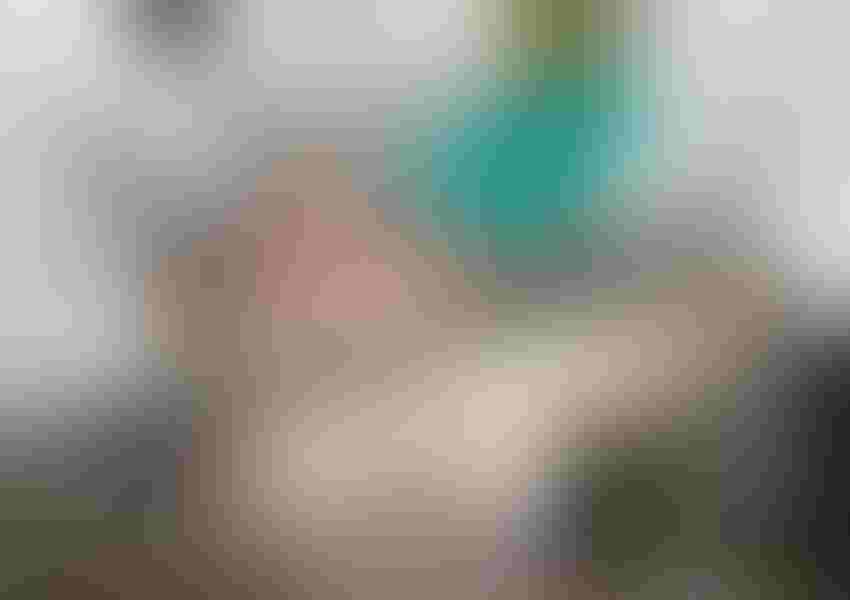 Poultry scientists with the University of Arkansas System Division of Agriculture are testing new technology aimed at reducing the substantial amount of water typically used to process chicken for consumers.
Researchers with the Arkansas Agricultural Experiment Station have received more than $350,000 as part of a nearly $1 million USDA grant to investigate a novel water disinfection technology. California-based technology company Micro-Tracers is the lead organization on the project, which began in February and will continue for two years.
The Arkansas Agricultural Experiment Station is the research arm of the Division of Agriculture.
Clean water is necessary to ensure the safety of poultry products, which can become contaminated with bacteria that cause foodborne illness. The Centers for Disease Control and Prevention reported poultry as the top food that caused outbreak-associated illnesses between 2009 and 2018.
Outbreaks are expensive as well. In 2018, foodborne illnesses cost $17.6 billion in terms of medical care and lost economic productivity, according to the Economic Research Service of the USDA.
The target
The project aims to improve wastewater management in small- to medium-sized poultry processing plants by implementing wastewater disinfection technology developed by Micro-Tracers, said Tomi Obe, assistant professor with the Center of Excellence for Poultry Science and the department of poultry science.
Water is used during de-feathering and chilling to remove bacteria that grow on raw poultry. Obe said that the new disinfection technology could allow processors to disinfect poultry wastewater on site to improve sustainability and reduce water costs for processors. "We can reuse that water during further steps of processing," Obe said.
Maintaining safety standards requires many gallons of water. The Natural State Processing Plant uses an estimated 22,000 to 25,000 gallons of water per day, Obe said. The plant could reduce its water use with the water disinfection technology and water reuse program in the study.
Obe will work with Casey Owens, Novus International professor of poultry science, to test the utility and efficacy of the technology in killing bacteria in wastewater.
Work at Micro-Tracers will be performed by Nikolay Barashkov, director of research and development and the project's director, in collaboration with Mark Carlson, senior chemist and David Eisenberg, president of Micro-Tracers. The project was pioneered by David's father, Sylvian Eisenberg, founder of Micro-Tracers, Inc., and the original disinfection technology was intended for the poultry industry. Laila Lam, section supervisor of microbiology at Anresco Laboratories in California, will also assist in the project.
"The overall goal of this collaboration is to increase the safety of poultry products and improve agricultural sustainability especially when national food systems are stressed," Barashkov said.
In 2018, Micro-Tracers collaborated with the University of Arkansas System on a USDA-funded project to test another water treatment method, Barashkov said. Owens and Yanbin Li, distinguished professor of biological and agricultural engineering and Tyson endowed chair in biosensing engineering, provided technical guidance and materials — including poultry wastewater — to the Micro-Tracers research and development laboratories.
"Dr. Casey Owens and Dr. Tomi Obe have hands-on experience with different poultry processing companies and extensive knowledge of the persistence of foodborne pathogens in the poultry processing environment," Barashkov said.
The new disinfection technology
The device from Micro-Tracers allows for the formation of disinfectants within the wastewater rather than adding chemical disinfectants.
Wastewater moves through two reaction cells that generate oxidants. Oxidants like hydrogen peroxide take electrons from other molecules. Hydrogen peroxide works by producing molecules called hydroxyl-free radicals that can attack bacterial cell membranes, DNA and other essential cell components to disrupt and deactivate pathogens in wastewater, with the added advantage of producing generally non-toxic byproducts. After disinfection, the water can be reused.
Clean water, safe poultry
Obe and Owens' part of the project is to test the new technology from Micro-Tracers and evaluate its ability to disinfect poultry scalder water onsite with an emphasis on monitoring the levels of Salmonella and Campylobacter, two common illness-causing bacteria found on raw poultry. Tests will take place at the Division of Agriculture's Poultry Pilot Processing Plant in Fayetteville. They will also help test the technology at Natural State Processing, a Cypress Valley meat company that processes over 3,000 chickens per day.
Micro-Tracers is already conducting preliminary tests in its facilities, comparing results from different configurations of the disinfecting device as it is used to treat scalder wastewater.
The experiments at the Pilot Processing Plant and Natural State Processing will include different timed trials over the next two years. Obe and Owens will collect water samples for microbial and chemical analysis.
Obe said that finding ways to maximize water savings helps poultry producers and the environment. "That's the big deal with what inspires this project, to help the poultry industry to reduce the amount of water they use for sustainability purposes."
Subscribe to Our Newsletters
Feedstuffs is the news source for animal agriculture
You May Also Like
---