China targets tariff increase at soy, beef, pork
China targets tariff increase at soy, beef, pork
China's 5-10% tariff increase on $75 billion worth of U.S. goods is in retaliation to Trump's recent tariff threats.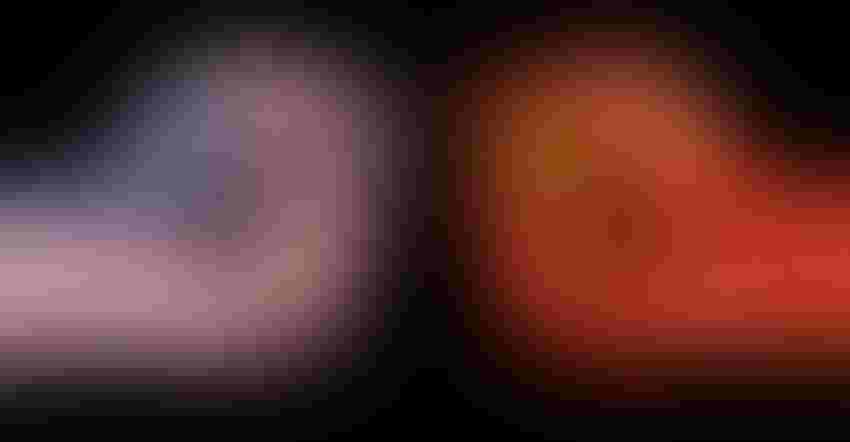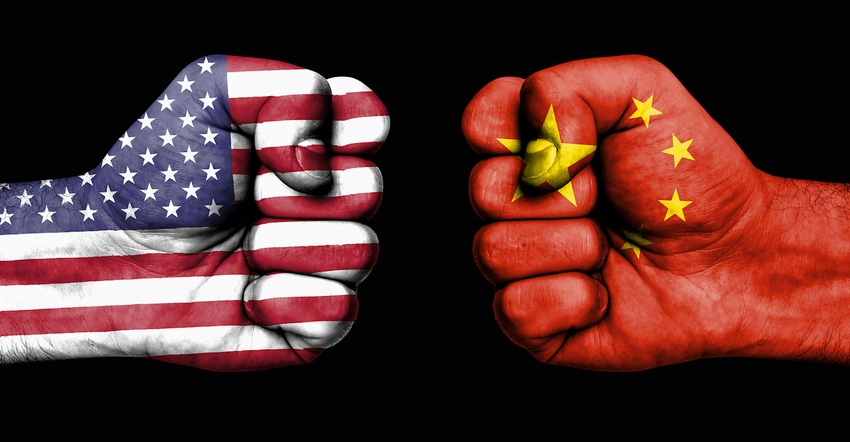 andriano_cz_iStock_Thinkstock
In another ratcheting-up of the ongoing trade war, China announced Friday that it will impose a tariff increase on U.S. agricultural products, including another 5% tariff on U.S. soybeans starting Sept. 1 and an additional 10% duty on U.S. wheat, corn and sorghum starting Dec. 15.
China will also levy an extra 10% tariff on U.S. beef and pork as of Sept. 1, according to lists published on the commerce ministry's website.
The People's Republic of China announced that it will move forward with implementing tariffs of as much as 10% on $75 billion worth of U.S. products in retaliation for President Donald Trump's threats to impose new duties on Chinese imports in September. The duties — announced and then suspended earlier this year — are in response to the U.S. government's 10% tariff on $300 billion worth of goods from China.
Jim Monroe, assistant vice president of communications at the National Pork Producers Council, said the group is working to independently confirm these reports.
In an email response, Monroe noted, "Any escalation in the trade dispute with China is a major concern to U.S. pork producers. China, the largest pork-consuming nation in the world, is seeking reliable sources of pork as it deals with African swine fever. There is no more reliable source than the United States. U.S. pork producers are eager to compete on a level playing field in China and to more fully participate in this unprecedented opportunity. Unfortunately, the current trade dispute prevents us from doing so."
Davie Stephens, president of the American Soybean Assn. (ASA), spoke on behalf of the association, and said, "ASA has strongly requested an end to the tariffs on U.S. beans for more than a year. This escalation will affect us not because of the increasing tariff on our sales, which have been at a virtual standstill for months, but through time. The longevity of this situation means worsening circumstances for soy growers who still have unsold product from this past season and new crops in the ground this season – with prospects narrowing even more now for sales with China, a market soy growers have valued, nurtured, and respected for many years."
ASA would like to see both parties - China and the United States- step up, stop tariffs, and find resolution that does not target soy growers trapped in the middle. Real people—Chinese citizens, the American public, and our soybean farmers—are the ones feeling the effects of this trade war, ASA said in a statement.
In a statement from the coalition Farmers for Free Trade, the group noted, "The rapid evaporation of the Chinese market has for the first time in over four decades brought us to the brink of losing our agriculture trade surplus with the rest of the world. While American farmers are on the sidelines, farmers in Brazil, Canada and Russia are reaping the benefits of the administration's trade policy decisions."
Senate Finance Committee Chairman Chuck Grassley (R., Iowa) said in a statement President Trump is right to fight back against China's well-documented rule breaking and intellectual property theft.
"He's the first president to take action on a problem that's been going on for decades. China's economy is hurting as a result, but so too are U.S. consumers and many sectors in the American economy," Grassley said. "Iowa farmers have been particularly hard hit and are at risk of permanently losing an export market. The only way to end this trade war is for China to come to the table and negotiate seriously on an enforceable deal that ends its bad behavior and unfair trade practices. In the meantime, tariffs cannot be the only negotiating tool. Tariffs are not a long-term solution."
Michael Best Strategies partner Denise Bode stated in a notice that Office of Trade & Manufacturing Policy director Peter Navarro, who provides a strong protectionist voice in U.S. trade talks, denied that the announcement caught the White House off guard and downplayed the impact of the latest volley in the high-stakes trade war.
"This was a move that was well signaled. It's breaking news, I guess, but it was well anticipated," Navarro said in an interview.
Bode said it was not immediately clear if the tariff announcement would have any impact on the planned trade talks.
The U.S. Trade Representative Friday also announced in response to China's decision, and in order to achieve the objectives of the China Section 301 investigation, President Trump has instructed USTR to increase by 5% the tariffs on approximately $550 billion worth of Chinese imports. 
For the 25% tariffs on approximately $250 billion worth of Chinese imports, USTR will begin the process of increasing the tariff rate to 30%, effective October 1 following a notice and comment period. For the 10% tariffs on approximately $300 billion worth of Chinese imports that the President announced earlier this month, the tariffs will now be 15%, effective on the already scheduled dates for tariff increases on these imports. 
Subscribe to Our Newsletters
Feedstuffs is the news source for animal agriculture
You May Also Like
---