Recombinetics, DNA Genetics form alliance to end surgical castration of swine
Recombinetics, DNA Genetics form alliance to end surgical castration of swine
Alliance aims to improve swine health and well-being by developing precision breeding technology.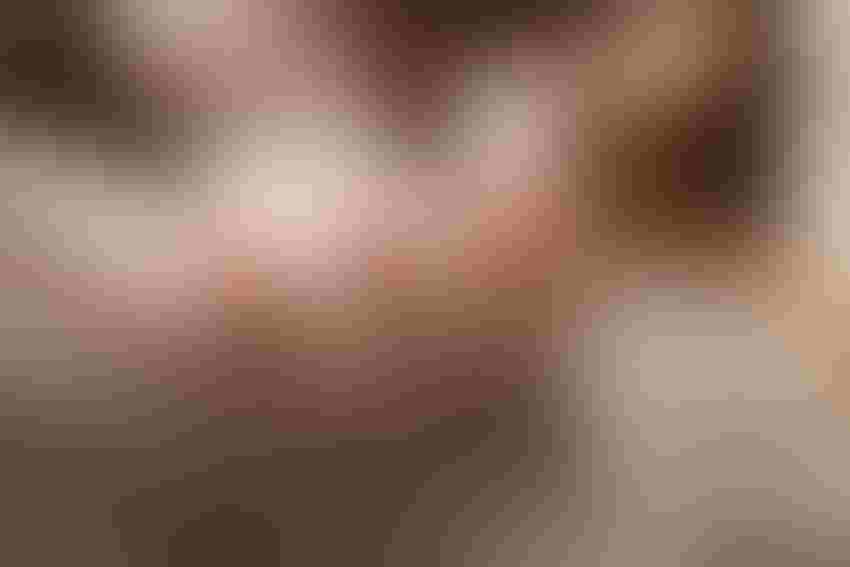 Patarapong/iStock/Thinkstock
Recombinetics, a pioneer in gene editing solutions for animal agriculture and human health, and DNA Genetics, a swine genetics supplier, announced Jan. 3 an alliance to end surgical castration in swine by developing precision breeding technology that results in male piglets born naturally castrated.
This breeding technology focuses on swine health and well-being while ensuring good meat quality, the companies said.
This partnership will help evaluate, develop and commercialize the castration-free swine trait with a goal to get the technology into the hands of pork producers globally, Recombinetics and DNA Genetics said.
Male piglets used for pork production are routinely castrated to improve the quality of meat for consumers. Castration is used to avoid "boar taint" — an unpleasant odor and an unsavory taste — that affects the pork product's marketability to consumers. Castrations affects animal well-being and adds health risks to animals from the potential side effects of these management interventions, the companies noted.
Scientists at Recombinetics developed a precision breeding method that results in male piglets that remain in a pre-pubertal state. This approach will eliminate the need for castration.
"We create technology-driven solutions that improve animal health and well-being. From producing naturally hornless cattle to now eliminating the routine castration of swine, we have a proven track record of bringing science-based solutions to benefit animal health," Recombinetics president and chief executive officer Tammy Lee Stanoch said. "By partnering with industry leader DNA Genetics, we have the combined expertise to bring the castration-free trait to market and provide solutions that can benefit the entire pork industry."
To determine the commercial viability of pigs bred to not need castration, alliance researchers will evaluate findings to investigate the feed efficiency, meat quality and best practices for recovery of puberty and fertility.
The research is being led by principal investigator Dr. Tad Sonstegard, chief scientific officer of Acceligen, the agriculture division of Recombinetics.
"Precision breeding includes a range of technologies that will have a strong impact on genetic improvement programs. We are pleased to be a part of furthering these technologies and increasing our understanding of precision breeding and its application in a breeding system," DNA Genetics chief technical officer Tom Rathje said. "This specific project is an innovative use of precision breeding techniques that have the potential of improving both animal health and efficiency. We are pleased to be a part of making this technology available to the pork industry."
"To support the needs of the international swine marketplace, we will continue to explore additional opportunities to deploy our technologies with key partners that support the importance of improving animal health and well-being," added Dr. Mitch Abrahamsen, chief commercial and scientific officer at Recombinetics.
On Dec. 14, 2017, The Foundation for Food & Agriculture Research awarded a $500,000 grant to Recombinetics to use new techniques to breed swine that will eliminate the need for surgical castration. Additional funding is provided by The Open Philanthropy Project. This partnership supports producers' ability to adapt to a changing animal production landscape.
Founded in 2008, Recombinetics actively delivers viable gene-edited animals for biomedical and food production purposes and currently generates commercial and collaborative revenues. The company's technology platform supports three business lines: Acceligen, Surrogen and Regenevida. Acceligen uses accelerated precision breeding to develop elite, gene-edited animals with specific traits to enhance animal health, well-being and productivity. Surrogen develops gene-edited animal models of human diseases for biomedical research and treatment development. Regenevida focuses on regenerative medicine by creating replicas of patients' cells, tissues and organs using their own DNA.
Recombinetics has a global intellectual property portfolio, with 18 patents issued and more than 200 patent filings on gene editing methods, traits and novel reproduction methods in animals.
DNA Genetics is a swine genetics supplier based out of Columbus, Neb. Because it is producer owned, DNA Genetics said it has a deep appreciation of the needs of the pork producers and seeks to produce genetic improvement that addresses the challenges and long-term needs of its customers.
Subscribe to Our Newsletters
Feedstuffs is the news source for animal agriculture
You May Also Like
---