Controlling salmonella in swine feed worth the expense
Controlling salmonella in swine feed worth the expense
Risk management measures taken in feedstuff supply chain and pork affect prevalence of salmonella up to consumer level.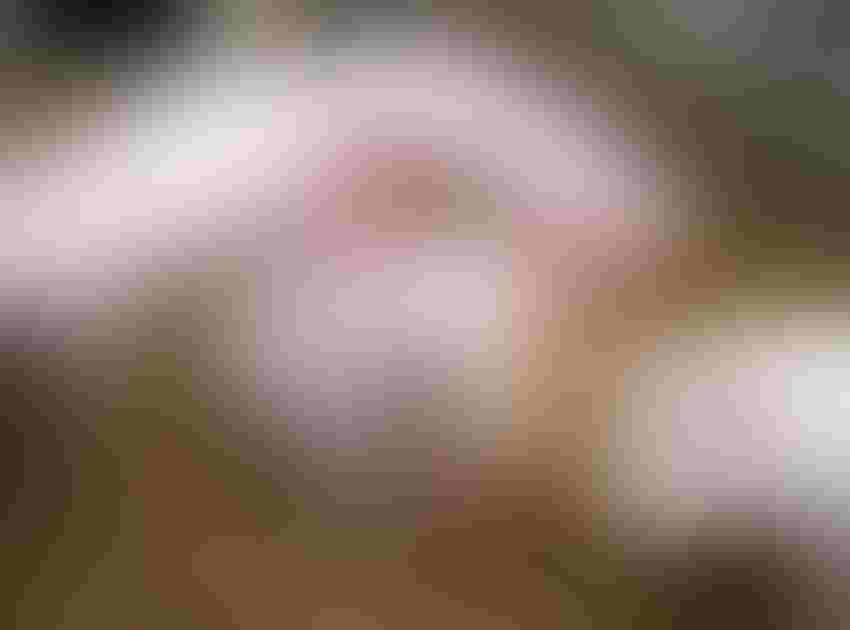 Zoonar RF_Zoonar/Thinkstock
With feed sanitation remaining a key topic, researchers around the world are investigating feed and feed ingredients as transmission vectors for viruses and pathogenic bacteria.
At the recent American Association of Swine Veterinarians meeting, Dr. Scott Dee presented additional findings from his research project evaluating the transboundary survival of viral pathogens in contaminated feed ingredients.
Meanwhile, researchers in Finland have determined that measures the country has taken for decades to control and prevent salmonella infections derived from feed, pigs and pork have been cost effective.
While salmonella is still a rare finding at pig farms and in feedstuffs for pigs in Finland, researchers with the Finnish Food Safety Authority Evira and Natural Resources Institute Finland (Luke) conducted a study on the risk of swine feed-borne salmonella and the costs of and benefits of the country's salmonella control program.
The quality of feedstuffs plays a significant role in the food supply chain. According to the announcement from Luke, study results show that the risk management measures taken in the feedstuffs supply chain and pork affect the prevalence of salmonella up to the consumer level. Controlling swine feed-borne salmonella and related measures to prevent the spread of salmonella are cost effective and beneficial.
"This study is the first one in Finland concerning the risk assessment of salmonella and cost-effectiveness of salmonella control starting already from imports of feed raw materials and production of feed. Results from this study can be put into practice, particularly when assessing how current practices in salmonella control function as well as the need for change and possible consequences from changes made," said professor Pirkko Tuominen, head of the Evira risk assessment research unit.
This study covered procurement of feed raw materials, production and handling of feedstuffs, feeding the pigs and production of pork, Luke said. The prevalence of salmonella in the production chain of swine feed and in pigs was estimated using a series of statistical models.
"In this model, even the maximum prevalence of salmonella in pig feed and feed raw materials was estimated to be less than 2%. This estimate also includes the commonly used source of protein: soybean meal. Mean prevalence of salmonella in pigs was 0.25%, which was thus clearly lower than the maximum of 1% set as a goal in Finland, although this estimate also included unidentified infections," Evira senior research professor Jukka Ranta said.
Sources of salmonella infections in pigs were also assessed using typing data of salmonella strains isolated from pigs and wild animals. It was estimated that feedstuffs explained an average of one-third of salmonella infections in slaughter pigs, Luke reported. However, an exact estimate was not possible, since there is substantial uncertainty in the proportion of other sources of infection and since infections are rare.
The cost:benefit analysis of salmonella control was made on the basis of cost data from 2013 for both salmonella prevention measures and for costs caused by salmonella detection. Costs for current salmonella control measures were compared to an alternative where control and prevention of salmonella would be less intensive than current practices and where no measures would be taken, even if feed-borne salmonella was detected, Luke said. In this case, the number of salmonella infections in animals and humans would increase.
Luke noted that the researchers estimated that preventive costs related to feedstuff imports, feed production and measures taken at pig farms would total 1.8-3.0 million euros per year.
"Currently, costs from control and prevention of salmonella as well as costs resulting from salmonella-contaminated pig feedstuffs and subsequent decontamination measures as well as outbreak of infections in humans totaled about 4.1-5.4 million euros per year. In an alternative situation where there would be no control of feed-borne salmonella, prevalence in pig feedstuffs would be higher. This would result in an increase in salmonella infections in pigs to up to 12%. As for costs, this could mean an increase of up to seven-fold, totaling an average of about 34 million euros per year," Luke research professor Jarkko Niemi said.
Subscribe to Our Newsletters
Feedstuffs is the news source for animal agriculture
You May Also Like
---