INSIDE WASHINGTON: Focus made on ag research
INSIDE WASHINGTON: Focus made on ag research
Ag research caucus in Congress offers opportunity to build momentum for increased ag research funding.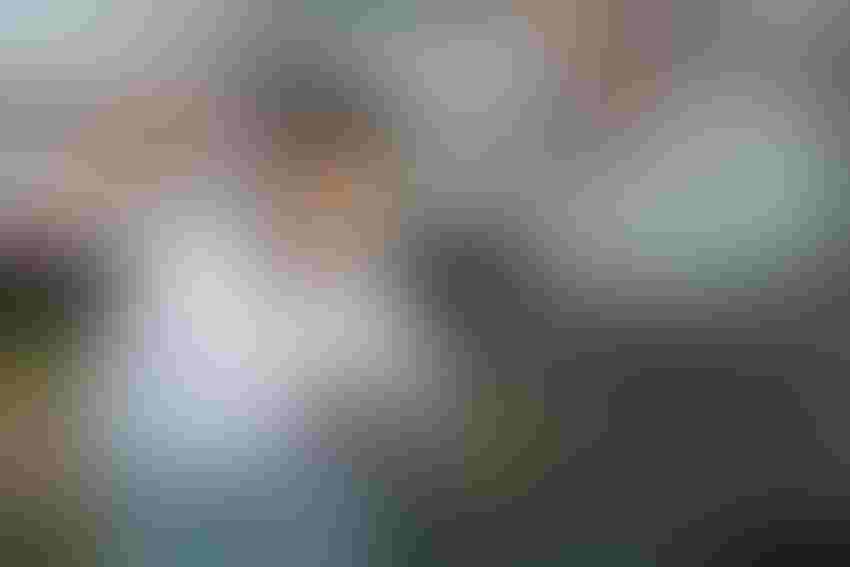 South Dakota State University associate biology and microbiology professor Wanlong Li assesses the growth of two-week-old wheat seedlings. Through a new three-year, $930,000 U.S. Department of Agriculture grant, Li hopes to improve wheat yields by increasing the size and weight of the kernels.
Credit: Photo by Emily Weber/South Dakota State University.
Ten years ago, momentum for reshaping how the U.S. Department of Agriculture funds research was building in Congress, and as a result, the 2008 farm bill established the Agriculture & Food Research Initiative (AFRI) within the agency.
With leadership from Reps. Rodney Davis (R., Ill.) and Jimmy Panetta (D., Cal.), the momentum continues to build for a stronger science capacity with their announcement to establish a bipartisan Congressional Agriculture Research Caucus.
The caucus is dedicated to topics related to agricultural research, innovation and mechanization efforts. As co-chairs, Panetta and Davis hope to educate and engage with their fellow members of Congress on these issues. As Congress prepares for the 2018 farm bill discussions, the caucus will provide a platform for Panetta and Davis to elevate challenges facing agricultural producers across the country.
"By investing in agricultural research today, we will ensure U.S. agriculture remains competitive globally and continues to lead the way in food and agriculture innovation," Davis said. "Additionally, the potential for public/private partnership between industry and academia allows us to expand our horizon and reach new goals. I look forward to joining my colleagues on both sides of the aisle to make agriculture research a priority."
Federal funding for agricultural research has been stagnant over the past decade and has declined in real terms. Concurrently, China, India and Brazil are all ramping up their agricultural research investments, creating a lag that the U.S. must address.
From 2005 to 2012, USDA funding for agricultural research declined by 16% in real terms, falling from $2.9 billion to $2.4 billion in 2014 dollars. Over the 1990-2012 period, funding for the National Institute of Health increased 135%, while USDA funding increased 21% over that same period, according to testimony during a House Agriculture Committee hearing in March.
"Farmers face a deluge of threats: the markets, the weather, the pests, the operating expenses; everything is changing at unsustainable speeds," said Thomas Grumbly, president of the Supporters of Agricultural Research Foundation. "Cold, hard science is the lifeblood of the USDA and the one thing that can help farmers adapt and adjust so that the food on Americans' dinner table remains safe and nutritious."
Panetta, who comes from what is known as the "Salad Bowl of the World" in central California, said strategic investments in research for plant breeding, crop protection and mechanization will support the future success of the agriculture industry while also helping to address major concerns relating to resource conservation and labor shortages.
National Sustainable Agriculture Coalition policy director Greg Fogel said every industry needs to invest in research to survive and thrive, and that includes agriculture. "We not only need to invest more in our nation's farmer-driven research programs and public plant and animal breeding institutions; we also need to help the public understand the importance of these investments," he added.
Although support for agricultural research seems to be strong, translating that support into real dollars has been another story. However, there has been a slight uptick in funding.
The fiscal 2017 budget omnibus agreement Congress reached at the beginning of May included a $25 million increase for AFRI, USDA's flagship competitive research program. The budget for AFRI has now reached $375 million, with the last two fiscal budgets providing a 15% boost.
Grumbly is hopeful that the budget increase sets the table for 2018 farm bill negotiations, saying an important starting point would be to establish AFRI's competitive research budget at a point higher than $700 million.
The Senate Agriculture Committee has also announced that it will be further exploring past and future successes for the 2018 farm bill related to agricultural research. The committee has scheduled a hearing on the topic at 9:30 a.m. on June 15. Watch the hearing live at www.ag.senate.gov.
Subscribe to Our Newsletters
Feedstuffs is the news source for animal agriculture
You May Also Like
---