Warm winter could affect tall fescue toxicosis in broodmares
Warm winter could affect tall fescue toxicosis in broodmares
Tall fescue often infected with endophytic fungus that can produce ergovaline, a vasoconstrictor that can cause narrowing of blood vessels.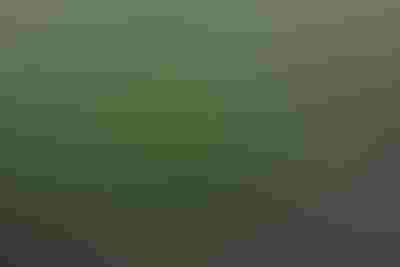 Tall fescue.
PHOTO: Krista Lea
Mild weather this winter is likely the cause of higher-than-average concentrations of a toxic substance in tall fescue called ergovaline that has been observed in central Kentucky, according to experts with the University of Kentucky College of Agriculture, Food & Environment. Tall fescue toxicosis in broodmares, which is caused by ingesting ergovaline, is rare in the early months of the year due to typically cold winter temperatures.
Naturally occurring tall fescue is often infected with an endophytic fungus that can produce ergovaline, a known vasoconstrictor — something that causes the narrowing of blood vessels. This has been blamed for prolonged gestation and low milk production in late term pregnant mares. The University of Kentucky Horse Pasture Evaluation Program sampled three farms in Fayette and Bourbon counties in Kentucky this year and found a handful of pastures with higher-than-average ergovaline concentrations for the time of year.
"These levels would not be alarmingly high in May, because pastures would have other forages such as bluegrass and orchardgrass actively growing, providing sufficient dilution in the total diet. However, other grasses are not active in February; therefore, horses are likely to consume more tall fescue, especially in pastures that were overgrazed last fall," Horse Pasture Evaluation Program coordinator Krista Lea explained.
According to University of Kentucky forage extension specialist Ray Smith, dilution is the key to minimizing the effects of ergovaline.
"Farms should move mares to pastures where more desirable forages are available and tall fescue is less prevalent," he said. "Keeping good-quality hay in front of mares on pasture will also dilute any ergovaline the horses may consume."
He urged farm managers whose mares experience foaling complications to work closely with their veterinarian to evaluate all possible causes.
"There are so many ways and reasons foaling can go wrong," said Cynthia Gaskill, veterinary toxicologist at the university's Veterinary Diagnostic Laboratory. "Any time foaling complications are observed, all appropriate tissues and samples should be sent to us to evaluate possible causes immediately."
According to Gaskill, no direct test is available for ergovaline levels in animal tissues, so diagnosing suspected cases of tall fescue toxicosis includes ruling out other possible causes and determining ergovaline concentrations in forages or bedding. In certain situations, domperidone can be administered to alleviate the symptoms of tall fescue toxicosis, but this can have other side effects and is costly, making prevention the ideal treatment.
Pasture, hay and bedding can all be evaluated for ergovaline concentrations at the state's Veterinary Diagnostic Laboratory for $52 per sample. Pasture samples of tall fescue should be frozen and transported on ice to the lab immediately. Hay and bedding samples should come from several bales and can be transported at ambient temperature out of direct sunlight. Detailed instructions on sampling can be found at http://www.uky.edu/Ag/Forage/Tall%20fescue%20sampling.doc.
Subscribe to Our Newsletters
Feedstuffs is the news source for animal agriculture
You May Also Like
---