New reovirus model may lead to better prevention, control in chickens
New reovirus model may lead to better prevention, control in chickens
USPOULTRY-funded research project mimics dynamics of disease transmission seen under field conditions.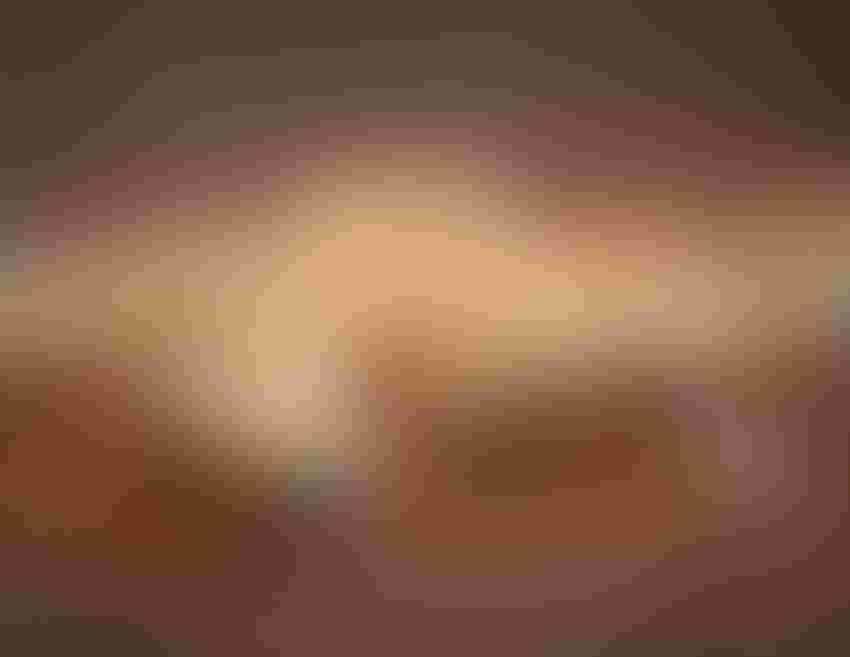 Reovirus infection in broiler chickens, caused by new strains of reovirus, has been a significant concern in recent years and has proved to be difficult to control and also difficult to study, according to Drs. Milos Markis and John Rosenberger with AviServe LLC. They recently completed a research project funded by the U.S. Poultry & Egg Assn. (USPOULTRY) in which they developed a practical model for studying avian reovirus.
The disease transmission model developed in this project closely mimics the dynamics of disease transmission seen in the field and will provide a practical method to study and learn how to better prevent and control the disease in the future, USPOULTRY said in announcing the project's completion.
This project evaluated several factors that affect susceptibility of chickens to reovirus-associated viral arthritis/tenosynovitis in order to better understand the disease and improve control strategies, Markis and Rosenberger said in a project summary.
They explained that the project objectives were to: (1) develop an in vivo model for vertical transmission of reoviruses and use this model to evaluate disease pathogenesis, virus persistence and transmissibility to contact chickens, (2) determine the impact of age on susceptibility of chickens to development of clinical viral arthritis/tenosynovitis and (3) determine how reovirus antigenic variants evolve in vivo.
Markis and Rosenberger said several models of vertical transmission were initially evaluated until one was chosen for further studies. When embryonated eggs were inoculated in ovo, the researchers said reovirus was isolated from chicks at the day of hatch and persisted through three weeks of age, which shows that vertically infected chicks may shed reovirus in the field through at least three weeks of age and can infect susceptible contacts.
Accordingly, they said it is important to prevent or reduce vertical transmission of reovirus via immunization of parent flocks or other disease control strategies.
In ovo-inoculated chicks presented with swollen foot pads as early as three days of age and developed severe clinically apparent arthritis/tenosynovitis by the second week of life, Markis and Rosenberger said. However, swollen foot pads were not observed in chickens that were infected with reovirus after hatch, and this lesion may be indicative of vertical infection when observed in commercial settings.
Additionally, bodyweights were severely affected in the in ovo-inoculated groups, and the effect was greater in the in ovo-infected chickens than chickens exposed post-hatch. Uneven bodyweights are often observed in commercial flocks afflicted with viral arthritis/tenosynovitis, the researchers said.
Horizontal transmission of reovirus from in ovo-inoculated chickens to susceptible contacts was also evaluated. Exposed contact chickens became infected, shed reovirus through at least three weeks of age and developed viral arthritis/tenosynovitis, Markis and Rosenberger said.
They noted that an age-associated resistance to development of viral arthritis/tenosynovitis was observed when chickens were exposed to reovirus at different ages. The susceptibility to viral arthritis/tenosynovitis incrementally dropped from 100% when chickens were exposed to reovirus at the day of hatch to 25% when chickens were exposed at 21 days of age. None of the chickens exposed to reovirus at 28 days of age developed the disease within the limits of this investigation.
According to Markis and Rosenberger, this is significant because viral arthritis/tenosynovitis is currently managed through breeder vaccination, and their results indicate that progeny must be protected via maternal antibodies to control infection prior to three weeks of age when age-associated resistance develops.
They added that, in the future, the horizontal transmission model can also be applied to evaluate vaccine efficacy and progeny susceptibility to a more natural challenge.
Subscribe to Our Newsletters
Feedstuffs is the news source for animal agriculture
You May Also Like
---