Thanksgiving dinner cost falls from 2022 record high
Thanksgiving dinner cost falls from 2022 record high
More consumers expected to purchase whole turkeys this year.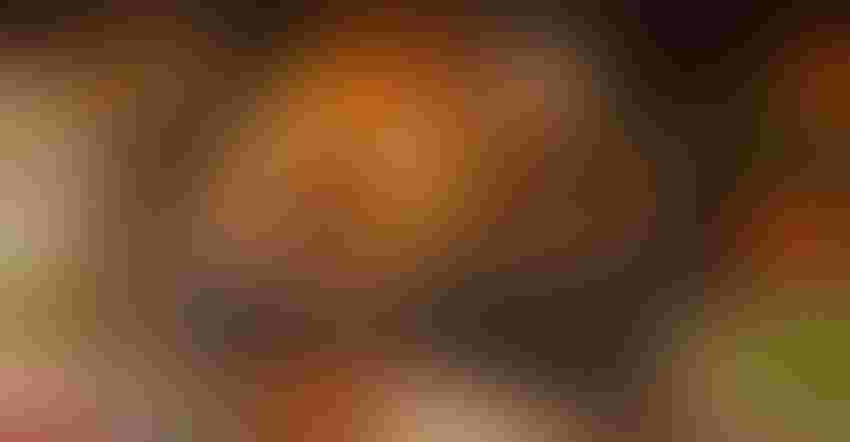 Gathering around the table for a Thanksgiving dinner won't take as much of a toll on your pocketbook this year compared to 2022, but the meal still reflects historically high costs, according to The American Farm Bureau Federation's (AFBF) 38th annual survey. The cost revealed by the survesy, which provides a snapshot of the average cost of this year's classic holiday feast for 10, is $61.17 or less than $6.20 per person.
This is a 4.5% decrease from last year's record-high average of $64.05, but a Thanksgiving meal is still 25% higher than it was in 2019, which highlights the impact high supply costs and inflation have had on food prices since before the pandemic.
The centerpiece on most Thanksgiving tables – the turkey – helped bring down the overall cost of dinner. The average price for a 16-pound turkey is $27.35. That is $1.71 per pound, down 5.6% from last year.
For the Farm Bureau survey, "volunteer shoppers" checked prices Nov. 1-6, before most grocery store chains began featuring whole frozen turkeys at sharply lower prices. According to USDA Agricultural Marketing Service data, the average per-pound feature price for whole frozen turkeys declined further during the second week of November. Consumers who have not yet purchased a turkey may find additional savings in the days leading up to Thanksgiving.
"Traditionally, the turkey is the most expensive item on the Thanksgiving dinner table," said AFBF Senior Economist Veronica Nigh. "Turkey prices have fallen thanks to a sharp reduction in cases of avian influenza, which have allowed production to increase in time for the holiday."
That lower price point may be part of the reason Cargill's recent U.S.-focused Future of Turkey study found more than 8 in 10 consumers plan to purchase a whole turkey this year. Another reason, Cargill added, may be a turnaround from the small gatherings that occurred during the pandemic.
"Americans hold onto the belief that a whole turkey should be the centerpiece of a Thanksgiving meal with family and friends," said Hans Kabat, president of Cargill's North American protein business. "I am so grateful for our employees, and the hundreds of independent farmers we partner with, who are all working hard to put our turkeys on one out of every three Thanksgiving dinner tables this year."
High inflation hammering consumers
The shopping list for Farm Bureau's informal survey includes turkey, stuffing, sweet potatoes, rolls with butter, peas, cranberries, a veggie tray, and pumpkin pie with whipped cream, all in quantities sufficient to serve a family of 10 with plenty of leftovers.
"While shoppers will see a slight improvement in the cost of a Thanksgiving dinner, high inflation continues to hammer families across the country, including the nation's farmers," said AFBF President Zippy Duvall. "Growing the food families rely on is a constant challenge for farmers because of high fuel, seed, fertilizer and transportation costs, just to name a few.
He continued: "While high food prices are a concern for every family, America still has one of the most affordable food supplies in the world. We've accomplished that, in part, due to strong farm bill programs. Although our focus is sharing time with family and friends this Thanksgiving, our thoughts also turn to encouraging Congress to double down on a commitment to passing a new farm bill with a modernized safety net to support those who raise the crops and livestock that supply Thanksgiving dinner and every dinner."
In recognition of changes in Thanksgiving dinner traditions, the Farm Bureau price survey also includes boneless ham, Russet potatoes and frozen green beans, in an expanded menu. Adding these foods to the classic Thanksgiving menu increased the overall cost by $23.58, to $84.75.
Individual prices include:
16-pound turkey: $27.35 or $1.71 per pound (down 5.6%)

14-ounces of cubed stuffing mix: $3.77 (down 2.8%)

2 frozen pie crusts: $3.50 (down 4.9%)

Half pint of whipping cream: $1.73 (down 22.8%)

1 pound of frozen peas: $1.88 (down 1.1%)

1 dozen dinner rolls: $3.84 (up 2.9%)

Misc. ingredients to prepare the meal: $3.95 (down 4.4%)

30-ounce can of pumpkin pie mix: $4.44 (up 3.7%)

1 gallon of whole milk: $3.74 (down 2.6%)

3 pounds of sweet potatoes: $3.97 (up .3%)

1-pound veggie tray (carrots & celery): $.90 (up 2.3%)

12-ounce bag of fresh cranberries: $2.10 (down 18.3%)
Regional averages
AFBF analysis revealed regional differences in the cost of the meal. The cost for the classic meal was the most affordable in the Midwest at $58.66, followed by the South at $59.10, the West at $63.89, and the Northeast at $64.38. The expanded meal (classic meal plus boneless ham, Russet potatoes and green beans) was the most affordable in the Midwest at $81.83, the South at $82.61, the West at $87.75, and the Northeast at $88.43.
Subscribe to Our Newsletters
Feedstuffs is the news source for animal agriculture
You May Also Like
---