RaboResearch: Most regions experiencing lower beef demand
RaboResearch: Most regions experiencing lower beef demand
Diverging cattle prices expected to affect beef exports.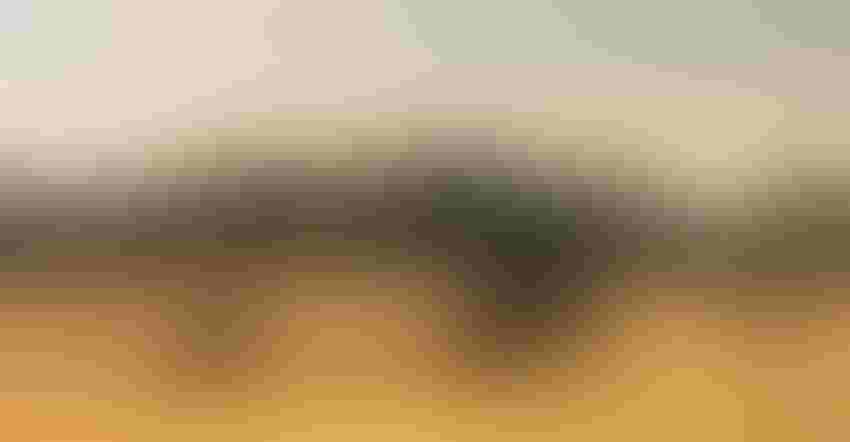 According to a new report from Rabobank, most beef markets are seeing softer consumer demand. Global cattle prices have split into two distinct groups: those in North America and Europe and those in the rest of the world. In the U.S., declining supply and strong consumer demand are driving cattle prices higher, while in most other regions, the opposite is making prices to soften.
In the report, Rabobank suggests that diverging prices will affect beef exports. Compared to 12 months ago, U.S. cattle prices have increased almost 30%, whereas Australian cattle prices have dropped by more than 30%.
"This price split is the largest we have seen in the last ten years," says Angus Gidley-Baird, senior analyst of animal protein at Rabobank. "Such a separation in prices will have consequences for beef exporters' competitiveness, and we expect to see some shift in trade volumes as a result."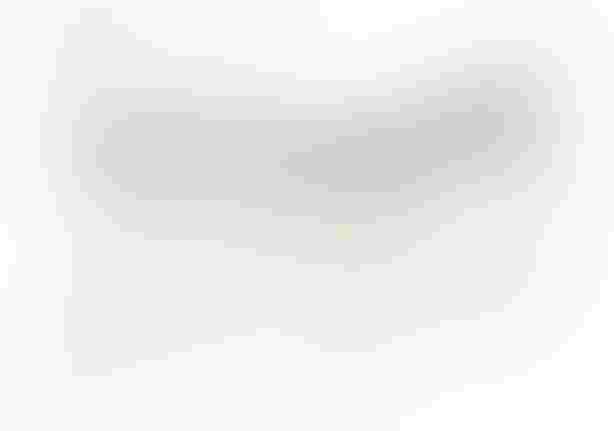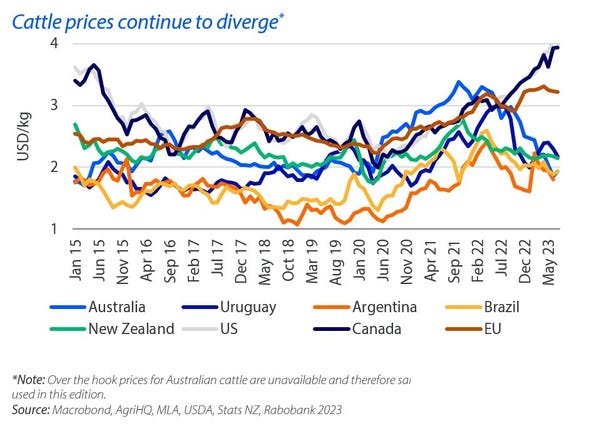 Demand lower almost everywhere and supply chains are full
A consistent theme across most markets – other than the U.S. – is softer consumer demand and full supply chains. In a number of regions, particularly in Asian countries, beef purchases made through 2022 and into 2023 in anticipation of recovery from COVID have not been consumed. These are now part of growing stock levels that also include other proteins. "Softer consumer demand is making it harder to move these volumes through the system," explains Gidley-Baird.  
U.S. herd reduction continues
While U.S. pasture conditions have improved compared to last year, Rabobank says cow herd reduction continues. Further, U.S. feeder cattle and calf supplies are now the smallest since 2014. Over the next 12 months, Rabobank expects even deeper declines for cattle slaughter.
Meanwhile, record-high beef prices have reached U.S. consumers, which Rabobank says is the result of the limited supplies as well as historically strong demand. "Consumer beef demand in July was down 1% compared to last year, but January to July 2023 demand remains the fifth highest in the last 30 years," the report notes. Still, the higher prices will test consumer demand, Rabobank says.
Export demand is also being affected by the higher prices, the report relays, with U.S. beef exports in Q2 down 14% compared to last year. "Higher U.S. beef prices are attracting cheaper beef from Australia, Mexico, and Canada and discouraging export business."
Sustainability agenda expanding
For some time, the sustainability discussion around beef has focused mainly on greenhouse gas emissions. However, Rabobank points out that over the past year, nature and biodiversity have become more prominent issues in beef sustainability discussions, and these topics will be even more relevant over the coming year.
According to Gidley-Baird, fewer companies in the beef supply chain have made voluntary commitments around nature and biodiversity than those that have made emissions reduction commitments. But the set of drivers for both issues is similar, which can create synergies in how beef supply chain participants respond to both issues and reinforce the action being taken. Forces driving the new focus on nature and biodiversity include intergovernmental agreements and regulation, financial services undertakings, and voluntary commitments from the supply chain. 
Subscribe to Our Newsletters
Feedstuffs is the news source for animal agriculture
You May Also Like
---