LIVESTOCK MARKETS: June results confirm strong first half for red meat exports
LIVESTOCK MARKETS: June results confirm strong first half for red meat exports
Exports generating excellent returns for U.S. meat industry.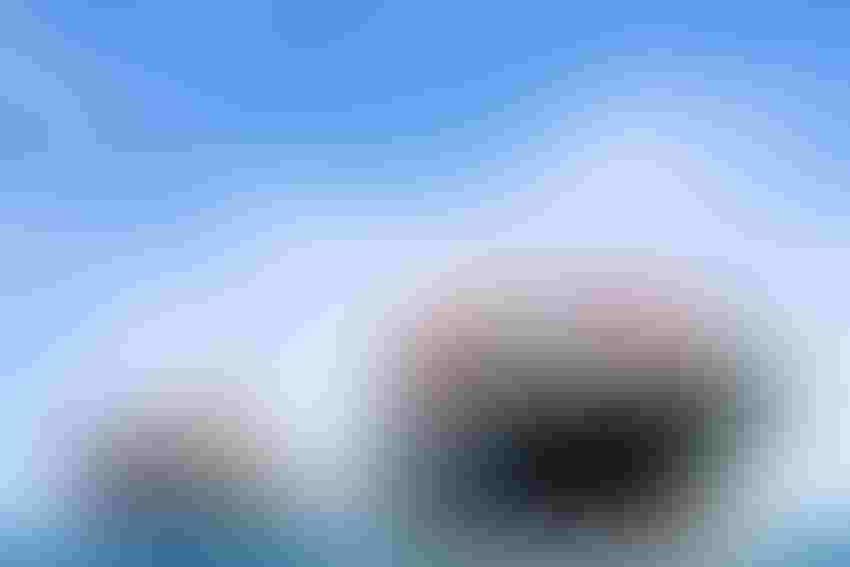 Tryaging-iStock_Thinkstock
U.S. pork and beef exports continued to trend above year-ago levels in June, capping a very strong first half of the year. According to statistics released by the U.S. Department of Agriculture and compiled by the U.S. Meat Export Federation (USMEF), exports also achieved higher values on a per-head-slaughtered basis and accounted for a steady-to-higher percentage of total production.
June beef exports were the largest of 2017, reaching 109,554 metric tons (mt) – up 11% year over year and the largest June total since 2011. Export value increased 10% to $602.5 million. For January through June, beef exports were up 12% in volume to 606,876 mt and 15% in value to $3.35 billion compared to the first half of last year.
Exports accounted for nearly 13% of total U.S. beef production in June and 10% for muscle cuts only – each about even with a year ago. The ratios were the same for the January through June period, which was also steady with the first half of last year. Export value per head of fed slaughter averaged $264.51 in June, up 6% from a year ago. Through June, per-head export value was up 8% to $269.21.
Pork exports totaled 200,229 mt in June, up 6% year over year and the largest June volume on record, with the value at $527.1 million, up 4%. This pushed the first-half total to 1.25 million mt valued at $3.21 billion – up 13% and 16%, respectively.
Exports accounted for 27% of total pork production — up more than one percentage point from a year — in June and 22% for muscle cuts only, which was steady with last year. For the first half, with production at a record pace, both ratios increased significantly from a year ago, USMEF noted.  The percentage of total production jumped from 25.3% to 27.8%, and for muscle cuts the increase was from 21.4% to 23%. Export value per head slaughtered in June was up 1% to $53.41, and the first-half average increased 12% to $54.09.
"In this time of large red meat production, the upward trend in per-head export value and in the percentage of production exported is especially critical to the industry," USMEF president and chief executive officer Philip Seng said. "These metrics confirm that we're not simply exporting more red meat because more is available; those exports are also generating excellent returns. It was also gratifying to see that the U.S. trade deficit narrowed in June due to an expansion of exports, knowing that the red meat industry made another solid contribution toward that effort."
Chilled beef to Asia drives first-half growth
Beef exports to leading market Japan continued to gain momentum in June, with volume up 7% to 27,521 mt and value up 13% to $174.4 million (the highest since 2000). First-half exports to Japan exceeded last year's pace by 23% in volume of  150,812 mt and 28% in value of $905.8 million. This included a 40% increase in chilled beef exports to 70,807 mt and a 38% increase in value to $511 million as the U.S. captured more than 50% of the chilled beef market.
While demand for U.S. beef is very strong in Japan's retail and foodservice sectors, USMEF said frozen exports to Japan now face a higher tariff rate through March 2018.
June exports to South Korea were the largest since January at 14,701 mt, up 14% from a year ago, with the value at $92.4 million, up 20% and the highest of 2017. First-half exports to Korea were up 13% in volume to 83,357 mt and 21% in value to $527.7 million. The U.S. also captured more than 50% of Korea's chilled beef market as chilled exports totaled 18,816 mt, up 83% year over year, valued at $166 million, up 86%.
Other first-half highlights for U.S. beef exports included:
Exports to Taiwan totaled 20,376 mt, up 19% from a year ago, valued at $179 million, up 26%. This included chilled beef exports rising 19% to 8,178 mt, with value up 22% to $93.5 million, as the U.S. captured more than 70% of Taiwan's chilled beef market.

After a slow start to the year, USMEF reported that exports to Hong Kong rebounded to post double-digit first-half gains in both volume, which rose 11% to 56,846, and value, which was up 17% to $357.4 million.
Exports to Mexico increased 3% in volume to 114,923 mt while slipping 3% in value to $459.7 million. Exports of muscle cut –  mainly shoulder clods, rounds and other end cuts – to Mexico fared better, increasing 9% in volume to 61,782 mt and up 2% in value to $353.8 million.

Led by a doubling of exports to Vietnam and Indonesia and strong demand in the Philippines, exports to the Association of Southeast Asian Nations (ASEAN) region increased 85% in volume to 20,532 and rose 61% in value to $99 million.

Fueled by strong growth in Chile, Guatemala and Colombia, exports to Central and South America increased 11% in volume to 19,137 mt and rose 5% in value to $83.8 million. Exports to Brazil, which began in late April, totaled 412 mt of muscle cuts and 651 mt of variety meat at a combined value of $2.6 million.

After reopening in 2016, South Africa quickly emerged as the fourth-largest destination for U.S. beef variety meat, with first-half exports (mainly livers) reaching 7,849 mt – an increase of nearly 500% from a year ago – valued at $6 million.
First-half pork export growth led by Mexico, Korea, South America
Pork exports to leading volume market Mexico remained on a record pace in June, increasing 19% year over year in both volume, at 64,712 mt, and value, at $124.9 million. This pushed the first-half total up 23% to 398,565 mt, with value up 29% to $731.6 million.
According to USMEF, a major factor behind this increase is that Mexican consumers are eating significantly more pork, both imported and domestic.  
"Over the past 10 years, Mexico's annual per-capita pork consumption has increased by about one-third and is expected to reach 18 kg this year (carcass weight equivalent), based on USDA estimates," the federation said. Over the same period, Mexico's pork production has increased by 30%.
June exports to leading value destination Japan were below year-ago levels, dipping by 8% in volume to 30,401 mt and down 10% in value to $124.3 million. However, first-half totals were 4% higher than a year ago, at 200,175 mt, with value up 8% to $810.6 million. Chilled pork exports to Japan declined 2% to 107,032 mt, but value increased 5% to $501 million. The U.S. holds 55% of the chilled pork market in Japan and continues to face growing competition from Canadian pork.
Other first-half highlights for U.S. pork exports included:
Capitalizing on rapid growth in home meal replacement items and other foods that emphasize convenience, as well as duty-free status for most cuts under the Korea-U.S. Free Trade Agreement, pork exports to South Korea climbed 31% from a year ago to 94,545 mt, valued at $258.5 million, up 38%.
"With a strong second half, exports to Korea could exceed the record set in 2011, when Korea was facing a domestic pork shortage due to foot-and-mouth disease," USMEF noted, adding that Korea's imports this year have been driven by strong consumer demand, as Korea's domestic pork production is slightly ahead of last year's pace.
While exports to China/Hong Kong fell below last year's pace in volume to 271,297 mt, value still increased 3% to $558.4 million. This reflected the strong price commanded for pork variety meat, as first-half variety meat exports to the region climbed 19% in volume to 172,269 mt and rose 28% in value to $367.2 million.

Led by exceptional growth in Colombia and Chile, pork exports to Central and South America were up 51% in volume to 81,930 mt and 56% in value to $200.3 million. Exports also doubled to Peru, and solid increases were achieved in Honduras, Panama, Nicaragua and El Salvador.

Strong growth in the Dominican Republic pushed pork up exports to the Caribbean by 36% in volume to 26,984 mt and by 35% in value to $63.7 million. Exports also increased to the Bahamas, Trinidad & Tobago, Haiti and Barbados, USMEF said.

Larger shipments to the Philippines and Singapore helped drive exports to the ASEAN region up 20% in volume to 23,207 mt and up 28% in value to $59 million.

Led by the aforementioned success in China/Hong Kong, pork variety meat exports achieved exceptional growth in the first half, increasing 19% year over year in volume to 286,787 mt and rising 32% in value to $580.3 million. Additional markets contributing to this growth included Mexico, Canada, Chile, Colombia and the Philippines. Variety meat export value averaged $9.78 per head slaughtered in the first half, up $2.10 from a year ago.
Market recap
August live cattle futures fell significantly this week, closing lower Monday at $112.75/cwt. and Thursday at $108.85/cwt.
August feeder cattle futures followed the same trend, closing lower Monday at $146.25/cwt. and again Thursday at $141.175/cwt.
For the beef cutouts this week, Choice and Select closed lower at $200.63/cwt. and $196.19/cwt., respectively.
August lean hog futures posted gains this week, climbing from $83.40/cwt. on Monday to $84.45/cwt. by Thursday's close.
Pork cutout values were mostly higher Thursday but were lower than last week. The wholesale pork cutout was lower at $95.17/cwt. Loins were higher at $84.07/cwt., while hams were lower at $67.38/cwt. Bellies also closed lower at $201.38/cwt., down from $206.07/cwt. the prior week.
Hogs delivered to the western Corn Belt closed lower Thursday at $80.14/cwt.
USDA reported the Eastern Region whole broiler/fryer weighted average price at 97.13 cents/lb. on Aug. 4, down from $1.015/lb. on July 28.
According to USDA, egg prices were steady, with a steady to lower undertone on larger sizes and a steady to higher undertone on medium sizes. Offerings were in a full range of light to heavy, but mostly moderate. Supplies varied and were light to heavy for current requirements, while demand was light to moderate.
Large eggs delivered to the Northeast were unchanged at 89-93 cents/doz. Prices in the Southeast and Midwest were also unchanged at 92-95 cents/doz. and 83-86 cents/doz., respectively. Large eggs delivered to California were lower at $1.28/doz.
For turkeys, USDA said the market was steady to weak. Offerings were unchanged to weak, while demand has been light to moderate. Prices for hens and toms were unchanged at 89 cents to $1.03/lb.
Subscribe to Our Newsletters
Feedstuffs is the news source for animal agriculture
You May Also Like
---