LIVESTOCK MARKETS: Expanding drought tightens feed situation
LIVESTOCK MARKETS: Expanding drought tightens feed situation
Rising hay prices and lower cattle price trends should be a concern for producers.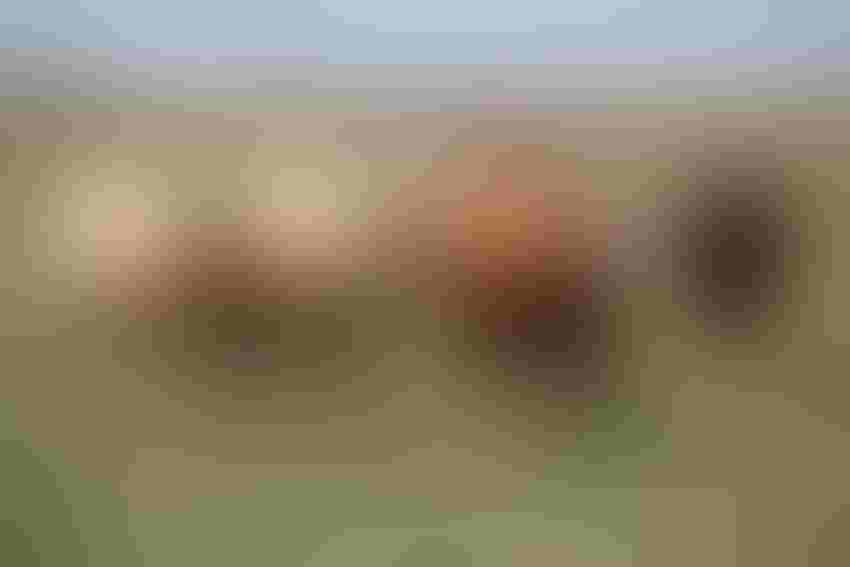 Drought conditions worsened last week, even though some regions of the U.S. did receive precipitation. According to the latest U.S. Drought Monitor, precipitation fell across a vast majority of the East, and heavy rains also fell in parts of Florida, Kentucky and South Carolina. Moderate precipitation fell in parts of the High Plains, but lighter rains provided little to no relief in parts of Kansas.
"The drought-stricken areas of Oklahoma and Texas saw little to no precipitation and triple-digit temperatures, exacerbating drought conditions," the report noted.
The National Drought Mitigation Center (NDMC) reports that 32% of the lower 48 states are now in moderate drought or worse, affecting 70 million people.
As of July 24, NDMC's "United States Agricultural Commodities in Drought" website showed that 20% of alfalfa hay acreage, 27% of the U.S. cattle inventory, 27% of hay acreage, 20% of the U.S. milk cow inventory and 7% of the U.S. hog inventory are being affected by the drought. All but the alfalfa hay acreage percentage increased from the prior week.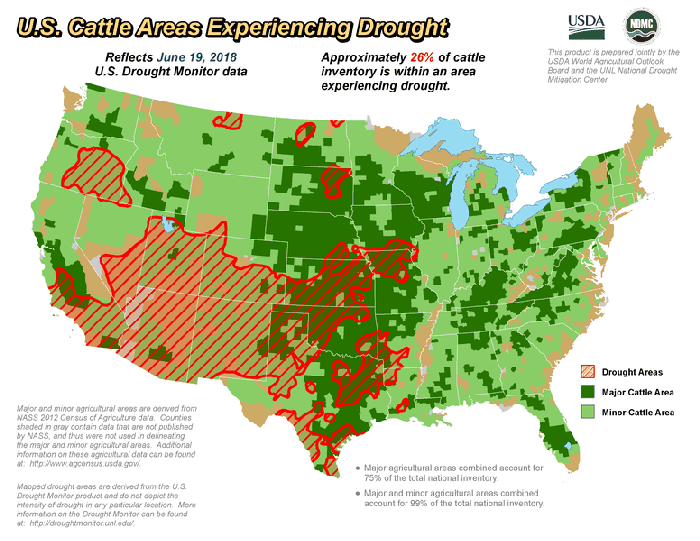 Texas A&M AgriLife Extension Service experts reported that a convergence of weather and market conditions have put a number of Texas beef producers in a tough spot, where they are facing rising supplemental feed prices and lower sale prices at local auctions.
Dr. Jason Banta, AgriLife Extension beef cattle specialist in Overton, Texas, said extended winter weather led to less carryover of hay supplies compared to last year, and then cool spring temperatures slowed summer grass emergence before drought conditions set in. Lower temperatures also reduced typical hay harvests by half in many production areas, including east Texas.
Second hay cuttings have been below normal in quantity and quality due to drought as well, he said. Drought conditions are also affecting hay availability in other nearby states, including Oklahoma, Kansas, Missouri and Arkansas, as herd sizes continue to expand.
"That means hay supplies will be tight," Banta said.
Dr. David Anderson, AgriLife Extension economist in College Station, Texas, said the U.S. Department of Agriculture reports hay stocks each year on Dec. 1 because it is a relatively good starting point for supplies of hay for winter feeding. Hay stocks on Dec. 1 in Texas, Oklahoma, Louisiana and Arkansas were down 27%, 16%, 21% and 8%, respectively. 
After a winter of feeding, May 1 hay stocks were down 63% in Texas and Louisiana, 52% in Oklahoma and 40% in Arkansas compared to the year before, according to USDA.
Normally, nationwide, this is the time of year that hay prices tend to decline as production picks up around the country and before hay purchases get started in order to stock up for winter, Anderson said.
Prices for large round bales in north, central and east Texas have risen amid low supplies and high demand, Anderson said. Round bales that sold for $50-65 in early July last year are now selling for $70-90.
"While we have had some rains around the state over the last couple of weeks, a large area of the state has been -- and remains -- in some measure of drought condition," Anderson said. "Continued drought and dry conditions could leave us in a bind for hay supplies heading into the fall."
Rising hay prices and lower cattle price trends should be a concern for producers, he said.
"You've got to think carefully about how much you want to spend on feed when cattle prices are in decline," he said.
Despite the rise in hay prices, feed costs have been declining dramatically over the last several weeks, Anderson said. 
In the case of corn and soybeans, the U.S. crops are off to a great start, and early indications are for some record corn yields in parts of the Corn Belt, Anderson said. Southern Plains corn prices dropped to about $3.50/bu. last week, down from over $4 about six weeks ago. Central Illinois soybean prices fell from about $10/bu. to about $8 over the same time period.
While the soybean crop appears to be a big one also, the prospect of trade tariffs hitting exports have contributed to lower prices, Anderson said.
Falling feed prices have provided a little boost to calf and feeder prices at local auctions, he said. Rain can also boost calf prices as well.
"A little rain usually leads to a little rise in calf prices," Anderson said. "Producers who received rain won't sell and can afford to bid more for a calf when they have forage potential and feed costs less."
Market recap
August live cattle futures were mostly lower this week. Nearby contracts closed lower Monday at $108.725/cwt. and Thursday at $107.95/cwt.
August feeder cattle futures followed the same trend. Nearby contracts closed Monday at $153.25/cwt. and Thursday at $151.425/cwt. 
The Choice and Select beef cutouts closed higher Thursday at $204.91/cwt. and $198.27/cwt., respectively.
August lean hog futures were also lower, continuing another week of losses. Nearby contracts closed lower Monday at $66.425/cwt. and Thursday at $64.90/cwt.
Pork cutout values were mostly lower this week. The wholesale pork cutout closed lower at $75.65/cwt. Loins and hams were higher at $75.01/cwt. and $52.25/cwt., respectively. Bellies plunged, from $173.49/cwt. last week to $139.28/cwt. this week.
Hogs delivered to the western Corn Belt were lower, closing Thursday at $65.92/cwt.
The U.S. Department of Agriculture reported the Eastern Region whole broiler/fryer weighted average price on July 20 at $1.14/cwt. 
According to USDA, egg prices were steady, with a sharply lower undertone. Offerings were mostly moderate to heavy, while supplies were light to heavy. Demand was light to moderate.
Large eggs delivered to the Northeast were slightly lower at $1.20-1.24/doz. Prices in the Southeast and Midwest were lower at $1.28-1.31/doz. and $1.14-1.17/doz., respectively. Large eggs delivered to California were lower at $1.72/doz.
For turkeys, USDA said the market was steady. Offerings have been light to moderate, and demand has been light. Prices for hens and toms were nearly unchanged at 73-85 cents/lb. and 74-86 cents/lb., respectively.
Subscribe to Our Newsletters
Feedstuffs is the news source for animal agriculture
You May Also Like
---