Oklahoma State upgrades Ferguson Family Dairy Center
Oklahoma State upgrades Ferguson Family Dairy Center
Ongoing improvements at Oklahoma State's dairy facility will help sustain good husbandry of cows and calves in university's dairy herd.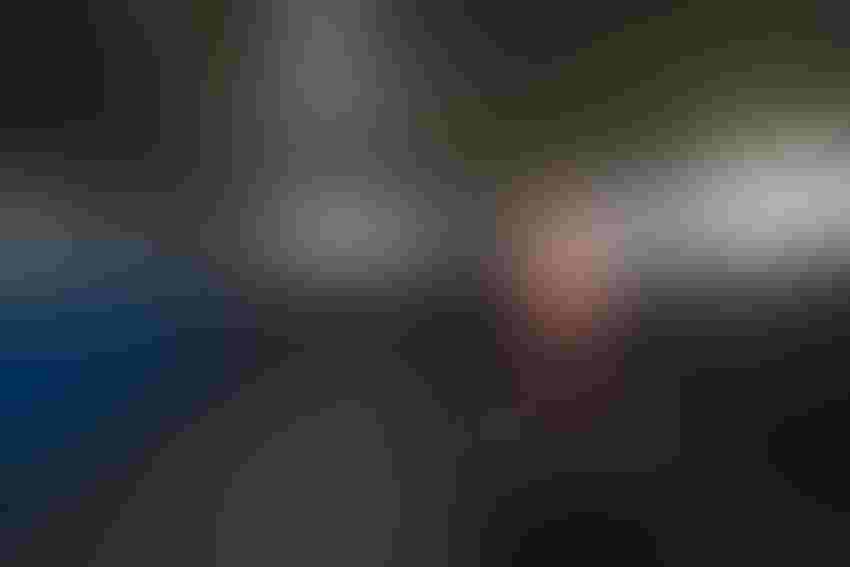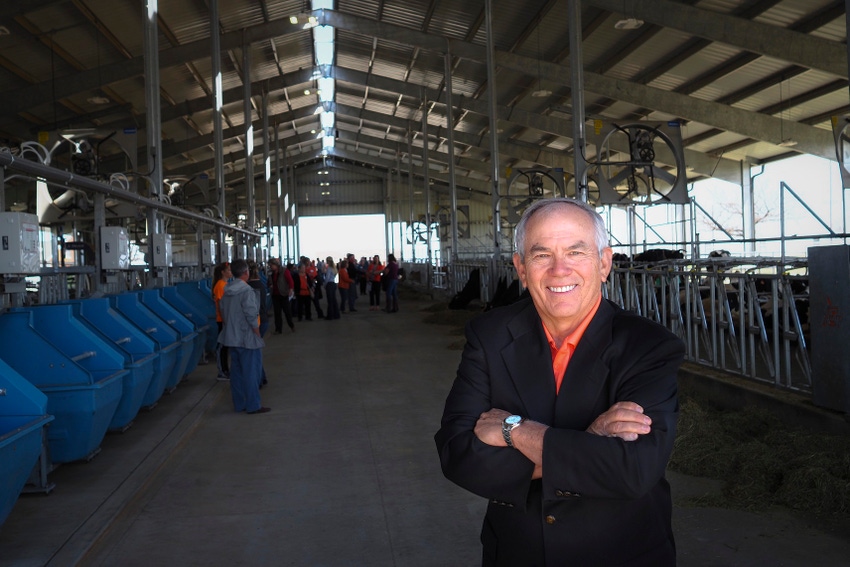 Oklahoma State University dairy science alumnus Larry Ferguson welcomes visitors touring the freestall barn he and wife Kayleen were instrumental in constructing.
(Photo by Todd Johnson)
Oklahoma State University has reached a milestone in its ongoing efforts to upgrade its dairy cattle facilities in Stillwater, Okla.
Oklahoma State alumnus Larry Ferguson, former president and chief executive officer of Schreiber Foods, and his wife Kayleen attended the April 5 dedication ceremonies for new facilities at the Oklahoma State Ferguson Family Dairy Center. The couple met at Oklahoma State in the 1970s while working at the dairy center.
In 2016, the Ferguson Family Foundation kicked off new construction for the upgraded dairy center by committing $2 million to construct a state-of-the-art freestall barn. Completed in December 2017, the freestall barn includes space for insentec-system cattle feeding stalls, a maternity area and a data room. The insentec system records daily feed and water intake by individual cows, allowing faculty, staff and students to undertake research that was not possible in the old facilities, the university said.
"The goal of everyone involved is to not only make (Oklahoma State) an enhanced learning center for dairy students but to provide continually advancing research-based educational support for the dairy industry," said Tom Coon, vice president of the university's Division of Agricultural Sciences & Natural Resources (DASNR). "Larry and Kayleen are always asking, 'What do we need to do next?' They have worked diligently to engage others in the dairy industry; combined with their direct gift and matching support, we have generated $6 million so far, and we're not done yet."
Coon added that ongoing improvements at the DASNR dairy facility will help sustain good husbandry of the cows and calves in Oklahoma State's dairy herd while also promoting environmental stewardship, cost efficiency and safe food handling practices through on-site practices and improved technologies.
The Fergusons also were instrumental in the construction of Helms Hall, the new student living quarters at the dairy center named in honor of Kayleen's parents, who also met at Oklahoma State and had their own connection to the dairy program.
"Helms Hall provides a modern living space with six individual bedrooms," said Randy Raper, DASNR director of capital projects and assistant director of the statewide Oklahoma Agricultural Experiment Station system. "Students living on site provide for the well-being of our dairy cattle and, by extension, the viability of scientific studies conducted on behalf of dairy producers and related industries, a very valuable contribution to the center's mission."
The renovations continue. State-of-the-art equipment is being added to the existing milking parlor, expanding research capabilities and capturing individual milk weights by each animal, the university said.
"New milking equipment using radio frequency (identification) tags worn by the cows will communicate with software that tracks milk production," Raper said. "This will not only enhance ongoing scientific studies but enable our students to train on the type of equipment they will one day use upon entering the dairy industry."
A visitor center and robotic milkers are set for stage 2 of ongoing construction and will create a showplace for student training opportunities and enhanced awareness of both dairy production and the research that promotes continued industry advances.
"Of particular interest is the incorporation of live web cams that have the potential to reach unprecedented numbers of people, expanding educational opportunities directly or through programs such as Ag in the Classroom curriculum provided through schools and Oklahoma Cooperative Extension Service workshops, meetings and conferences," Coon said.
Naming opportunities still exist in each area for those wishing to enhance the new Ferguson Family Dairy Center's ability to make a positive difference in the lives of the region's dairy producers and related agribusinesses and have their gift matched by the Ferguson Family Foundation, added Heidi Griswold, Oklahoma State Foundation senior director of development for DASNR.
"The old dairy center dated back to 1920," she said. "It's important that (Oklahoma State) be in a position to solve concerns and issues of the dairy industry in the 21st century, especially given how many dairy programs at other universities have shut down over the years."
A number of donors in addition to the Fergusons have stepped up, taking advantage of naming opportunities inside the facility. Among them are:
* Brian and Mary Liddy — the Brian & Mary Liddy Maternity Area;
* Mike and Leanne Haddad — the Haddad Family Helms Hall bedroom;
* Ron and Dana Dunford — the Dunford Family Patio;
* Scott and Nancy Armbrust — the Armbrust Family Data Center;
* Jack and Engrid Meng — the Meng Family Helms Hall bedroom, and
* The Shelley family — the Stephen & Nanette Shelley Warming Stall, the Ann Shelley Insentec Stall and the Maggie Moo Shelley Insentec Stall.
"More than 5,000 people have visited the Ferguson Family Dairy Center," Raper said. "These visitors include current and potential students, producers and some urbanites totally unfamiliar with the milk production system. Being able to have a facility with a visitor center and a robotic milking parlor will expose visitors to the labor-saving and cow health benefits afforded by the newest technology of milking and caring for cows."
The importance of greater awareness of agricultural industries cannot be understated, as fewer and fewer people have a direct connection to rural America.
"We have a responsibility to the betterment of future generations," Kayleen Ferguson said. "You have to work hard, but you have to pass it on as well."
Larry Ferguson agreed, noting that he never would have become CEO of the world's largest employee-owned dairy company without going through Oklahoma State's dairy program.
Additional information about opportunities to support this or other DASNR programs is available by contacting Griswold by email at [email protected].
Subscribe to Our Newsletters
Feedstuffs is the news source for animal agriculture
You May Also Like
---