NMSU revives dairy science minor after 20 years
NMSU revives dairy science minor after 20 years
Southwest is third-largest milk production area in nation, behind California and Wisconsin.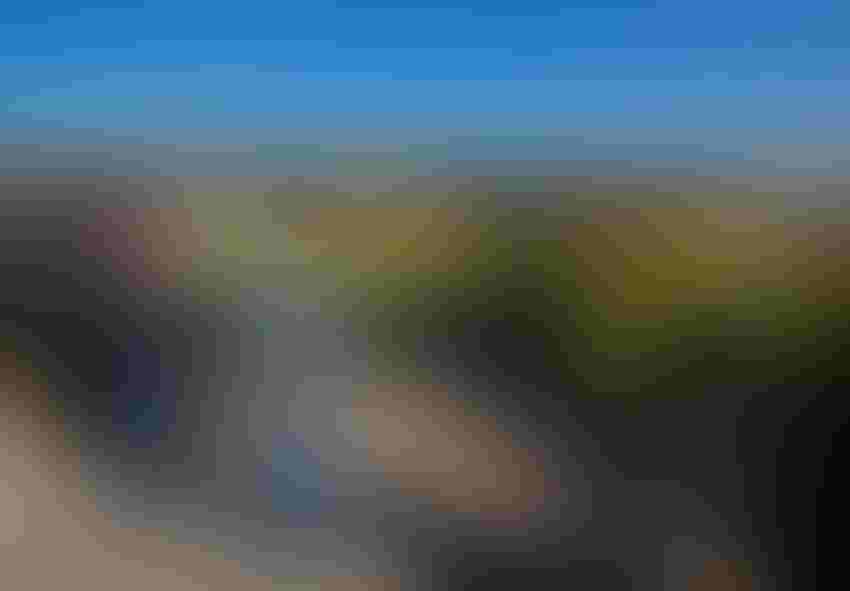 Robert Hagevoort, New Mexico State University Extension Dairy Specialist (left) and Jim Abacherli of South Slope Dairy in Clovis, New Mexico, talk to students at the 2016 U.S. Dairy Education & Training Consortium.
(Photo by Andrés Leighton)
It has been more than 20 years since New Mexico State University (NMSU) students have had the option of minoring in dairy science, but after 10 years of rebuilding the dairy program in the NMSU College of Agricultural, Consumer & Environmental Sciences (ACES), students may now choose the subject as their minor.
Robert Hagevoort, associate professor and extension dairy specialist at NMSU's Agricultural Science Center in Clovis, N.M., has been instrumental in re-establishing the dairy program.
"Over 20 years ago, it was difficult for the campus dairy to be profitable due to economic reasons," Hagevoort said. "NMSU dairy manager at the time Lewis Topliff did an excellent job of managing the cows, but it's especially difficult maintaining a dairy when it's solely for educational purposes, not commercial."
Hagevoort joined NMSU in 2005 after serving as a consultant to the California dairy industry for 15 years. ACES dean at the time Lowell Catlett gave Hagevoort the task of rebuilding the NMSU dairy program without a dairy on campus.
By 2008, Hagevoort, Michael Tomaszewski with Texas A&M University and Bob Collier at the University of Arizona had formed the U.S. Dairy Education & Training Consortium, initially named the Southern Great Plains Dairy Consortium.
The consortium offers a six-week class for college students at Clovis Community College during the summer. The class had 18 students in its first year in 2008, while more than 50 students from 19 universities attended the 10th annual class this summer. More than 400 students from 48 universities around the world have completed the class since its inception.
During the six-week course, students live in Clovis and participate in classroom instruction and hands-on lessons at various dairies in eastern New Mexico and west Texas.
Hagevoort said the program is extremely effective.
"A recent survey of former students now in careers shows some very exciting results," he said. "Four out of five former students are now working in agriculture, two out of three students are employed in the dairy industry and one out of three is currently actively managing or working on a dairy operation."
In addition to the consortium and the course in Clovis, animal science professors at NMSU have incorporated dairy science into their curriculum -- whether it's a ruminant nutrition course or cattle management course.
While the 10-year dairy program rebuilding effort at NMSU has been nothing short of full force, Hagevoort is quick to give credit to dairy producers.
"Producers are the real heroes, and they should get all the credit for this," he said. "They recognize the importance of the industry and hands-on learning on farms. They share stories with the students about their successes and failures, and they really allow us to use their dairies as classrooms."
The Southwest — including Arizona, New Mexico and Texas — is the third-largest milk production area in the nation, behind California and Wisconsin.
Jerry Hawkes, department head for extension animal sciences and natural resources at NMSU, said the new minor reflects the importance of dairy science in New Mexico.
"We believe there is a need for this at NMSU, as dairy plays such an important role in our state," said Hawkes, who will teach the dairy economics course. "The dairy program in New Mexico is a leader both nationally and internationally."
Hawkes, who is also the interim associate dean and director of academic programs in ACES, said the minor will better prepare NMSU students for a future in the dairy industry.
"We want to provide our students with the opportunity to have an insight into dairy science, including the economics involved," he said.
The minor is part of the NMSU department of animal and range sciences. Interim department head and professor Shanna Ivey said the minor will complement several fields of study.
"The new minor will lend itself well to students studying ag biology or ag and extension education who want to pursue the dairy-intense side of things," she said. "It will really strengthen our academic program, and students will have the dairy science minor verbiage on their transcripts.
"Also, the minor has two required ag economics classes, so it's a nice cooperation between our department and the department of agricultural economics and agricultural business. It not only provides the science of dairy production, but it also gives the business side of it, too, which I think is important," Ivey added.
Current college dean Rolando Flores said it's vital that NMSU offers this minor. "Years ago, it was attractive to come to NMSU from other states for this purpose, so it was critical that we reinstated the dairy science minor," Flores explained. "I'm delighted that we have the faculty in animal and range sciences to support this minor. It will create an opportunity for students from New Mexico and other areas, and it will help create job opportunities."
Students who select dairy science as their minor are required to complete 18 credit hours of courses ranging from dairy production to dairy economics. For more information about the dairy science minor, visit the NMSU department of animal and ranges sciences website at http://aces.nmsu.edu/academics/anrs.
Subscribe to Our Newsletters
Feedstuffs is the news source for animal agriculture
You May Also Like
---