LIVESTOCK MARKETS: Poultry, egg sector performances mixed
LIVESTOCK MARKETS: Poultry, egg sector performances mixed
Broiler and turkey production stalling as egg production expected to rise.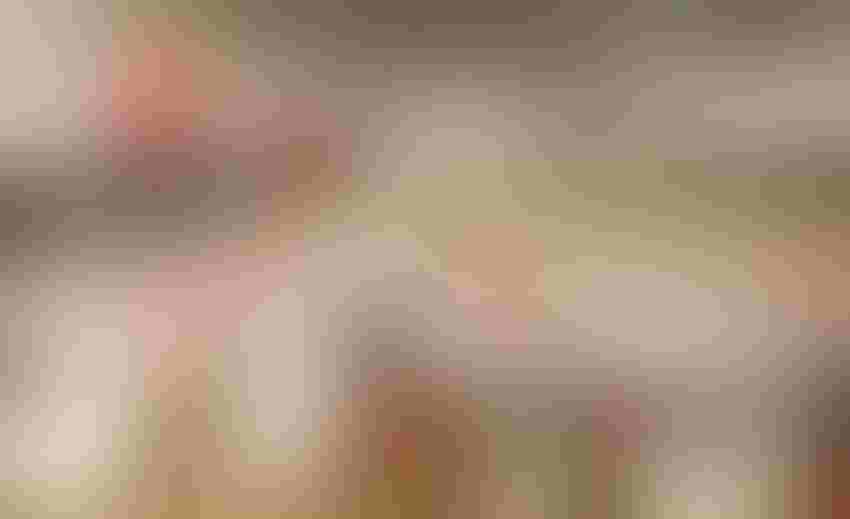 Baris KARADENIZ/iStock/Thinkstock
January broiler meat production totaled 3.6 billion lb., almost 4% above a year earlier. According to U.S. Department Agriculture economists Sean Ramos and Alex Melton in the latest "Livestock, Dairy, & Poultry Outlook," however, much of that growth was due to an additional slaughter day this year, while the rate of production per slaughter day was a bit lower.
"Higher bird weights, nearly a percent higher than a year earlier, also contributed to production growth," they said, adding that hatchery data continue to indicate growth in bird availability through the end of the current quarter.
USDA's production forecast was unchanged for the current quarter or any quarter in 2018, totaling 42.6 billion lb. for the year.
The outlook relayed that broiler exports in January totaled 548 million lb., about 1% lower than last year. Year-over-year declines were spread across a number of countries, including the Democratic Republic of the Congo (DRC), the Republic of the Congo (Brazzaville) and Canada. However, Melton and Ramos said export losses were partially offset by significantly higher shipments to Cuba, Taiwan, the United Arab Emirates and the Philippines.
The report noted that February weekly prices for whole broilers (national composite) were fairly steady, and the price was just over 91 cents/lb. for the week ending March 2.
"A lack of upward momentum over the past few weeks contributed to a slight reduction in the first-quarter forecast to 93-94cents/lb. Prices are still expected to average about 5% above 2017," Melton and Ramos noted. Given current prices and expected seasonal gains in the first part of the second quarter, USDA raised the price forecast for the second quarter to 96 cents to $1.00/lb.
Table egg production expansion still delayed
The outlook reported that table egg production was 653 million doz. in January, down nearly 1% from last year despite more layers in inventory.
Ramos and Melton said the decline resulted from a significantly lower lay rate (eggs per layer), likely reflecting that when producers expand inventory, they retain older layers or add newer birds, both of which lay fewer eggs.
Hatchery data, such as egg-type chickens in incubators, continue to show that producers intend to increase egg production this year. However, the authors said the delays associated with lower lay rates have contributed to lower expectations, with the first-quarter production forecast reduced by 10 million doz.
January exports of eggs and egg products totaled 26 million doz. (shell-egg equivalent), nearly 25% above last year. Ramos and Melton said export growth was led by more shipments to Japan, which rose 3.4 million doz., while Canada and Hong Kong were up 1.6 million and 1.4 million dozen, respectively. January U.S. egg imports continued to be very low -- about 4 million doz. below last year, the report noted. As such, the 2018 import forecast was lowered to 32 million doz.
In terms of prices, wholesale egg prices (large Grade A eggs, New York) as of March 5 were significantly higher than expected, reaching a midpoint of $1.93/doz. between high and low prices, Ramos and Melton reported. This development and the downward revision to expected production led to a significantly higher price forecast for the first quarter in 2018, they added.
USDA increased the first-quarter projection about 29 cents to $1.62-1.65/doz., and each subsequent quarter was increased a lesser amount as production growth is expected to replenish the marketing channels.
Turkey production lower
Turkey production in January totaled 509 million lb., a 2% increase from last year but a 3% decrease based on a per day slaughter basis.
Ramos and Melton reported that turkey hatchery data for January were below the same period in 2017, indicating lower production totals in the coming months. Eggs hatched and poult placements fell by more than 4% and 2%, respectively, compared with a year earlier. Total eggs in incubators at the beginning of February were down 5%.
"The declines suggest that producers are likely responding to reduced returns brought about by low wholesale prices," Ramos and Melton noted.
Currently, the 2018 turkey production forecast is 5.975 billion lb., fractionally below 2017 levels.
According to the outlook, whole turkey prices remain below historical averages heading into 2018. Specifically, wholesale whole-hen frozen turkey prices remain low in comparison to past years. The latest price data, covering the first full week of March 2018, showed whole hen prices at just under 80 cents/lb. -- well below early-March prices for the past several years.
Ramos and Melton said the low wholesale prices indicate that turkey meat demand has not kept pace with recent production. USDA forecasts that turkey prices will average 86-91cents/lb. for the year, about 8% below the annual average price for 2017.
One bright spot for the turkey sector is that January turkey exports were 15% higher than a year earlier, totaling 49 million lb. Mexico remains the largest destination for U.S. turkey shipments, with 34 million lb. shipped there in December, or 70% of all U.S. shipments.
USDA said exports are expected to reach 635 million lb. in 2018, which is a 10 million lb. decrease from the previous month's forecast but a 2% increase over 2017.
Market recap
Live cattle futures were mixed this week. April contracts closed lower Monday at $121.55/cwt. and Thursday at $121.85/cwt.
April feeder cattle futures were mostly lower this week. Contracts closed lower Monday and Thursday at $142.575/cwt. and $140.825/cwt., respectively.
The Choice beef cutout closed higher at $224.99/cwt., but Select closed lower at $216.31/cwt.
April lean hog futures were mostly lower, closing lower Monday at $67.675/cwt. and Thursday at $65.725/cwt.
Pork cutout values found some support this week. The wholesale pork cutout closed higher at $72.80/cwt. Loins and hams were also higher at $73.38/cwt. and $56.26/cwt., respectively. Bellies were slightly higher than the prior week, at $104.17/cwt.
Hogs delivered to the western Corn Belt were lower, closing Thursday at $59.82/cwt.
The U.S. Department of Agriculture reported the Eastern Region whole broiler/fryer weighted average price on March 9 at 94.01 cents/lb.
According to USDA, egg prices were steady, with a steady to higher undertone. Offerings were light, while supplies were light to moderate. Demand was moderate to good.
Large eggs delivered to the Northeast were higher at $1.96-2.00/doz. Prices in the Southeast and Midwest also were higher at $2.10-2.13/doz. and $1.93-1.96/doz., respectively. Large eggs delivered to California were higher at $2.67/doz.
For turkeys, USDA said the market was steady, with a steady to firm undertones. Offerings and demand have been light to moderate. Prices for hens and toms were unchanged at 75-84 cents/lb.
Subscribe to Our Newsletters
Feedstuffs is the news source for animal agriculture
You May Also Like
---