LIVESTOCK MARKETS: Dairy checkoff leaders highlight progress, talk future
LIVESTOCK MARKETS: Dairy checkoff leaders highlight progress, talk future
Efforts focused on consumption, exports, impact of checkoff partnerships and building trust.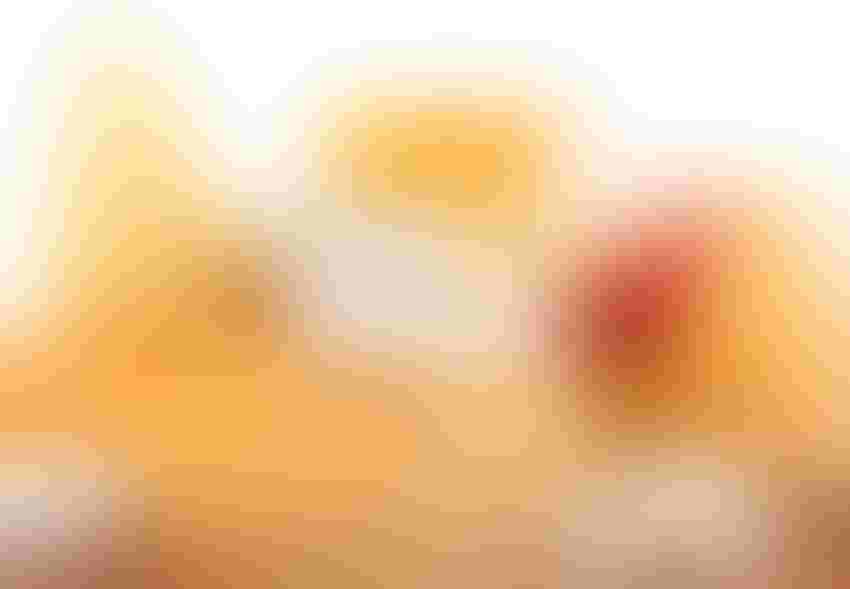 The dairy checkoff's mission of growing sales and building trust is key to assuring a prosperous future for the dairy industry, Dairy Management Inc. (DMI) chief executive officer Tom Gallagher said during the 2017 joint annual meeting of the United Dairy Industry Assn., National Dairy Promotion & Research Board and National Milk Producers Federation (NMPF) held this week in Anaheim, Cal.
Speaking to more than 800 dairy farmers and industry representatives, Gallagher described how the dairy checkoff has grown per capita consumption through several key areas, including exports and foodservice partnerships.
He shared how DMI's "go-to-market" approach proactively works in partnership with the supply chain to expand dairy markets and helps fill a market need. He said DMI, which oversees the checkoff, allocates funds to stimulate unmet demand through product development, innovation and marketing.
"Our job is to figure out where to use resources in the market chain," Gallagher said. "Unmet demand is the key. Demand is not the function of what people buy; it's the function of what we offer them. If we offer innovative products, whether it's global or domestic, we know we can increase consumption."
Gallagher said U.S. per capita dairy consumption reached 591 lb. in 2016, up from 566 lb. in 2010, according to NMPF, and he credited cheese and butter as the primary drivers for this growth.
Cheese reached its highest consumption level ever in 2016, fueled by at-home use and out-of-the-home ingredient use, especially at foodservice. Per capita cheese consumption in 2016 was 36.3 lb. "It's growing and will continue to grow. In fact, domestic cheese has carried the day in terms of sales the last four or five years," Gallagher said.
Butter is also enjoying a comeback, which he said is attributed to consumers' acceptance of dairy fats and their desire to consume real foods. Butter consumption per capita reached 5.7 lb. in 2016, its highest mark since 1968.
Gallagher said the long-term trajectory of per capita dairy consumption remains on a positive path thanks to the checkoff's work with partners, including McDonald's, Domino's, Taco Bell and Pizza Hut. He said since the start of DMI's partnerships, dairy sales have grown 25%.
Gallagher cited recent examples of checkoff successes, including:
McDonald's replacing margarine and canola oil with butter that equaled approximately 700 million lb. of milk annually;

The checkoff-led launch of the Taco Bell Quesalupa, which has five times more cheese than a regular taco, equating to 60 million lb. milk equivalent, and

Pizza Hut's Grilled Cheese Stuffed Crust Pizza, produced with checkoff resources and insights, which features more than 1 lb. of cheese on every pizza, leading to more than 25 million lb. milk equivalent.
Beyond dairy consumption growth domestically, Gallagher said exports of U.S. dairy are also providing a boost. They have more than quadrupled since 2000 – to nearly $5 billion in 2016 – due to growth in the top five markets: Mexico ($1.2 billion), Southeast Asia ($671 million), Canada ($632 million), China ($384 million) and South America ($280 million).
"As we look to the future, exports will play an increasing role in growing dairy sales," Gallagher said.
A key to that growth is the checkoff's partnership with Yum! Brands, which has nearly 44,000 restaurants in more than 135 countries. The company's KFC, Pizza Hut and Taco Bell restaurant brands are global leaders in the chicken, pizza and Mexican-style food categories.
DMI facilitated innovation sessions with Pizza Hut in the Asian Pacific and created a "Cheese University" taught by a checkoff scientist to educate culinary teams on ways to use U.S. cheese. Gallagher said the emphasis is already yielding results. Through August, U.S. cheese use at Pizza Hut Asia Pacific is up 35% versus year ago.
Beyond sales, Gallagher said work to continue growing consumer trust is equally as important to the dairy industry's future.
"What keeps me awake at night is trust and the farmers' right to farm," he said.
Key to building trust is educating consumers who want more information about where their food comes from. They want to know about nutrients; they want to know that their food is produced responsibly and locally sourced, and they want delicious taste and enjoyment, he explained.
Gallagher said the Undeniably Dairy campaign, launched earlier this year, will help set the record straight and build trust.
The Undeniably Dairy effort was created through the Innovation Center for U.S. Dairy, a forum that leverages the collective power of the dairy community to address the expectations of consumers through shared best practices and accountability.
The industry-wide collaboration is beginning to make a difference, with 170 companies actively engaged, said Barb O'Brien, who serves as president of DMI and the Innovation Center for U.S. Dairy.
"We need to continue to build two-way engagement with consumers," O'Brien said. "We are operating in an environment where negative marketing and absence claims are taking the day. Many of those claims cross the line."
Market recap
Live cattle futures rallied this week -- a result of strong demand, analysts said. December contracts closed higher Monday at $123.40/cwt. and climbed to $130.05/cwt. before falling to a lower close of $128.75/cwt. on Thursday.
January feeder cattle futures were also higher, closing Monday at $152.725/cwt. and Wednesday at $160.65/cwt. before falling to $158.225/cwt. on Thursday.
The Choice beef cutout closed higher at $208.25/cwt., while the Select cutout closed lower at $193.16/cwt.
Lean hog futures were higher early in the week but couldn't sustain the gains. December contracts closed higher Monday and Tuesday at $65.175/cwt. and $68.00/cwt., respectively, but finished Thursday lower at $65.80/cwt.
Pork cutout values were mixed this week. The wholesale pork cutout closed higher at $79.40/cwt. Loins were lower at $74.46/cwt., and hams also were lower at $69.28/cwt. Bellies continued to climb, closing at $112.42/cwt., up from $99.92/cwt. the prior week.
Hogs delivered to the western Corn Belt were lower, closing Thursday at $63.97/cwt.
The U.S. Department of Agriculture reported the Eastern Region whole broiler/fryer weighted average price on Oct. 27 at 85.50 cents/lb.
According to USDA, egg prices were steady, with a higher undertone. Offerings were light to moderate, and supplies were moderate. Demand was moderate to good.
Large eggs delivered to the Northeast were slightly higher at 92-96 cents/doz. Prices in the Southeast and Midwest were also higher at $1.00-1.03/doz. and 87-90 cents/doz., respectively. Large eggs delivered to California were higher at $1.45/doz.
For turkeys, USDA said the market was steady to week. Offerings were very light to moderate, while demand was light. Prices for hens and toms were lower at 78 cents to $1.01/lb. and 84 cents to $1.01/lb.
Subscribe to Our Newsletters
Feedstuffs is the news source for animal agriculture
You May Also Like
---