LIVESTOCK MARKETS: Cattle market pressured by heavier weights
LIVESTOCK MARKETS: Cattle market pressured by heavier weights
Fewest number of heifers were on feed Jan. 1 out of the past 20 years.

More feedlot placements than expected, coupled with large supplies of cold storage beef, will pressure cattle prices in the near term, according to Texas A&M AgriLife Extension Service livestock economist Dr. David Anderson.
Anderson, a livestock economist in College Station, Texas, said the recent "Cattle on Feed" report released by the U.S. Department of Agriculture depicts fewer heifers placed on feed, signaling continued expansion among producers across the country.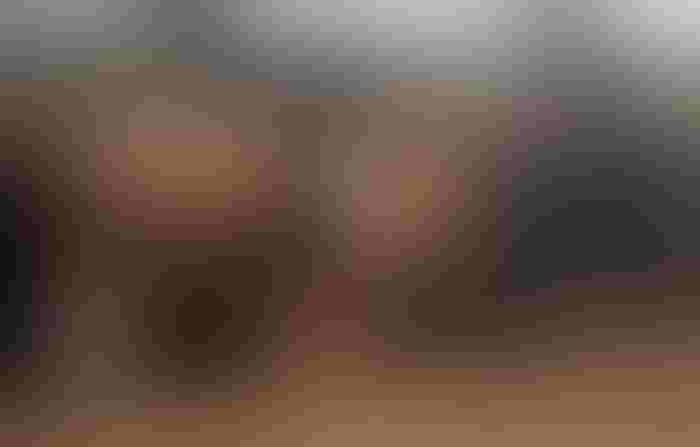 A livestock economist said the latest USDA data signal continued expansion among producers across the country. Photo: Texas A
"The report has indicated the running themes we have had throughout 2015, which has been fewer placements and a trend in placing heavier animals," he said. "This is being driven by fewer cows and calves in 2014 that continued in 2015. There were heavy financial losses by cattle feeder operators in 2015. They paid premiums for those animals, and then the market dropped lower, forcing them to hold onto to those feeders and add more gain to compensate for the premium they paid."
The USDA report indicated that placements were slightly lower — about 1% less than the year before, Anderson said.
"More cattle were placed weighing over 700 and 800 lb., while total placements declined," he said. "The report indicated fewer placed, but heavier. The result of the 'Cattle on Feed' report was half a percent lower than the year before. I think as the market digests this, there will be bearish talk in terms of the futures market because placements are bigger than expected and marketings are lower than expected."
Anderson said the report also included a quarterly breakdown of heifers on feed.
"This report historically goes back to 1996," he said. "We found in the latest report this was the fewest number of heifers on feed Jan. 1 than in the past 20 years. This gives you more evidence of the strength of expansion going on. We've got more steers on feed than a year ago and a record-low number of heifers on feed."
Anderson pointed to another USDA report, the "Cold Storage" report, which indicated a record supply of beef on hand.
"Throughout 2015, we built up a record supply of cold storage of beef," he said. "In December, we put more beef in cold storage — more than we did in November. This points out there is a heck of a lot of beef in cold storage. In this case, it's due to record imports of beef that we brought in because of record-high prices, strength of the dollar and drought in Australia. When it comes here, it has to stay somewhere cold, so it stays in the cold chain."
Anderson added that "most cold storage beef is boneless beef that is made into ground beef. That's a large supply we've got to work off going through 2016. As beef imports back off during the year, it will help bring those storage amounts down."
Weather impact
While Winter Storm Goliath significantly affected much of the Southwest and Plains states, Winter Storm Jonas dumped record snowfall on the East Coast last week, causing the nearly total shutdown of several major cities across a large region. Like Goliath, the after-effects of the deep snow, power outages and coastal flooding will continue for several days.
Oklahoma State University Extension livestock marketing specialist Derrell Peel noted that while some winter storms affect beef production and supply, others affect demand, and sometimes, winter weather affects both beef supply and demand.
"Jonas will be primarily a demand impact as the storm was centered east of the major beef production regions in the middle of the country. The storm means less grocery shopping and restaurant visits and likely will interrupt beef supply pipelines for several days to come," he said.
Meanwhile, CattleFax senior analyst Kevin Good, speaking at the 2016 Cattle Industry Convention and National Cattlemen's Beef Association Trade Show, said there is no doubt that El Niño weather is taking tonnage off of fed cattle.
Market recap
Live cattle futures rallied this week before falling off Thursday as another winter storm is forecasted for the major cattle production areas of eastern Colorado, southern Nebraska, western and northern Kansas and much of Iowa. The storm is expected to dump at least 6-12 in. accumulations and locally as much as 18 in. One analyst said the storm will impact performance, so its path is something to monitor.
February live cattle futures started the week lower, closing at $131.025/cwt. on Monday, but finished higher both Tuesday and Wednesday at $133.025/cwt. and $135.725/cwt., respectively. The rally slowed Thursday as traders eyed the approaching storm, and nearby contracts closed lower at $135.425/cwt.
Feeder cattle futures posted gains this week. January fed cattle futures finished higher Monday at $160.225/cwt. and climbed throughout Tuesday to $161/cwt. before closing lower Wednesday at $160.925/cwt.  However, the losses were recovered Thursday when nearby contracts climbed to close at $161.30/cwt.
Aside from the weather, the analyst said the news is not as supportive. The boxed beef markets continue to struggle after the gains seen over the past month. The Choice cutout closed lower at $220.12/cwt., while Select closed slightly higher at $215.43/cwt.
February lean hog futures were mostly higher this week as they continued a steady climb. Nearby contracts closed higher Monday at $63.525/cwt. and posted gains through Thursday before falling off to close at $65.30/cwt.
Pork cutout values were all higher for the week. The wholesale pork cutout finished at $76.93/cwt., an increase from $74.03/cwt. the previous week.  Loins and bellies also closed higher at $84.18/cwt. and 124.74/cwt., respectively, while hams closed lower at $57.43/cwt.
Hogs delivered to the western Corn Belt were higher than last week, closing at $58.62/cwt. on Thursday.
In the poultry markets, the Georgia dock was slightly lower Wednesday at $1.125/lb. Breast meat prices were higher at $1.48/lb. Leg quarters decreased to 33 cents/lb., while wings climbed $1.68/lb. from $1.635/lb. the prior week.
According to USDA, California and regional egg prices were steady Thursday, with a cautiously steady to higher undertone. Offerings were light to moderate, with moderate to good demand, USDA reported.
Large eggs delivered to the Northeast were sharply higher at $1.43-1.47/doz., up from $1.02-1.06/doz. the previous week. Large eggs delivered to the Southeast and Midwest were also higher at $1.44-1.47/doz. and $1.36-1.39/doz., respectively. Large eggs delivered to California were nearly 60 cents higher than the previous week at $2.83/doz.
The turkey markets on Thursday were steady for hens and steady to, in some instances, firm for toms, according to USDA. Offering were light to moderate, with light demand. Prices for hens and toms were unchanged at $1.09-1.19/lb. and $1.09-1.38/lb., respectively.
Subscribe to Our Newsletters
Feedstuffs is the news source for animal agriculture
You May Also Like
---