LIVESTOCK MARKETS: Broiler export volume disappointing
LIVESTOCK MARKETS: Broiler export volume disappointing
Feedlot returns expected to remain negative until 2017.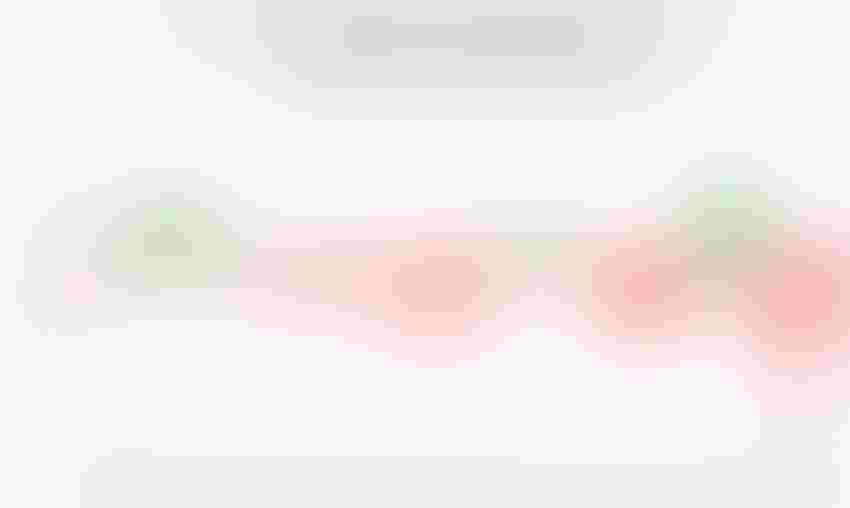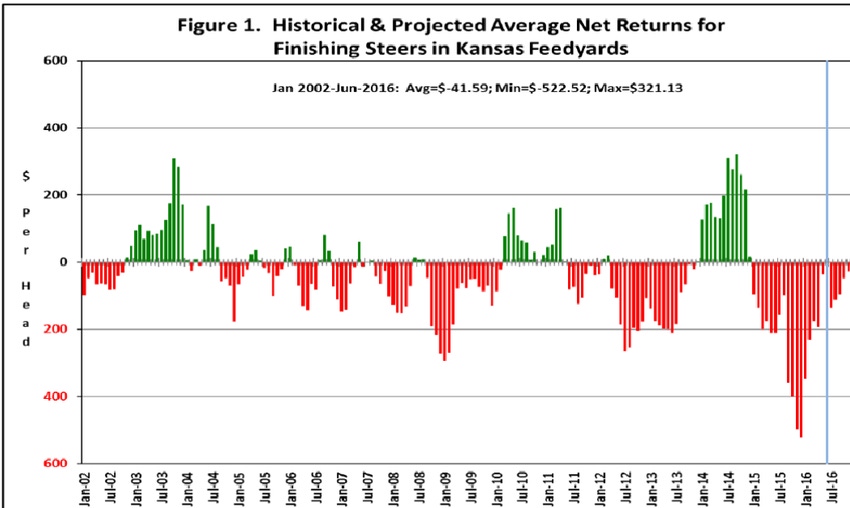 Broiler export volume had another disappointing month, down 10% year over year for June, according to new U.S. Department of Agriculture data. This put total exports for the first half of 2016 down 5% compared to the same period last year.
Although exports are generally down across the board to the U.S.'s main trading partners, Len Steiner noted in the "Daily Livestock Report" that volumes have declined most significantly to Angola, Canada, Hong Kong and the Former Soviet Union countries, excluding Russia.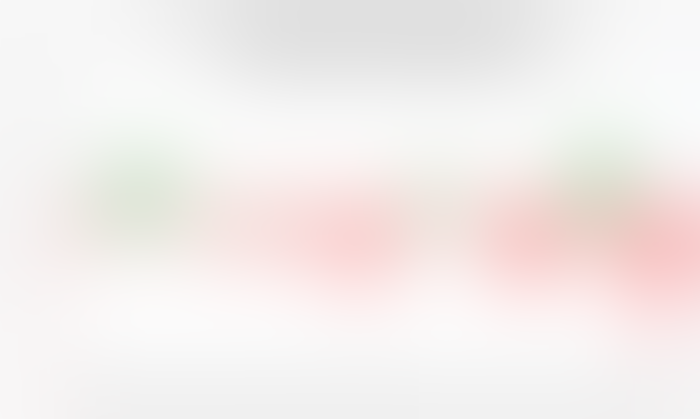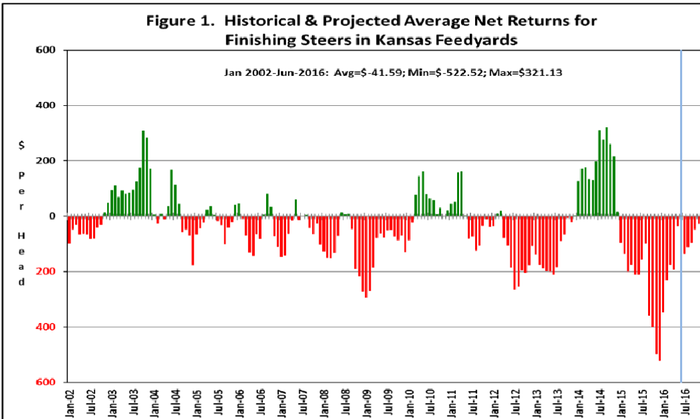 Steiner said year-over-year increases in broiler exports were expected starting in June after exports significantly fell last year due to trade bans other countries imposed due to highly pathogenic avian influenza in the U.S.; however, the export volumes haven't recovered completely.
Domestic broiler consumption during the April-to-June quarter, on the other hand, increased slightly from the prior quarter, totaling 26.4 lb. per person, up from 26.2 lb. in the prior quarter and 25.7 lb. a year earlier. Steiner said the 3% gain from a year ago was driven by production, which was up 2.2%.
Domestic demand for chicken dark meat has been a highlight of recent months. Wholesale leg quarter prices moved up 26% (markets reported by USDA) from the prior quarter, averaging 35 cents/lb. versus 32 cents/lb. during the same time frame in 2015. At the same time, exports of leg quarters declined 154 million lb., some of which was absorbed into frozen inventories (24 million lb.), leaving an additional 130 million lb. on top of the increase in fresh production to move into the domestic market — and it did so at rising prices.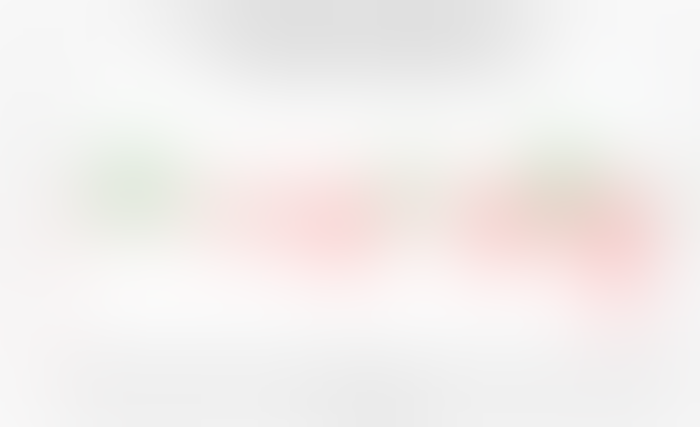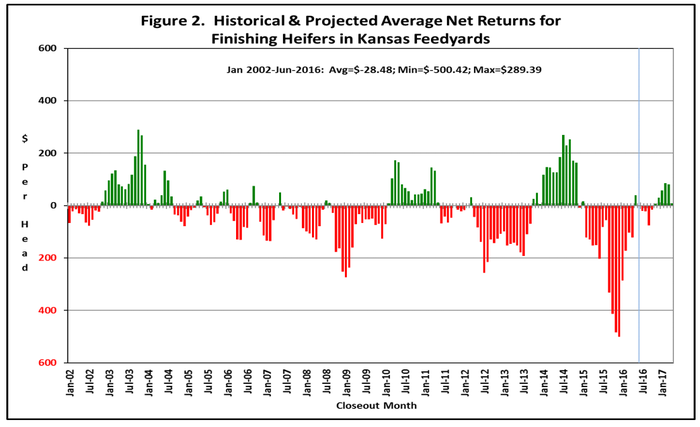 Broiler consumption typically peaks in the summer quarter (July to September), consistent with demand for fried or barbequed chicken, Steiner noted. Last year, consumption set a record at 27.1 lb. per person (retail weight). The auspicious demand for leg parts during the spring hints of a new record that could be set this summer, but Steiner said it will be difficult to achieve.
Feedlot returns remain negative
Kansas State University livestock economist Glynn Tonsor recently released the estimated net returns of Kansas cattle finishing operations, suggesting that upcoming closeout months will remain negative but then should turn positive in 2017.
Steers and heifers were estimated to be sold in June at small losses of $8.06 per head and 99 cents per head, respectively. Currently, the net returns projected for closeouts in July are losses of $135.31 per head and $20.27 per head for steers and heifers, respectively, while steers and heifers sold in August are projected to sell at a loss of $112.04 and $22.57 per head (Figures 1 and 2).
Market recap
August fed cattle futures were mostly lower this week. Nearby contracts closed lower Monday at $116.925/cwt. and, despite recovering some of the losses Tuesday, fell to a lower close Thursday at $116.025/cwt.
August feeder cattle futures followed the same trend, closing lower Monday at $149.125/cwt. Nearby contracts were higher Wednesday but then closed lower Thursday at $148.725/cwt.
For the beef cutouts this week, Choice and Select were higher at $201.58/cwt. and $192.82/cwt., respectively.
August lean hog futures started the week lower but gained as the week progressed. Nearby contracts closed lower Monday and Tuesday at $67.10/cwt. and $66.925/cwt. but fell by Thursday to close at $67.20/cwt.
Pork cutout values were mixed this week. The wholesale pork cutout was lower at $74.89/cwt. Loins and hams closed higher at $81.40/cwt. and $66.37/cwt., respectively. Bellies, on the other hand, were sharply lower at $86.55/cwt., down from $102.50/cwt. the previous week.
Hogs delivered to the western Corn Belt were lower again this week, closing at $62.71/cwt. on Thursday.
In the poultry markets, the Georgia dock was lower Wednesday at $1.1075/lb. Breast meat was slightly higher at $1.67/lb., while leg quarters were unchanged at 31 cents/lb. Wings were higher at $1.41/lb.
According to USDA, egg prices have been steady, with a steady to firm undertone. Offerings have been light to moderate. Supplies have been moderate in the Midwest and South Central regions and light to moderate elsewhere. Demand has been moderate to fairly good.
Large eggs delivered to the Northeast were unchanged at 50-54 cents/doz. Prices in the Southeast were also unchanged at 51-54 cents/doz., while prices in the Midwest were slightly higher at 47-50 cents/doz. Large eggs delivered to California were lower at $1.02/doz.
USDA said the turkey markets were mostly steady. Offerings were light to moderate, while demand was light. Prices for hens and toms were nearly unchanged at $1.15-1.22/lb. and $1.15-1.39/lb., respectively.
Subscribe to Our Newsletters
Feedstuffs is the news source for animal agriculture
You May Also Like
---