Benefits of sheep grazing systems examined
Benefits of sheep grazing systems examined
Integrated crop and livestock systems helps build soil health and expand livestock industries.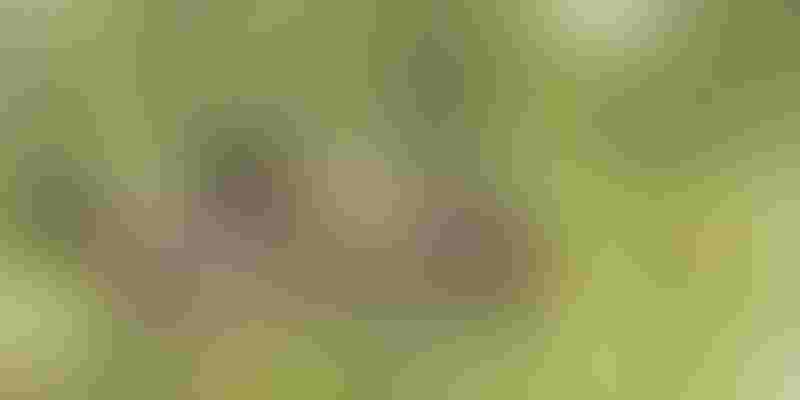 Meredith Niles at the University of Vermont has shown that integrating sheep in vineyard systems yields substantial cost savings for farmers, with potentially bigger benefits for soil and ecosystem.
Josh Brown
A recently announced project is studying the effectiveness of grazing sheep on solar farms, keeping weeds and vegetation under control beneath and around the solar panels.
Similar projects are underway in other regions as farmers and ranchers search for ways to limit the need for tillage and chemical herbicides on farmland.
For example, two researchers in Montana State University's College of Agriculture are working on such a project. With help from the Western Sustainable Agricultural Research & Education (SARE) program, Devon Ragen, a research associate in the Montana State department of animal and range sciences, and graduate student Trestin Benson have conducted two years of tests on local farms to see if grazing sheep on vegetable or cover crop plots can help improve soil health while reducing artificial inputs to the soil, according to an announcement from Montana State.
"We're looking at differences in microbial communities in the soil and nutrient profiles," Ragen said. "We use sheep for a pre-graze before seeding to clean up all the weeds instead of having to spray or till it up."
Tillage is one of the biggest detriments to organic farmers, she said, noting that while useful for turning fertilizer and plant matter into the soil, it also promotes wind erosion. If incorporating sheep into a farming system results in less need for tillage, it would be a win for farmers. Ragen and Benson have partnered with Strike Farms in Bozeman, Mont.; 13 Mile Lamb & Wool in Belgrade, Mont., and Black Cat Farm in Boulder, Colo. All three farms volunteered to test out their theory and allow sheep to graze their vegetable fields.
Those tests have shown that when sheep were allowed on cropland to eat weeds and leave manure and urine — natural fertilizer — behind, it reduced the need for tillage 60% of the time. However, having animals in a vegetable field carries the concern of the sheep compacting the soil too much and interfering with seeding and growth. Fortunately, Ragen and Benson haven't found it to be a problem in their farm tests, which is more good news for producers.
"We looked at these grazed organic fields and compared them to tilled organic and (conventional) fields, and we're not really seeing a big difference in terms of compaction," Ragen said. "From a farmer's perspective, it's not really a detriment to have sheep out there, and we're actually seeing higher nitrogen in the soil after the sheep have grazed, so that's less fertilizer they have to apply and less cost in actually purchasing the fertilizer."
One of the upsides to the project is that it doesn't require the producer partners to change anything in their systems; they simply allow Ragen and Benson to take soil samples before and after sheep are grazed on the plots. They do much of their work with a part of the Montana State-owned flock of sheep that lives at the Ft. Ellis Research Farm.
The SARE program, which focuses on supporting projects dedicated to furthering sustainable agriculture, is the nation's top producer-led grant program in the field. Montana State was selected in 2018 as the western regional host for the program, which will bring more than $27 million in grants and operational costs to Montana State researchers and graduate students over the next five years.
They hope their research will offer farmers and ranchers an added level of comfort in pursuing livestock/cropland partnerships in a real-life context. "As researchers, I think it's really important that we can do all the trials and let them know what works and what doesn't so they can feel a little more comfortable going out there and trying it themselves," Ragen said.
Vineyard grazing
This spring, Shelburne Vineyard in Shelburne, Vt., hosted a flock of five Suffolk sheep grazing on the grass beneath the grapevines as part of a research collaboration among University of Vermont researchers Meredith Niles and Juan Alvez, Shelburne Vineyard winemaker Ethan Joseph and Greylaine Farm owner Mike Kirk.
According to the University of Vermont, while unconventional in the Northeast, the practice of integrating sheep in vineyard systems has been recognized for its potential to reduce environmental impacts and improve farmer livelihoods, but the benefits have not yet been fully quantified.
Niles, an assistant professor of food systems at the university, has been investigating the practice in New Zealand, where an estimated 59% of vineyards are integrating sheep. In a country with large-scale wine production and where sheep outnumber people six to one, New Zealand's agricultural systems create a symbiotic relationship for farmers seeking to avoid mowing and pesticide use and sheep farmers in need of feed.
Niles' research showed that the practice can result in substantial cost savings for farmers and identified potential benefits to the soil and ecosystem, the university said.
Joseph and Kirk had talked about a potential collaboration for years, but an Instagram photo highlighting Niles' work was the catalyst they needed, the University of Vermont said. They contacted Niles and later applied for and received a SARE grant to fund the project. Niles and Alvez, pasture program technical coordinator with University of Vermont Center for Sustainable Agriculture, both serve as technical advisors on the project.
"What we're doing in Vermont is actually really unique," said Niles, who is also a fellow in the university's Gund Institute for the Environment. "We designed the study to look at the whole system: the health of the grapes, the animals, the forage and soil as well as the consumer perceptions, or marketability potential. The existing research on this work has largely looked at these different components in pieces rather than trying to understand all of these interactions together."
Sheep offer some of the best natural fertilizer as their manure pellets take time to dissolve in the soil, Alvez said. In addition to measuring soil quality, animal health and documenting how the vines and grapes respond to the sheep, the research team is surveying winery visitors to determine whether the sheep integration influences buying decisions.
"The sheep provide a service that can be beneficial to them, to us, to the soil and the environment," Kirk said. "This project is enabling us to understand what these animals can do for the vineyard and to see how we can expand it."
According to the University of Vermont, while they were once necessary means to meet local food needs and protect farmers against weather variability, integrated crop and livestock systems have decreased over time with the rise of farm machinery, synthetic fertilizers and the globalization and specialization of crop and livestock industries. The benefits of integrated crop and livestock systems, in which the outputs of one land use are used as inputs into another, inspired Niles to help co-organize an international group of researchers who are evaluating the reintroduction of these practices in agricultural systems around the world.
"The beauty of this is having the animals to close the cycle. By combining two unconventional enterprises, we are helping to build soil health in the region and providing a model for farmers to succeed," Alvez said, noting the need for new and creative thinking in the dairy industry and other sectors of agriculture facing crisis. "We're excited about this as a possible model in which farmers bring their animals to graze on land they don't own."
The University of Vermont research team is exploring other types of systems that would be well suited for sheep in Vermont, like Christmas tree farms, hops fields, cider orchards or even solar panel fields. "Once you start to think bigger about the potential of integrating animals into crop systems more generally, there are lots of other systems you can think about," Niles said.
Subscribe to Our Newsletters
Feedstuffs is the news source for animal agriculture
You May Also Like
---