AASV Coverage: Achievements great, opportunities abound for hog industry
AASV Coverage: Achievements great, opportunities abound for hog industry
U.S. pork industry and swine veterinary professionals have so many things to be proud of, Dr. Rodger Main of Iowa State University said in presenting the Alex Hogg Memorial Lecture during the AASV annual meeting.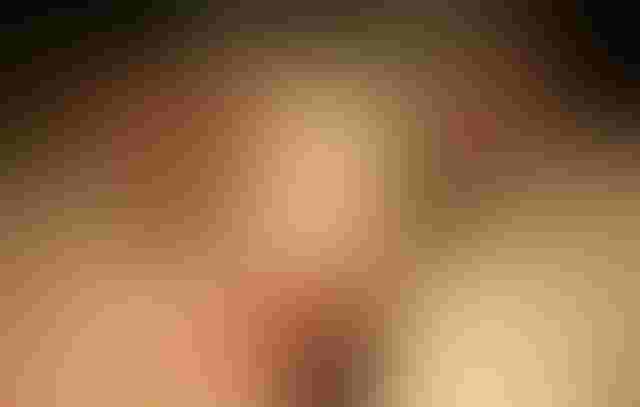 ARS scientists are studying a natural supplement as a possible alternative to antibiotics for promoting pig health and growth.
ARS Photo by Gloria Solano-Aguilar.
Considering the ever-improving levels of productivity and the overall growth of the hog industry to date, the U.S. pork industry in general, along with swine veterinary professionals, have so many things to be proud of, according to Dr. Rodger Main of Iowa State University in Ames, Iowa.
Main, who gave the Alex Hogg Memorial Lecture at the American Association of Swine Veterinarians (AASV) annual meeting in San Diego, Cal., this week, pointed out, "Our systems of pork production today are an exemplary model of sustainable agriculture that competes well in delivering high-quality food products in a global marketplace. The opportunities, challenges and risks have not likely ever been greater."
Main noted that the swine veterinary professional is well positioned to build upon current and historical successes and play an ever-increasing leadership role in helping hog producers and the industry meet the challenges of tomorrow.
"As was the case with those that came before our time, each of the individual and collective efforts, actions and choices we make today are and will continue to have a profound impact on the U.S. pork industry and swine veterinary profession inherited by those to follow," Main said. He provided the group with his personal account of the mega-trends observed in the U.S. pork industry and swine veterinary profession from 1977 to today, highlighting notable strengths and weakness of current abilities and providing a few thoughts as to what he sees as significant opportunities for swine veterinarians and the industry going forward.
Opportunities ahead
The transition to multi-site production and the marked growth in, and now dependence on, export markets are two of the most significant industry-affecting changes, Main said. These changes, he noted, have been responsible for a significant portion of the hog industry's growth and improvements in biological performance achieved. They also provide opportunities for the future.
To start, Main said opportunities exist for the swine veterinarian profession and the industry to improve upon the status quo of how to actively manage disease shed and spread, particularly diseases of high consequence at the commercial production level.
"Specifically, I think reassessing our current system and approach toward managing the sanitation of top hog trucks returning from slaughter plants and growing pig immunity for diseases of high consequences warrants thoughtful consideration," Main said. He noted that biosecurity of the feed supply also should be of keen interest.
The digital age offers the industry new and ever-improving ways of aggregating and summarizing information, which Main said allows for a transition away from conventional paper-based systems of information exchange to more seamless electronic applications, creating the opportunity for transformational change in the quality, traceability, value, connectivity and accessibility of information.
"The adoption and use of universally recognized data standards is also a critical element that allows data within any number of database applications to be more seamlessly accessed, aggregated and summarized as needed for a wide variety of specific use cases," Main said.
In the case of industry-led surveillance and certification, Main offered two specific opportunities for improvement. They included addressing the need for an updated approach to program disease surveillance of commercial U.S. swine and furthering the development and implementation of the secure pork plan in concert with other industry-led swine health monitoring, compartmentalization and/or regionalization initiatives.
The establishment of a more formal and universally recognized approach to creating standards and definitions for swine health could be useful in providing guidance to larger-scale efforts to improve and protect the health of the nation's swine while enhancing the industry's longer-term competitiveness and market access in the global marketplace, Main said.
Subscribe to Our Newsletters
Feedstuffs is the news source for animal agriculture
You May Also Like
---