GRAIN MARKETS: Soybeans snap an 8-day green streak (technically)
GRAIN MARKETS: Soybeans snap an 8-day green streak (technically)
Gains disappeared at the close, despite being up most of Thursday.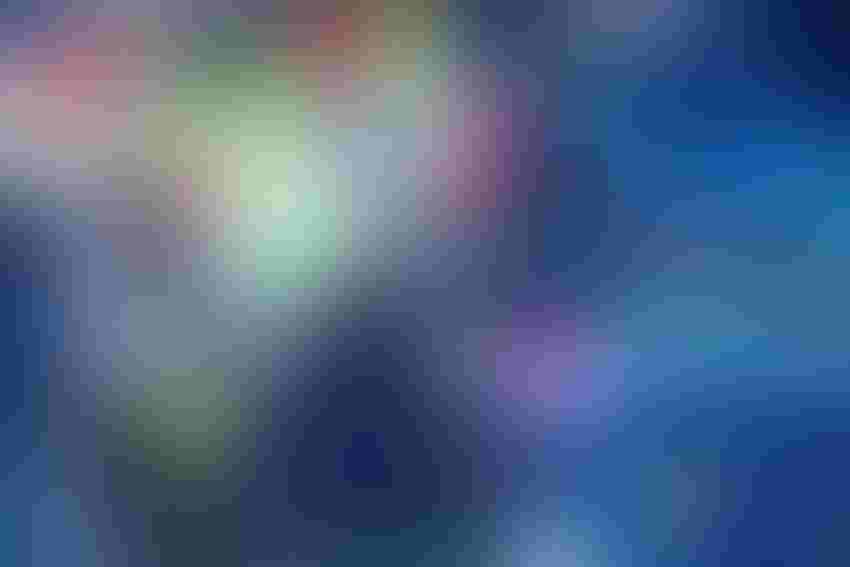 Stock market background design
Credit: FeelPic/iStock/Thinkstock
By Ben Potter
Soybeans hoped to extend its hot streak to a ninth consecutive day, as dry weather persists in key production areas in South America, and on expectations for a healthy round of export data, due out Friday morning. But prices dipped ahead of the close, and March and May prices finished exactly where they started. Corn closed the day slightly lower, with wheat holding on to small gains.
Warmer-than-normal temperatures have descended on much of the central U.S. and should stay seasonably warm through Tuesday in most areas. The 7-day forecast calls for no additional precipitation for much of the Plains and upper Midwest. The eastern Corn Belt and southern U.S. can reasonably expect to see additional rain or snowfall between now and February 1.
On Wall Street, corporate earnings fueled another day of stock market gains, with the Dow picking up another 80 points in early afternoon trading to 26,350. The U.S. Dollar softened slightly Thursday, continuing a general trend stretching back to November. Energy prices firmed slightly, as did gold prices.
Corn prices were docked slightly after a round of technical selling. March futures fell 1.25 cents to close at $3.5525, while May futures dropped a penny to close at $3.6375.
Corn spot basis bids were down between 1 and 4 cents in several Midwestern locations, due in part to an uptick in farmer sales earlier this week.
Ahead of Friday's weekly USDA export sales report, trade estimates for corn range between 35.4 million and 49.2 million bushels.
Continued dry conditions in Argentina has that country's corn acre estimates slightly down, from 21.8 million acres to 21.5 million acres. Argentina's estimated soybean acres for 2017/18 are currently 41.4 million acres.
EU corn imports for 2017/18 are up moderately compared to a year ago, with 366.1 million bushels compared to 236.2 million bushels in 2016/17.
South African corn exports reached nearly 74.1 million bushels in December. The country's total corn stocks are lowered to 288.3 million bushels – about two-thirds of which is white corn.
Preliminary volume estimates were robust at 325,541 but still well short of Wednesday's final tally of 529,337.
Soybean prices took a bumpy ride Thursday, up for much of the day on dry Argentina weather forecasts, but stalling out in the closing minutes of the session. March and May futures each finished the day unchanged, at $9.9225 and $10.0375, respectively.
Soybean spot basis bids were largely unchanged Thursday, but were down between 1 and 7 cents in three Midwestern locations.
Ahead of Friday's weekly USDA export sales report, trade estimates for soybeans range between 31.2 million and 51.4 million bushels.
The European Union's pace of soybean imports so far for the 2017/18 marketing year are down 8%. As of January 23, imports totaled 275.6 million bushels. Palm oil imports are up 3% over the same timeframe.
South Korea wants to purchase around 22,000 bushels of yellow non-GMO soybeans in a tender that closes February 1. The purchase will be for delivery between March and April.
Preliminary volume estimates were for 210,319 contracts, slightly below Wednesday's final count of 225,812.
Wheat prices benefited from a round of technical buying and short-covering, picking up small gains Thursday. March Chicago SRW futures found 1.5 cents to reach $4.3450, with March Kansas City HRW prices picking up 2 cents to close at $4.35. Spring wheat prices also found some traction, with March MGEX futures adding 2.75 cents to close at $6.1075.
Ahead of Friday's weekly USDA export sales report, trade estimates for wheat range between 7.3 million and 18.4 million bushels.
EU soft wheat exports for 2017/18 are down 17% as of January 23. Total volume so far is 437.2 million bushels. Barley exports of 124 million bushels are roughly equal to last year's pace.
Tunisia has issued an international tender, which closes January 26, for the purchase of 3.7 million bushels of durum wheat. The country cancelled previous tenders for soft wheat, durum wheat and barley on January 17 for "administrative reasons." The new tender is for four consignments to ship between March 5 and April 25, depending on origin.
Japan purchased 31.1 million bushels of food-quality wheat from the U.S. and Australia in a regular tender that closed Thursday. More than 70% of the total amount was western white, dark northern spring and hard red winter wheat sourced from the U.S.
Preliminary volume estimates were for 119,150 CBOT contracts, much lower than Wednesday's final count of 169,905.
Subscribe to Our Newsletters
Feedstuffs is the news source for animal agriculture
You May Also Like
---