Taiwan imports most U.S. corn in seven years
Taiwan imports most U.S. corn in seven years
Country pledges more during goodwill mission.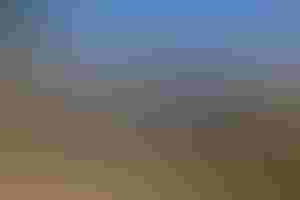 Members of the 2017 Agriculture Trade Goodwill Mission pledged Sept. 13 to purchase 5 million metric tons (197 million bu.) of U.S. corn and 500,000 tons of U.S. dried distillers grains with solubles (DDGS) between 2018 and 2019, echoing a rebound in U.S. corn sales to this long-term trading partner.
The corn delegation of the Taiwan Agricultural Goodwill Mission visited the farm of Chip Councell, past chairman of the U.S. Grains Council (USGC), on Maryland's Eastern Shore.
"The council has worked in Taiwan for more than four decades as part of a long-term effort to secure market share and food security through trade," said Clover Chang, USGC director in Taiwan. "The council works to help improve efficiency in Taiwan's domestic meat, milk and egg production, instill confidence in U.S. feed grains and co-products and ensure no disruption in the trade between the two countries."
Taiwan imports nearly all of its local feed demand, which is primarily for swine and poultry. In the 1990s, USGC said Taiwan imported more than 6 mmt (236 million bu.) of corn per year, but a disease in 1997 caused a steep decline in pork production and feed grain demand. Corn imports rebounded as the market recovered, as did U.S. corn market share -- until drought conditions in 2012 limited supplies and spurred competition from countries like Brazil.
Today, the market has rallied again, USGC said. U.S. corn captured 89% of Taiwan's corn imports in the 2016-17 marketing year (September through June), up dramatically from 28% in the same time period the year before. With 2.91 mmt (114.5 million bu.) sold from September 2016 to July 2017, USGC said the sales are the highest in the last seven marketing years, making Taiwan the fifth-largest market for U.S. corn. Taiwan also ranks as the third-largest buyer of U.S. barley in 2016-17.
The U.S. accounts for 95% of the DDGS imported by Taiwan. Almost all large feed mills in Taiwan currently utilize DDGS, but typically at extremely conservative inclusion rates, UGSC explained. As a result, the council is working with local nutritionists to better formulate diets to optimize caloric and nutritional efficiency using U.S. DDGS. Taiwan has purchased nearly 240,000 tons of U.S. DDGS so far in the 2016-17 marketing year, a 23% increase year over year.
Subscribe to Our Newsletters
Feedstuffs is the news source for animal agriculture
You May Also Like
---