N&H TOPLINE: LED display lighting may affect whole beef cuts
N&H TOPLINE: LED display lighting may affect whole beef cuts
Hamburger meat under LED lighting retains red color in deli cases longer than under incandescent bulbs, but results vary for whole muscle cuts.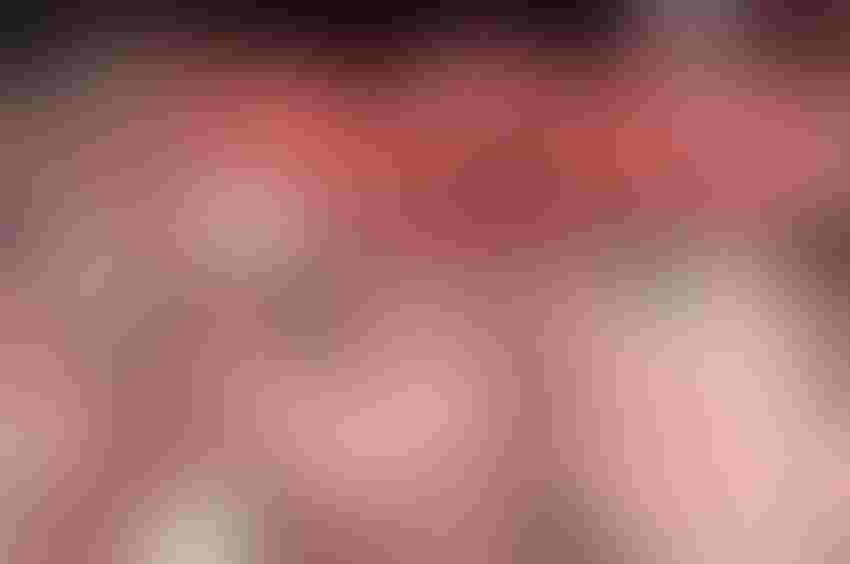 LED lighting could have significant effects on delaying the browning of red meat. After conducting tests on hamburger patties, a research team at CAFNR has recently finished its analysis of whole beef muscles.
Photo by venakr via iStock.
Nothing is different nutritionally when red meat darkens to brown, but try telling that to the average customer at a grocery store. "That's the number-one driver consumers have," University of Missouri meat scientist Carol Lorenzen said about the bright redness quality of meat.
A research team that included Lorenzen, professor of meat science in the Division of Animal Sciences, and her graduate student, Jade Cooper, has been investigating the impact of light-emitting diode (LED) lighting on beef color. The team published a research paper in the October 2016 issue of the Journal of Animal Science that focused on how meat vendors can slow down the redness-discoloration process in hamburger meat when it is kept under LED bulbs.
For comparison, meat samples were also kept under the industry standard incandescent bulbs, which emit more heat than LED bulbs, as well as under no light for a negative control.
At the moment, according to the U.S. Department of Energy, only 5% of the lights in the U.S. are LEDs, but that number is expected to balloon to 85% by 2035. This should result in a 75% decrease in energy consumption.
"It's really imperative for grocers that we investigate different lighting technologies from an energy-saving standpoint and a meat quality standpoint," Cooper said.
The team also included meat science professor Bryon Wiegand; Leon Schumacher, program chair of agricultural systems management program, and Ingolf Gruen, program chair of food science — all from the University of Missouri's College of Agriculture, Food & Natural Resources.
In addition to looking at the color of ground beef patties at both 5% and 25% fat at intervals of one, three, five and seven days, the team analyzed the patties for concentrations of myoglobin (the protein responsible for the meat's color) and lipid oxidation (a major cause of quality deterioration that can lead to the development of rancidity or off-flavor in raw or fatty tissues).
The deli cases, which were purchased by Mexico, Mo.-based True Manufacturing using funds from Mizzou Advantage, were kept at temperatures near 2°C (35.6°F) during the experiment, which was funded by a grant through the Missouri Beef Industry Council.
In all three conditions, more discoloration occurred the longer the samples were left in the display cases. On the fifth day, the LED patties had maintained a noticeable amount of red color compared to those under fluorescent lights. Those patties also had less oxidation of color and fat, adding to the extra display shelf life. As expected, it should be noted that the best results were achieved with no lighting — even though a retailer does not have the option to present it to the customer that way.
"If we could, we would do it, but people want to see the meat," Lorenzen said.
Furthermore, also as expected, the patties with 25% fat were considerably less red than their 5% fat counterparts, regardless of the lighting.
Lorenzen said most ground beef is generally off the shelf at a grocery store or deli within a day, given supply and demand. Still, the results with LED lighting have led to further discussion — and experimentation.
Whole cuts
With additional funding from the Missouri Beef Industry Council, Lorenzen and Cooper recently completed the research and analysis of a test using the same display cases on a whole muscle beef project in which a high-oxidation muscle (round) and a low oxidation muscle (chuck) were used. These cuts were chosen because of certain biochemical properties that lead to different color stabilities, the researchers said.
Although the final report on the test is still being written, the chuck steak, which had lower color stability under novel lighting conditions, turned brown at different rates depending on light bulb source, whereas the round steak, which had a higher color stability, did not.
Based on the results of both tests, Lorenzen and Cooper said the use of LED lighting has the greatest application in areas that are closer to the bulbs, such as a deli case or full-service case. Still, they emphasized that more research is needed before any definitive suggestion can be made to those in the deli and grocery industries in regards to LED lighting.
"We're still working on data to make a recommendation like that, even though the data are very promising," Lorenzen said.
Subscribe to Our Newsletters
Feedstuffs is the news source for animal agriculture
You May Also Like
---