Vaccine joint venture to target FMD in China
Vaccine joint venture to target FMD in China
Venture will introduce world's leading vaccine technology and expertise against foot and mouth disease in a bid to shape future market in China.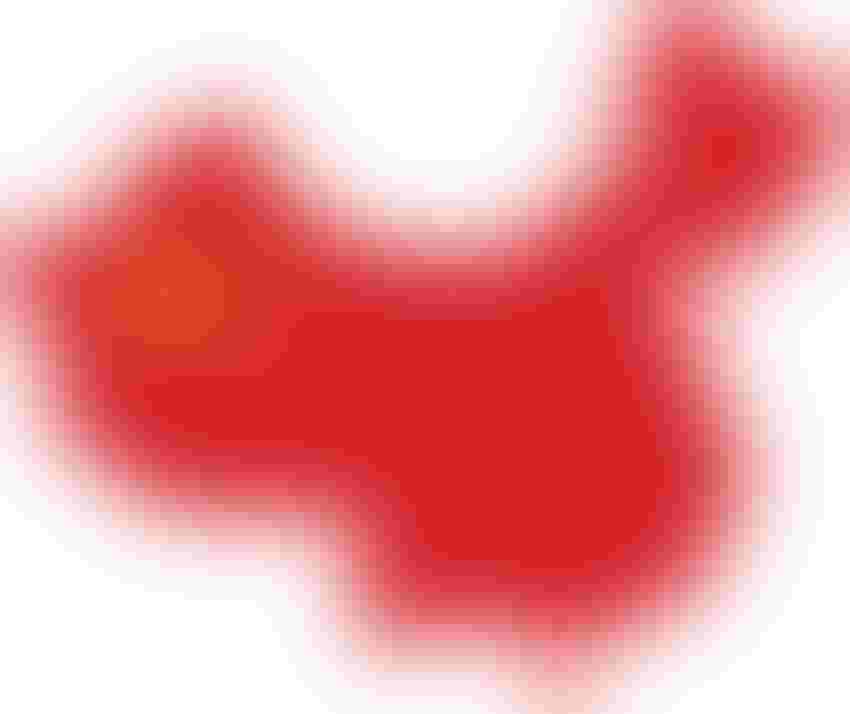 China is poised to take over the No. 1 spot as the world's largest economy by 2030.
ALEKSA/iStock/Thinkstock
Haanxi Meili Omni-Honesty Animal Health Co. Ltd., China's world-class vaccine company targeting foot and mouth disease (FMD) in swine, was launched March 24 with a groundbreaking ceremony held at the Airport New City in Xi'an, China.
Meili Omni-Honesty is a joint venture among Boehringer Ingelheim, Beijing KangMu Omni-Honesty Animal Health Products Co. Ltd. (KMOH) and China Agricultural Vet. Bio. Science & Technology Co. Ltd. (ZNWT).
According to an announcement, the total investment amounts to 840 million yuan (around 108 million euros). The venture will focus on the research and development (R&D) and manufacture of FMD vaccines on a site that will meet the latest Bio-Safety Level 3+ standards. Production is expected to start in 2021. The venture is subject to regulatory approval.
"China plays a key role in Boehringer Ingelheim's global business. With the establishment of Meili Omni-Honesty, we will bring world-class vaccine technology to China and join hands with our partners to foster local R&D and production so as to serve the Chinese market. It again demonstrates our commitment of being 'in China, for China'," said Hubertus von Baumbach, chairman of the Boehringer Ingelheim board of managing directors.
According to von Baumbach, Boehringer Ingelheim, as a global leader in animal health, hopes to help facilitate the growth of China's animal health industry and develop its talents. The company is committed to contributing to the country's animal health and food safety sectors, the announcement said.
FMD is a highly infectious disease that currently threatens and hinders the development of the livestock industry in China, Boehringer Ingelheim said. It poses a big threat to the health of cloven-hoofed animals such as pigs, cattle and sheep. China National Foot & Mouth Disease Reference Laboratory within the Lanzhou Veterinary Research Institute is the authorized agency to identify and confirm FMD. Lanzhou Veterinary Research Institute is also an authorized research institute in China to develop FMD vaccines.
"ZNWT is relying on Lanzhou Veterinary Research Institute for technical support and is playing a leading role in prevention and control of animal diseases in China," ZNWT chairman and general manager Zhang Yunde said. He added that the collaboration with Boehringer Ingelheim and KMOH will lead to "unprecedented advance and breakthrough" in disease prevention and control, vaccine technology and market growth. The new joint venture will tap into advantages and cooperation of the three companies to shape the swine vaccine market for FMD in China.
"Foot and mouth disease in swine is an epidemic that has a significant impact on animal husbandry and food safety. It is highly contagious and has a high mortality rate. The market is in urgent need of vaccines featuring the world's top-level technology," said Yuan Ximin, chairman of Meili Omni-Honesty. "I believe this project will drive transformation and upgrading of China's animal vaccine industry, and it will also help improve economic benefits for Chinese farmers."
Yuan also noted that Airport New City in Xi'an was chosen for the project because of its policy and location advantages. The Shaanxi Pilot Free Trade Zone was formally approved in 2017, bringing new opportunities for Airport New City. This is the only free trade zone approved in northwest China and the core area to lead Xi'an growth.
Subscribe to Our Newsletters
Feedstuffs is the news source for animal agriculture
You May Also Like
---