USDA forecasts fiscal 2018 ag exports to decline
USDA forecasts fiscal 2018 ag exports to decline
Weakening dollar to improve U.S. competitiveness.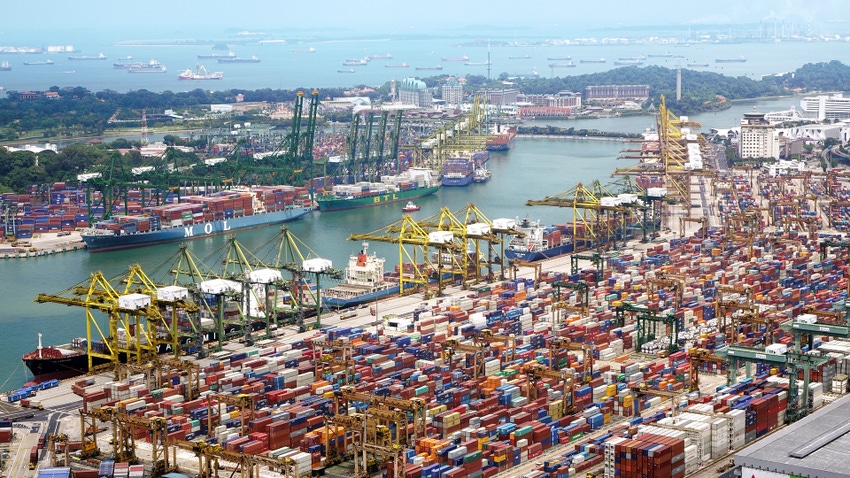 Fiscal 2018 agricultural exports are projected at $139.0 billion, down $800 million from the revised fiscal 2017 forecast of $139.8 billion, largely due to reductions in corn and cotton export forecasts, according to the the U.S. Department of Agriculture's newly released "Outlook for U.S. Agricultural Trade."
USDA lowered the forecast for fiscal 2018 grain and feed exports to $28.4 billion, down $1.8 billion from the 2017 estimate, due mainly to lower corn exports. Corn exports are expected to decline by $1.6 billion to $8.0 billion due to lower volumes and unit values as well as strong competition from South America. The soybean export value, on the other hand, is projected to rise $300 million to $23.9 billion.
The fiscal 2018 forecast for oilseeds and products is projected at $33.0 billion, up $500 million, driven mainly by record soybean export volumes, USDA reported.
"U.S. soybean production is also forecasted at a record and is expected to pressure soybean prices lower, especially on the heels of a record 2017 South American harvest. This is expected to spur additional demand and will limit the impact of weaker prices," USDA said.
Soybean meal is projected to be up $200 million to $4.1 billion, while soybean oil is forecasted to fall slightly as lower volume offsets higher unit values. USDA said competition with South America and demand from China remain the main drivers in the forecast.
USDA raised exports of livestock, poultry and dairy products by $600 million to $29.5 billion, primarily due to increased dairy and pork exports.
"Continued economic growth will spur increased consumption of animal products. Lower prices will support higher sales volumes across all meats," USDA said.
Rising volumes will also more than offset the decline in prices, generating higher beef and pork export values of $6.1 billion and $5.4 billion, respectively. Poultry and poultry products are forecasted at $4.9 billion based on elevated prices and increased shipments to primary markets.
USDA said dairy product exports will get a $200 million boost to $5.7billion as a result of stronger world prices and improved demand for dairy products from major importers.
Weakening dollar, GDP growth
The competitiveness of U.S. exports will be helped by a weakening U.S. dollar, the value of which has declined substantially since the beginning of the year, losing roughly 7% of its agricultural export-weighted value since January, USDA said.
"The relatively weaker dollar primarily reflects improvements in the economic outlook of key U.S. trading partners, particularly Europe and Japan," the agency said.
The dollar is expected to generally trend weaker for the rest of 2017; however, it will remain strong relative to the period preceding the dramatic strengthening that began at the end of 2014, USDA noted.
World per capita gross domestic product (GDP) growth is expected to reach 1.8% in 2017 and 1.9% in 2018, which USDA said represents a broad-based pickup in growth across developed and developing countries relative to growth of 1.4% in 2016. In the key emerging markets of Brazil, Russia, India, Indonesia and China, per capita GDP growth is expected to accelerate, on average, to 4.4% in 2017 and 4.6% in 2018.
This growth will result in increased exports. USDA said agricultural exports to China are projected to be $22.6 billion, $300 million higher than in fiscal 2017, primarily due to increased soybean and dairy exports, which will more than offset reductions in cotton.
Exports to Canada and Mexico are forecasted to be $21.2 billion and $18.8 billion, respectively, which are also both up from 2017 levels.
USDA lowered the 2018 forecast for total agricultural imports by $700 million to $115.5 billion due to reduced imports of livestock and dairy products, oilseeds and products and sugar and tropical products. This is below 2017 total agricultural imports but is expected to be $2.5 billion above fiscal 2016 totals.
Subscribe to Our Newsletters
Feedstuffs is the news source for animal agriculture
You May Also Like
---