USDA, FDA hold meeting on lab-grown meat
USDA, FDA hold meeting on lab-grown meat
Meat groups again voice support for FSIS to oversee fake meat regulation.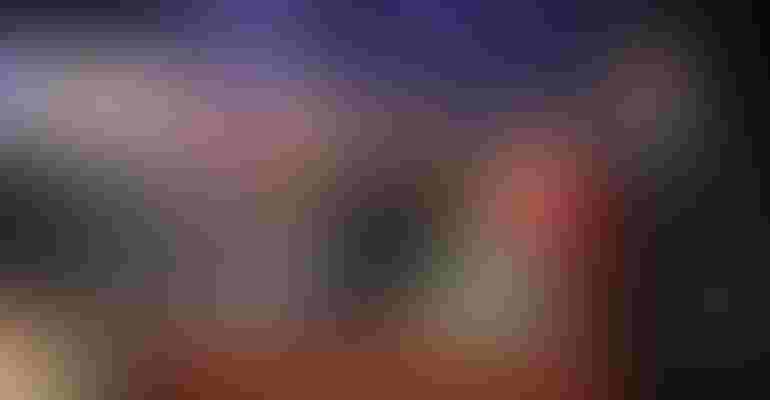 Secretary Perdue and Commissioner Gottlieb announce formal agreement at the White House on Jan. 30, 2018.
FDA USDA
The U.S. Department of Agriculture and the Food & Drug Administration joined forces Tuesday to host a two-day meeting on the use of cell culture technology for livestock and poultry. The forum offered interested stakeholders an opportunity to share their thoughts on the potential hazards, oversight considerations and labeling of cell-cultured food products derived from livestock and poultry.
Secretary of Agriculture Sonny Perdue opened the meeting by noting that it would offer insight into how to determine the roles USDA and FDA will play in establishing the regulatory framework when new products come to market. He said it is important for the regulatory framework to be as "clear and concise" as possible" and offer those "bright lines" for industry to follow.
Earlier this summer, FDA and USDA looked to be starting a turf war when it comes to the regulation of the "fake meat." FDA held a hearing earlier this summer for stakeholders, and USDA was not represented.
In his comments, FDA Commissioner Scott Gottlieb said both FDA and USDA will have "active roles in regulatory oversight" of cell-cultured meat. He added that the two agencies take seriously the shared goals of consumer safety at the forefront as well as enabling innovation that also supports public health and safety.
"There's no question that our two agencies working together have the right regulatory tools in our toolboxes to ensure the safety of new food products, this includes cell-cultured food, but deciding whether and how to use available tools is the art of regulation," Gottlieb said. "I know our success will depend on and help secure consumer and stakeholder support and confidence and buy-in of future new products."
Livestock groups were participants in Tuesday's hearing, too. Many continue to call for USDA's Food Safety & Inspection Service (FSIS) to have primary jurisdiction for regulation of new cell-based meat products.
National Cattlemen's Beef Assn. (NCBA) president-elect Jennifer Houston gave remarks Tuesday afternoon. Ahead of her testimony, she said NCBA continues to believe that FSIS inspection would put cell-cultured meat on a level playing field and require it to meet the same standards current meat inspections offer.
Houston explained why USDA is well-positioned to apply current food safety processes to lab-grown meat products. Two-thirds of the facilities already overseen by USDA are "processing-only" facilities, where harvesting of animals does not take place. "FDA offers a risk-based analysis with inspections on a less frequent basis, but FSIS is there on a daily basis," she said, which allows the closer oversight that NCBA feels is needed for these products.
NCBA president Kevin Kester focused his comments on how USDA oversight provides protects consumers against false and misleading marketing claims.
"USDA can be trusted to enforce truthful, transparent labeling of the products under its jurisdiction," he said. "Beef producers welcome competition, but product labels and marketing must be based on sound science, not the misleading claims of anti-animal agriculture activists."
In oral comments, North American Meat Institute (NAMI) senior vice president of regulatory and scientific affairs Mark Dopp explained the many benefits of USDA regulation for cell-based meat producers. He, too, reiterated that the inspection system FSIS administers is more rigorous.
Dopp also detailed the importance and benefits of USDA's label approval process, which protects companies from frivolous lawsuits and gives consumers confidence that products are accurately labeled and not represented to be something they are not.
He shared examples of FDA-regulated plant-based products that are represented on the package as sausage products yet contain no meat. Based not only on USDA's standards but common sense, he argued that the products are misbranded.
Earlier this summer, NAMI and Memphis Meats stated in a letter that both USDA and FDA could play an active role in the regulatory framework of the new technology.
"NAMI believes FDA would be responsible for the approval of the general technology as safe, but key to us is USDA authority over any products entering the marketplace," NAMI spokesman Eric Mittenthal explained. "It's a similar idea to irradiation, where FDA reviewed the general safety of the technology and USDA ensures it is applied and labeled appropriately for any products entering commerce."
The National Chicken Council (NCC) also offered insight into how it believes the framework should be established.
"As these new technologies are being explored, it is critical that they receive fair and proper regulatory oversight to ensure that consumers maintain the same level of confidence in the safety and labeling of these products as they have since 1906 under the Federal Meat Inspection Act for traditionally derived red meat products and since 1957 under the Poultry Products Inspection Act for traditionally derived poultry products," Dr. Ashley Peterson, NCC senior vice president of scientific and regulatory affairs, said.
NCC believes FSIS should regulate the labeling and safety of these products. They also said it is inappropriate to refer to these products using terms such as "clean meat," nor should these products be named or described in a way that disparages conventional animal proteins. Instead, the products should be named or labeled in a manner that clearly discloses the process by which they were made, and claims that these products are superior to conventional animal proteins should be prohibited unless such a claim is substantiated by scientific evidence, NCC emphasized.
NCC believes FSIS has the statutory authority, relevant experience and robust regulatory framework to perform continuous oversight of daily production practices. Additionally, FSIS has a detailed process to oversee the labeling of such products in a manner that clearly discloses the process by which they were made and to otherwise ensure that they are labeled in a manner that is not false or misleading.
"FDA also may have additional expertise to fill a role in regulating these products," Peterson noted. "FDA has long ensured that ingredients used in meat and poultry products are safe for use in food through FDA's authority over food additives. Additionally, FDA has experience with similar food production technologies, such as microbial, algal and fungal cells generated by large-scale culture and used as direct food ingredients. This may lend itself for FDA to address the technical safety of the cell-culturing technology used to create such products and to determine whether the results of this technology are or are not approved food additives."
For links to video of the two-day conference, click here.
Subscribe to Our Newsletters
Feedstuffs is the news source for animal agriculture
You May Also Like
---