USDA enhances CRP for climate mitigation
USDA enhances CRP for climate mitigation
Additional 4 million acres targeted with higher rental rates and climate incentive payments.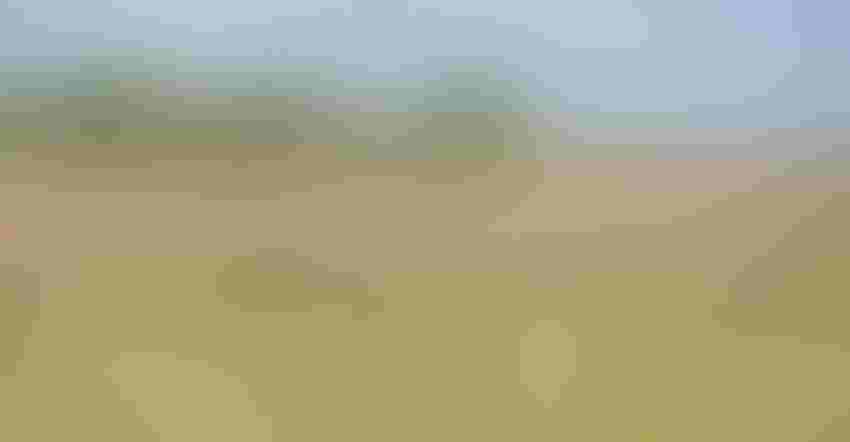 HIGHER CRP RATES COMING: USDA announces 10% increase in rental rates in ongoing efforts to encourage participation in CRP.
USDA
Secretary of Agriculture Tom Vilsack announced several changes to the Conservation Reserve Program to incentivize participation, including adjusting rental rates with a focus on highly erodible lands and introducing a variety of incentive payments, including a climate incentive payment.
Vilsack previously discussed how CRP participation was lacking from the funding allocated under the last farm bill. He hopes to bridge that shortfall by enrolling up to 4 million new acres in CRP by raising rental payment rates and expanding the number of incentivized environmental practices allowed under the program.
USDA notes the CRP is a powerful tool when it comes to climate mitigation, and acres currently enrolled in the program mitigate more than 12 million metric tons of carbon dioxide equivalent (CO2e). If USDA reaches its goal of enrolling an additional 4 million acres into the program, it will mitigate an additional 3 million metric tons of CO2 equivalent and prevent 90 million pounds of nitrogen and 33 million tons of sediment from running into our waterways each year, Vilsack shared during a press briefing Thursday morning.
To target the program on climate change mitigation, FSA is introducing a new Climate-Smart Practice Incentive for CRP general and continuous signups that aims to increase carbon sequestration and reduce greenhouse gas emissions. Climate-Smart CRP practices include establishment of trees and permanent grasses, development of wildlife habitat, and wetland restoration. The Climate-Smart Practice Incentive is annual, and the amount is based on the benefits of each practice type.
In 2021, CRP is capped at 25 million acres, and currently 20.8 million acres are enrolled. Furthermore, the cap will gradually increase to 27 million acres by 2023. To help increase producer interest and enrollment, the Farm Service Agency is:
Adjusting soil rental rates. This enables additional flexibility for rate adjustments, including a possible increase in rates where appropriate.

Increasing payments for Practice Incentives from 20% to 50%. This incentive for continuous CRP practices is based on the cost of establishment and is in addition to cost share payments.

Increasing payments for water quality practices. Rates are increasing from 10% to 20% for certain water quality benefiting practices available through the CRP continuous signup, such as grassed waterways, riparian buffers, and filter strips.

Establishing a CRP Grassland minimum rental rate. This benefits more than 1,300 counties with rates currently below the minimum.
Market distortion
National Grain and Feed Association President and CEO Mike Seyfert said NGFA believes CRP should be targeted at the most environmentally sensitive portions of farms and avoid enrollment of whole farms or large tracts of productive farmland.
"Programs that drastically increase acreage idling in the United States send market signals to competitors to plant more acres, resulting in negative climate and environmental impacts," warned Seyfert.
Vilsack said USDA's focus is to take the highly, erodible, margin, less productive land to a more productive use.
He says the combination of rental increases and additional flexibilities that these pilots create should encourage additional sign-ups for CRP. He recognizes there's always a balance of not sending the wrong market signals. "It's critically important that we continue to create a multitude of ways for land to be productively used to contribute to our efforts in climate smart agriculture, and also to create additional revenue opportunities for producers," Vilsack said.
He added, that even with high commodity prices, he stills see a significant number of farms – as much as 90% - that don't necessarily generate the majority of income for the families that are farming those farms and require off-farm income.
"I think the goal here is to create as many opportunities out of the climate space, as much flexibility as a suite of options for farmers to consider that enhances their chances of being able to make a living from their farming operation," Vilsack said.
Pilot program expansion
CRP has two pilot programs ― the Soil Health and Income Protection Program (SHIPP) and the Clean Lakes, Estuaries and Rivers 30-year contracts (CLEAR30) which USDA also committed to continuing.
For SHIPP, which is a short-term option (3, 4, or 5-year contracts) for farmers to plant cover on less productive agricultural lands, FSA will hold a 2021 signup in the Prairie Pothole states.
The CLEAR30 pilot, a long-term option through CRP, will be expanded from the Great Lakes and Chesapeake Bay pilot regions to nationwide.
In addition to changes to CRP, Vilsack also announced significant investments for climate-smart policies. First, the Natural Resources Conservation Service is investing $330 million in 85 locally driven, public-private partnerships under the Regional Conservation Partnership Program to address climate change and other natural resources challenges. NRCS will announce more details on the RCPP project selections on April 26.
Second, NRCS is investing $25 million in proposals for On-Farm Trials, which are part of the Conservation Innovation Grants program. NRCS is seeking proposals through June 21. Project priorities include climate-smart agricultural solutions and soil health practices.
USDA technical assistance through NRCS is critical to enable producers to plan and implement conservation practices that are appropriate for their needs. To ensure increased enrollment and support for producers, USDA is increasing NRCS technical assistance capacity for CRP by $140 million.
Additionally, in order to better target the program toward climate outcomes, USDA will invest $10 million in the CRP Monitoring, Assessment and Evaluation program to measure and monitor the soil carbon and climate resilience impacts of conservation practices over the life of new CRP contracts. This will enable the agency to further refine the program and practices to provide producers tools for increased climate resilience.
Subscribe to Our Newsletters
Feedstuffs is the news source for animal agriculture
You May Also Like
---