USDA authorizes movement of FMD virus
USDA authorizes movement of FMD virus
Non-infectious version of FMD virus being transferred from Plum Island facility to U.S. mainland to allow for additional research opportunities.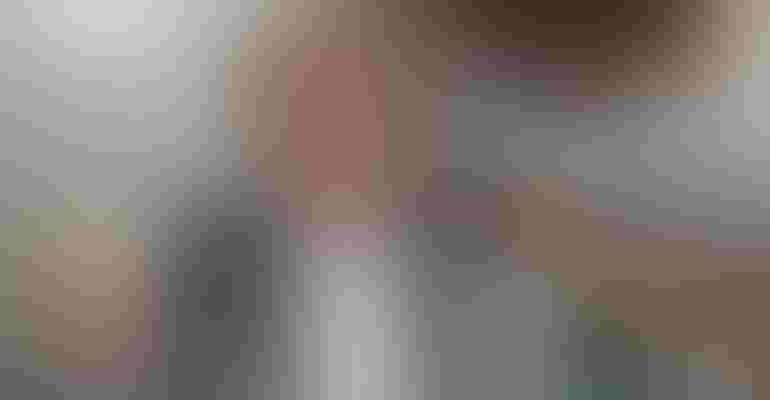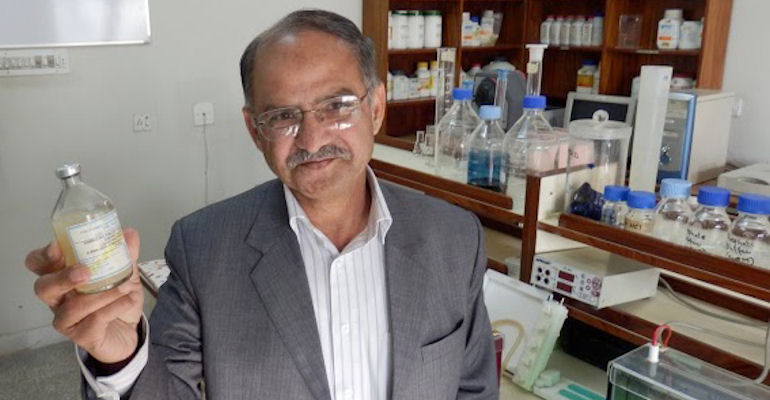 United Nations Food and Agriculture Organization (FAO) Dr. Muhammad Afzal holds a bottle of Foot and Mouth Disease (FMD) vaccine to show it becomes cloudy when it warms and is no longer usable. The U.S. Department of Agriculture (USDA) helps keep FMD vaccinations cold and viable through its Program for the Progressive Control of Foot and Mouth Disease (FMD) in Pakistan.
USDA
Secretary of Agriculture Sonny Perdue has authorized the movement of a modified, non-infectious version of the foot and mouth disease (FMD) virus from the Plum Island Animal Disease Center, which is located on a small island off the tip of New York's Long Island, to the U.S. mainland for the purposes of continued vaccine development and study.
While modified FMD virus is unable to cause disease and presents no risk of disease transmission, it is still live FMD virus, and federal law requires the secretary's approval for this movement.
In order to protect our nation's livestock, the live FMD virus was previously not allowed anywhere in the country except for the Plum Island Animal Disease Center, where it was held and worked with under very strict biocontainment procedures. However, the U.S. Department of Agriculture noted that with advances in technology, it is now possible to genetically modify the virus so that it is non-infectious. With this added protection, it is now possible to allow vaccine development within the U.S. rather than relying upon overseas sources.
Currently, the U.S. does not have access to enough FMD vaccine to handle more than a very small, localized outbreak. According to Iowa State University economists, an FMD outbreak in the U.S. -- which would prompt countries to close their markets to U.S. meat exports, thus creating a surplus of meat on the domestic market – would cost the beef and pork industries a combined $128 billion over 10 years if livestock producers weren't able to combat the disease through vaccination. The corn and soybean industries would lose $44 billion and $25 billion, respectively, over a decade, and economy-wide job losses would top 1.5 million.
The livestock industry has sought funding for an FMD vaccine bank in the ongoing farm bill proposals on Capitol Hill. The House Agriculture Committee's farm bill calls for first-year mandatory funding of $150 million for the FMD vaccine bank, $70 million in block grants to the states for disease prevention and $30 million for the National Animal Health Laboratory Network (NAHLN), which provides disease diagnostic support. The other years of the five-year farm bill would provide $30 million in mandatory funding for state block grants and $20 million to be used at the agriculture secretary's discretion for the vaccine bank, the NAHLN and the states.
Livestock groups are urging lawmakers to provide funding of $150 million for the vaccine bank, $70 million for state block grants and $30 million for the NAHLN for each year of the farm bill.
Identifying a vaccine that uses a modified virus will enable USDA to more quickly source and acquire FMD vaccine in the event of an outbreak of this devastating disease. With this announcement, vaccine companies may now apply for USDA permits to continue their work with this specific modified, non-infectious FMD virus in the U.S. All permits granted would include appropriate biocontainment and use restrictions and may be revoked if warranted.
A report out this week from Transparency Market Research suggests that the global FMD vaccine market will demonstrate an encouraging 8.8% compound annual growth rate (CAGR) within the forecast period from 2014 to 2020. The market is, therefore, predicted to rise from its 2013 evaluation of $51 million to $95 million by the end of 2020.
The key players in the global FMD disease vaccine market, as stated in the research report, hold small shares in a highly fragmented competitive landscape. The market is largely taken up by a high volume of regional players, many of which are backed by governments and private investors.
"This has created an intense competitive landscape in the global foot and mouth disease vaccines market, which is likely to remain the case over the coming years," the group noted.
Key players in the FMD vaccine market include: MSD Animal Health (Merck), Bayer HealthCare, Sanofi (Merial), Brilliant Bio Pharma, Agrovet, Inova Biotecnologia Saúde Animal Ltda., Indian Immunologicals, Middle East Veterinary Vaccine, Botswana Vaccine Institute, Centro Diagnóstico Veterinario, VETAL Animal Health, Veterinary Serum, Biog nesis S.A., Veterinarios S.A., Limor de Colombia, Razi Vaccine & Serum Research Institute, Intervac (PVT) Ltd., CAHIC, Tecon Group, Jinyu Group, China Animal Healthcare, BI WEI ANTAI BIOLOGICAL, Cavet Bio and QYH Biotech.
FMD is an infectious viral disease that affects cloven-hooved animals, including cattle, pigs and sheep; it is not a food safety or human health threat. Although it was last detected in the U.S. in 1929, the disease is still endemic in many parts of the world.
Subscribe to Our Newsletters
Feedstuffs is the news source for animal agriculture
You May Also Like
---