Trump: COVID-19 aid signups begin May 26
Trump: COVID-19 aid signups begin May 26
President Trump touts farmer COVID-19 aid program during White House event Tuesday morning.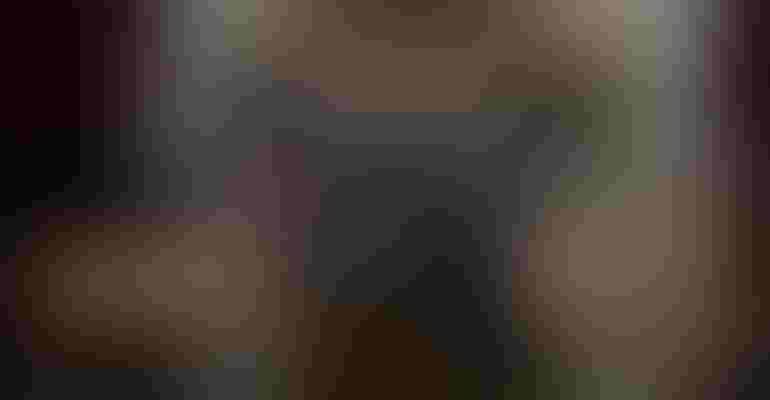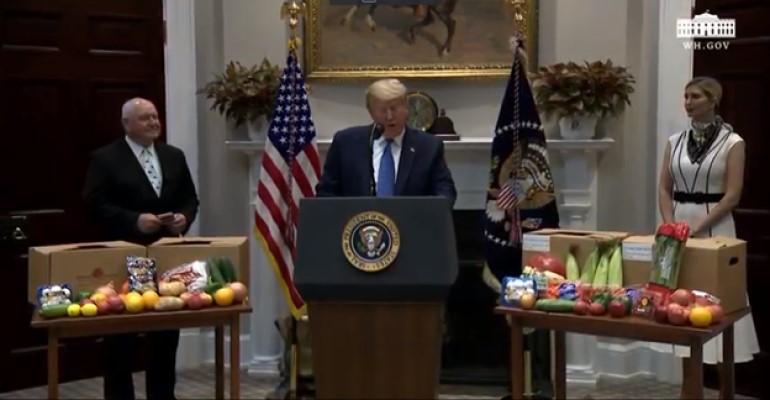 This article has been updated.
During a White House event Tuesday morning, President Donald Trump was joined by Secretary of Agriculture Sonny Perdue, daughter Ivanka Trump and farmers to discuss the latest efforts to offer a lifeline to farmers as well as families in need of food during the current coronavirus pandemic.
Beginning May 26, the U.S. Department of Agriculture, through the Farm Service Agency (FSA), will be accepting applications from agricultural producers who have suffered losses. Trump said checks will be issued within a week of receiving applications.
Farmers and ranchers will receive direct support, drawn from two possible funding sources. The first source of funding is $9.5 billion in appropriated funding provided in the Coronavirus Aid, Relief & Economic Stability (CARES) Act to compensate farmers for losses due to price declines that occurred between mid-January 2020 and mid-April 2020 and provides support for specialty crops for product that had been shipped from the farm between the same time period but subsequently spoiled due to loss of marketing channels. The second funding source uses the Commodity Credit Corp. Charter Act to compensate producers for $6.5 billion in losses due to ongoing market disruptions.
Livestock eligible for the Coronavirus Food Assistance Program (CFAP) include cattle, lambs, yearlings and hogs. The total payment will be calculated using the sum of the producer's number of livestock sold between Jan. 15 and April 15, 2020, multiplied by the payment rates per head, and the highest inventory number of livestock between April 16 and May 14, 2020, multiplied by the payment rate per head.
For dairy, the total payment will be calculated based on a producer's certification of milk production for the first quarter of calendar year 2020, multiplied by a national price decline during the same quarter. The second part of the payment is based a national adjustment to each producer's production in the first quarter.
"America's cattle producers have been hit very hard economically by this pandemic, so we're pleased that this relief is one step closer to reaching the producers who need it," National Cattlemen's Beef Assn. (NCBA) president Marty Smith said. "Still, this is just one step, and much more needs to be done to address the needs facing family cow/calf producers and stockers in the CFAP details that were released today. We will continue to push Capitol Hill for additional resources for cow/calf producers, backgrounders and all other segments of the industry who may not sufficiently benefit from the program in its current form."
More information about the application process will be available at https://www.farmers.gov/cfap/livestock.
Eliminating live beef imports
While speaking at the White House, Trump also made several statements about the need to terminate trade deals that allow imported cattle to come into the U.S. In the most recent trade data released by USDA on May 6, only Canada and Mexico exported live cattle to the U.S., with a total of 213, 279 total animals imported for March 2020, down slightly from 245,875 imported in March 2019.
"There are some countries sending us cattle," Trump said during his remarks. "I think we should look at terminating those trade deals. We're very self-sufficient, and we should be more self-sufficient."
He recognized that it is a "relatively small number" of cattle coming in, but with the tremendous supplies from U.S. producers, Trump questioned why cattle are being brought in from other countries.
He said if the countries have been great allies, then maybe the trade shouldn't stop, but he added, "Sometimes, we needed the cattle, and sometimes we don't."
NCBA chief executive officer Colin Woodall said the comment by Trump demonstrates the complexity of the U.S. beef business. "Live cattle imports to the United States only come from Canada and Mexico and will continue to do so under the terms of the President's newly negotiated [U.S.-Mexico-Canada Agreement]. America has not imported live cattle from other nations for several years," Woodall explained.
"However, if President Trump is serious about reconsidering import decisions, NCBA and its members strongly request the White House to take another look at his decision to allow fresh beef imports from nations like Brazil, where there continue to be concerns with foot and mouth disease and USDA's decision to reopen the American market to Brazilian beef," he added.
"Beef trade is a complex business, and America's cattle producers rely on safe and reliable international trading partners both as a destination for the undervalued cuts we produce here, such as hearts, tongues and livers, and for importation of lean trim for ground beef production to meet strong consumer demand," Woodall said. "Approximately 12% of beef consumed in the U.S. is imported product, but that product must meet the U.S. standards for safety before it is allowed into our market."
Producer support
The White House event also featured a handful of Virginia agricultural producers representing different segments of the agricultural supply chain and leaders of commodity groups.  
"This pandemic made us realize one thing: We live in a land of plenty," American Farm Bureau Federation president Zippy Duvall said. He said the food chain is plentiful but also acknowledged that, as a nation, we have to be able to feed our own people and can't afford to be fed by other countries.
Duvall said without the government support, farmers wouldn't be able to produce food.
Scott Sink, a beef and vegetable producer from Virginia, said his business caters to the farm-to-table restaurant segment. He was able to benefit from the Payroll Protection Program and said now the direct aid for farmers offers a "bridge" to help his operation get into the new growing season.
Robert Mills Jr., a first-generation diversified farmer from Virginia who grows tobacco, beef, poultry and industrialized hemp, said his farm is diversified because he always expects the unexpected, yet this pandemic could never be expected. The aid offers him a way to stay in business and noted that it is not a "rescue program" but a way to help farmers make good, wise financial decisions.
NCBA's Smith said the executive order executed by the President at the end of April to keep meat plants open is starting to have an impact by allowing packers to get back on line and fill grocery shelves again. "We work around the clock to feed the public. What we've done with the current program enables us to stay in business," Smith said.
In later comments, Trump noted that meat packing plants are "very clean" and that fewer problems are being seen. "If we didn't act, we would have had a big problem," Trump noted, adding that the Administration's decision to act early was crucial.
Subscribe to Our Newsletters
Feedstuffs is the news source for animal agriculture
You May Also Like
---