Support mixed for bioengineered food labeling rule
Support mixed for bioengineered food labeling rule
New labeling standard helps regulate food marketing, not food safety or limiting of technology.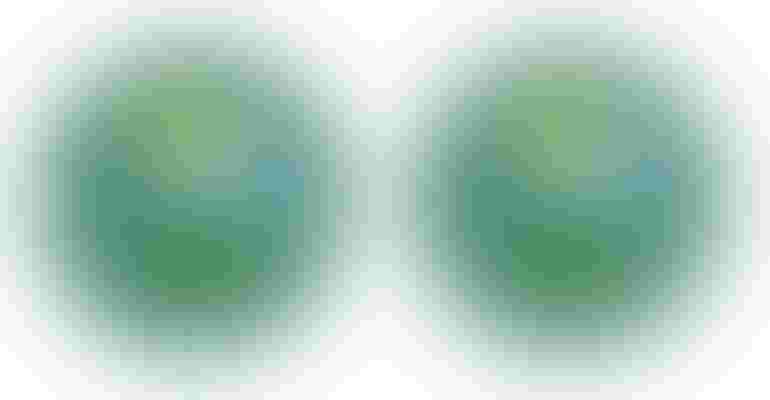 Derived from bioengineering and Bioengeered food labels
USDA AMS
Key agricultural and farm groups praised the U.S. Department of Agriculture's public release of the final rule implementing the National Bioengineered Food Disclosure Standard. However, some had some concerns about the proposed rule.
Designed to inform consumers about the presence of bioengineered genetic material in their food for marketing purposes, USDA's disclosure standard stands firmly with science in that it validates the fact that there is no health, safety or nutritional difference between bioengineered crops and comparable conventional or organic crops. This is a position held by nearly every major national and international scientific and health organization, including the American Medical Assn., the National Academy of Sciences, and the World Health Organization.
Importantly, the final rule only requires a disclosure when products contain bioengineered genetic material and not when some ingredients, such as oils, starches, and sugars, are made from crops which may be bioengineered. The use of bioengineered crops does not cause a difference in these ingredients and it would be misleading to consumers to suggest otherwise. Several other countries, including Australia, Brazil and Japan also do not require mandatory labeling of foods made with these products when they do not contain bioengineered substance.  
In addition, the 5% disclosure threshold in the final rule supports biotechnology, appropriately balances disclosure, market dynamics, and international trade, according to the Alliance for Biotech Facts.
"This rule is a victory for consumers who desire transparency and for the entire food value chain, from the farmer to food manufacturers.  It provides clarity to the marketplace and allows consumers to make informed decisions on the issues that are important to them," said Zippy Duvall, president of the American Farm Bureau Federation. 
National Milk Producers Federation (NMPF) president and chief executive officer Jim Mulhern said NMPF is pleased the bioengineered food disclosure rule's re-assertion that milk from animals that consume bioengineered feed shouldn't be subject to mandatory GMO labeling.
"NMPF told Congress that any regulation requiring the labeling of bioengineered products must be science-based and acknowledge that feeding farm animals grains developed through biotechnology has no effect on the animals or products derived from them. This rule codifies our position," Mulhern said in a statement.
"America's corn farmers need a consistent, transparent system to provide consumers with information without stigmatizing important, safe technology. Thus, we are pleased with the issuance of these rules and look forward to reviewing the details in the coming days," said National Corn Growers Assn. president Lynn Chrisp, a farmer from Nebraska. "NCGA came together with stakeholders from across the value chain to support enactment of the Bioengineered Food Disclosure Act, because it prevented a state-by-state patchwork of labeling laws, that would have cost U.S. consumers, farmers and manufacturers billions of dollars. We are hopeful that this rule will be a major step in achieving our important, shared goals."
"Soybean farmers are pleased that USDA took the time to do this rule the right way. We believe that it allows transparency for consumers while following the intent of Congress that only food that contains modified genetic material be required to be labeled bioengineered under the law, with food companies having the option of providing additional information if they choose," said Davie Stephens, soy grower from Kentucky and president of the American Soybean Assn.  
"America's sugarbeet farmers commend USDA for thoughtfully crafting a final rule that provides transparency to consumers and clarity to farmers and food manufacturers.  Furthermore, this rule does not impose misleading labeling requirements and recognizes that there are no differences between oils, starches, and sugars made from bioengineered or conventional crops," said Richard Gerstenberger of Snover, Mich., president of the American Sugarbeet Growers Assn.
"We support the USDA in following the plain language of the law by requiring disclosure when foods contain genetic material modified via bioengineering, but not when bioengineered genetic material is absent.  Appropriately, the regulation does not impose labeling requirements that would mislead consumers," stated John Bode, president and CEO of the Corn Refiners Assn.
As the final rule is implemented, the Alliance for Biotech Facts said it believes it is important to keep in mind that Congress passed this rule with the intent of creating a marketing standard. "The rule does not reflect any health, safety, or nutrition concerns regarding bioengineering or bioengineered foods," the Alliance said in a statement following the rule release. "The intent of the government-mandated bioengineered food disclosure standard is to inform, and not mislead, consumers and this final rule achieves this objective."
Mulhern added that it's important to remember that bioengineered food disclosure rules should be founded in science and are a measure to regulate food marketing, not food safety. "Also, the rule doesn't fix every problem regarding the labeling of bioengineered products in the marketplace. Misleading absence claims may persist even under this rule, and we urge USDA and the U.S. Food & Drug Administration to focus their energy on examining voluntary disclosures and their potential to be false and misleading," Mulhern said.
The Biotechnology Innovation Organization (BIO) said in a statement, "The final rule provides a mechanism for consumers to access clear, consistent and truthful information about food in a way that does not stigmatize the role of technology in food production. BIO is reviewing the final rule and looks forward to engaging with USDA officials as we work towards implementation."
Consumer confusion
Scott Faber, senior vice president of government affairs for the Environmental Working Group, criticized the lack of disclosure required under the rule.
"At a time when consumers are asking more and more questions about the use of genetic engineering, today's rule will further undermine the technology by sowing greater confusion among Americans who simply want the right to know if their food is genetically modified – the same right held by consumers in 64 other countries," Faber said. "Despite today's disappointing, and likely unlawful, decision, we are pleased that companies that trust consumers – including Campbell's, Mars, Danone, Kellogg's, Coca-Cola and Unilever – will voluntarily disclose all GMOs in all their foods, not just in those required by the final rule."
The Center for Science in the Public Interest (CSPI) said it generally supports the final rule because it gives consumers information in a uniform matter, although it did still express some concerns with the proposal.
CSPI biotechnology director Gregory Jaffe said the term "bioengineered" is unfamiliar to most consumers. CSPI advocated for the more familiar term "genetically engineered."
Second, highly processed ingredients which are derived from genetically engineered crops, such as sugar and corn oil, will not be disclosed on a mandatory basis, but could be disclosed on a voluntary basis. These ingredients are chemically indistinguishable from their counterparts not produced by genetic engineering. Despite this, most studies have shown that consumers expect highly processed ingredients to be labeled and many food manufacturers want to provide that information, CSPI said.
Jaffe said CSPI agrees with the decision to disclose highly processed ingredients as "derived from bioengineering" but disagrees with USDA's decision to not mandate that disclosure. "By making the disclosure of this information voluntary, consumers will be confused when one product voluntarily discloses that is it "derived from bioengineering" and an identical product has no such disclosure," Jaffe said.
The final rule also does not specify when a food can be voluntarily labeled as "non-GMO." "There has been a proliferation of non-GMO claims in the marketplace for foods such as water, salt, and orange juice that don't have any bioengineered counterpart. Such misleading labeling by food manufacturers takes advantage of consumers' lack of knowledge to suggest their products are different from similar non-labeled products. USDA or another agency needs to address this issue if consumers are going to have confidence in the many different label claims in the marketplace," Jaffe noted.
Subscribe to Our Newsletters
Feedstuffs is the news source for animal agriculture
You May Also Like
---