Steady demand, low feed costs help catfish market
Steady demand, low feed costs help catfish market
Two primary factors in catfish industry success — feed cost and catfish price — leaning in favor of producers and driving some to build new ponds.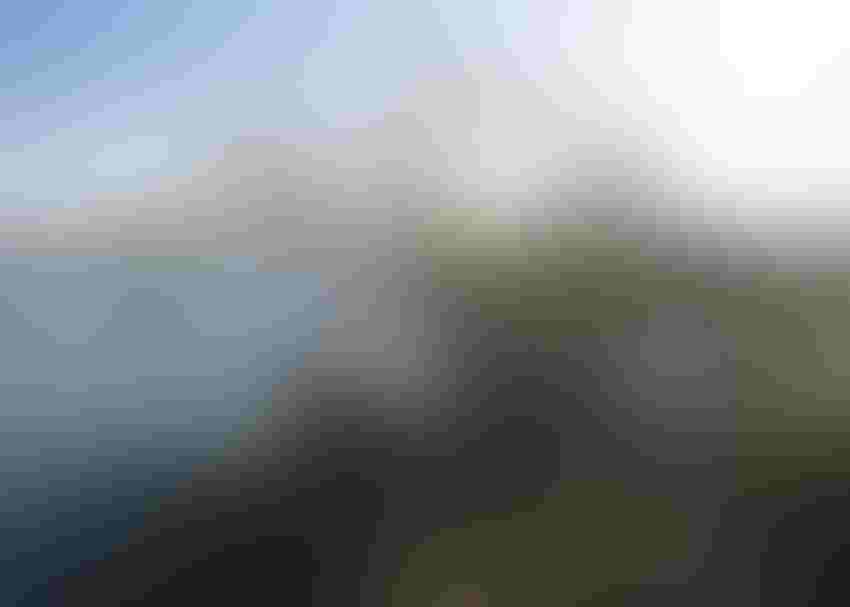 Increasing aeration rates per acre is one emerging method Mississippi catfish producers are using to improve efficiency in smaller ponds.
Photo by Mississippi State University Extension Service/Kevin Hudson.
Production is the least of Ben Pentecost's worries for his catfish farm this summer; if anything, he has too many fish.
"I think our supply is larger now than in recent years, and demand is about the same," said Pentecost, co-owner of the Pentecost Brothers catfish farm in Sunflower County, Miss. "We have a backlog of bigger-sized catfish, which processors are pushing back on, but the fish keep getting even bigger the longer they stay in the ponds."
An increase in supply is a result of the improved economic incentives for Mississippi catfish producers. Jimmy Avery, extension aquaculture professor at the Mississippi State University Delta Research & Extension Center in Stoneville, Miss., said the full inspection of imported catfish to be implemented in September may boost demand for the U.S. farm-raised product.
"The process of regulatory oversight is transferring from the Food & Drug Administration to the U.S. Department of Agriculture's Food Safety & Inspection Service. This is the same agency that oversees inspection of both domestic and imported poultry and beef," Avery said. "This means domestic and imported catfish are being inspected at the same level, which was previously not the case."
Two primary factors that dictate success in the industry — the cost of feed and the price per pound of catfish — are leaning in favor of producers and driving some to build new ponds. In February, USDA estimated that 34,400 surface water acres were being used for catfish production in Mississippi, which was down slightly from 36,100 in 2016. Avery said he expects next February's statistics to reflect the recent construction start-ups.
"We have seen ponds being built since this acreage number was taken," Avery said. "Even though we have seen a slow decrease in acreage, our production hasn't fallen. I would expect this year we're going to produce as many pounds as last year. There will be a lag time before we get the first pounds out of our new acreage."
Avery said catfish producers have received $1.15-1.17/lb. over the past month. That price is down slightly from a year ago, but feed costs have since fallen from $350 to around $345 a ton after hitting $590 per ton in 2012.
"Stable fish prices and declining feed costs have been good for producers' bottom lines," he said. "We've also got new technologies that people are using to get more pounds per acre of production."
One emerging method for improving production efficiency is the use of a split-pond design, which involves confining fish to a small portion of the original pond and using the remaining part to improve water quality. Another new technique is increasing aeration rates per acre on smaller ponds.
Producers are also raising more hybrid catfish -- a cross between a male blue catfish and a female channel catfish.
USDA statistics indicate that total catfish sales in Mississippi reached more than $213 million from its 150 farms. This figure eclipsed the state's nearest competitor, Alabama, by nearly $100 million. Also included in those totals are sales of fingerlings.
"We had a good hatching season," Avery said. "In this industry, everyone sets their own goal on how many fingerlings they think they can sell and only produces that amount. I think everybody got what they wanted, and we'll have to see how that translates to demand with the new acreage coming along."
Subscribe to Our Newsletters
Feedstuffs is the news source for animal agriculture
You May Also Like
---