State ag secretaries Northey, Ibach named to USDA posts
State ag secretaries Northey, Ibach named to USDA posts
Bill Northey named as undersecretary for farm production and conservation, Gregory Ibach as undersecretary for marketing and regulatory programs and Stephen Vaden as USDA's general counsel.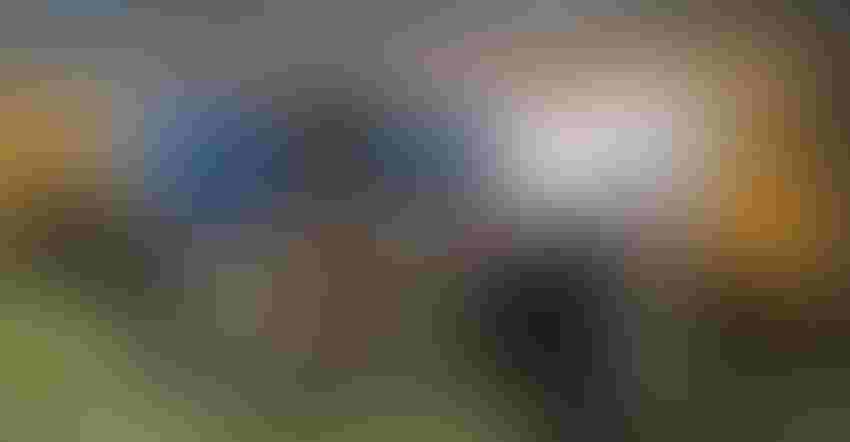 Secretary Sonny Perdue tours the Farm Progress Show, in Decatur, IL, on Aug 30, 2017. He's flanked by his future undersecretaries Bill Northey (second from the left) and Ted McKinney (third from the left).
USDA Photo by Lance Cheung
The U.S. Department of Agriculture has three more nominated individuals named by President Donald Trump to serve under secretary of agriculture Sonny Perdue. The president announced Gregory Ibach as undersecretary for Marketing and Regulatory Programs (MRP), Bill Northey as undersecretary for Farm Production and Conservation (FPAC), and Stephen Vaden as USDA's general counsel.
Perdue said earlier in the week it is a "tragedy" that he is the only Senate-confirmed person at USDA as of Labor Day -- months into his term. So far, only his nominees for deputy secretary, Steve Censky, and his undersecretary for trade, Ted McKinney, and Sam Clovis for USDA's chief scientist have been formally nominated, while none have received a Senate confirmation hearing or full Senate vote.
"I look forward to the confirmations of Greg Ibach, Bill Northey, and Stephen Vaden, and urge the Senate to take up their nominations as quickly as possible," Perdue said. "This is especially important given the challenges USDA will face in helping Texans and Louisianans recover from the devastation of Hurricane Harvey."
The Under Secretary for MRP oversees three critical USDA agencies: the Animal and Plant Health Inspection Service; the Agricultural Marketing Service; and the Grain Inspection, Packers, and Stockyards Administration. The Under Secretary for FPAC oversees three critical USDA agencies: the Farm Service Agency, Natural Resources Conservation Service, and the Risk Management Agency.
"Greg Ibach will bring the experience and vision necessary to serve as a first rate Under Secretary for MRP at USDA," stated Perdue. "His exemplary tenure as Nebraska's director of agriculture places him squarely in tune with the needs of American agriculture, particularly the cattle industry. His proven track record of leadership will make him a great asset to USDA's customers, the hard working, taxpaying people of U.S. agriculture."
Northey has been mentioned for the job for months and regularly flags Perdue when he's visiting Midwest states as he was Wednesday in Illinois at the Farm Progress Show. Perdue said Northey will continue his honorable record of public service in leading FPAC.
"Having served the people of Iowa for the last ten years as their Secretary of Agriculture, and as a fourth generation corn and soybean farmer, Bill has a unique understanding of issues facing farmers across the nation. He will be an invaluable member of the team," said Perdue.
Vaden has served as acting general counsel at USDA since Trump came into office. "Stephen Vaden has a keen legal mind, as we have already experienced through his work since he joined USDA as part of the beachhead team on day one," said Perdue. "He has a firm grasp of the legal issues facing American agriculture, and very importantly, understands the breadth and complexity of the regulatory burdens placed on our producers. Our farmers, ranchers, foresters, and producers will be well served by his counsel."
Subscribe to Our Newsletters
Feedstuffs is the news source for animal agriculture
You May Also Like
---