Perdue rolls up sleeves, ready to work at USDA
Perdue rolls up sleeves, ready to work at USDA
After being sworn into office, new Agriculture Secretary Sonny Perdue addresses employees at U.S. Department of Agriculture.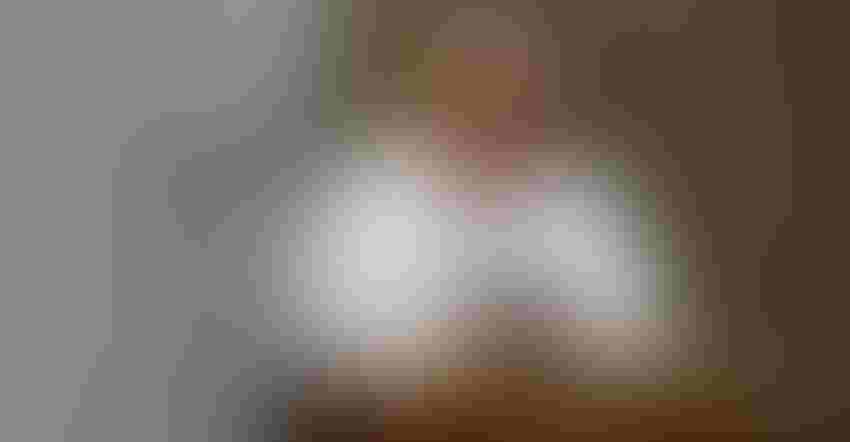 While addressing USDA employees on his first day on the job, secretary of ag Sonny Perdue rolls up his sleeves to signify he's ready to get to work.
Jacqui Fatka
Former Georgia Gov. George "Sonny" Perdue was sworn in as the 31st U.S. secretary of agriculture by fellow Georgian and associate justice of the U.S. Supreme Court Clarence Thomas in a brief ceremony Tuesday at the Supreme Court building. The U.S. Senate confirmed Perdue by a vote of 87-to-11 on Monday evening.
After Perdue took the oath of office, he addressed employees at the U.S. Department of Agriculture before getting to work on his first day. In showing his commitment to roll up his sleeves and get to work, Perdue took off his coat and tie and literally rolled up his sleeves; he said he was a "farmer first" and hopes to show that work ethic in his job.
Perdue said he looks at the agency as a family -- one that everyone may not always agree but can still figure out ways to get along. "We will learn to function as a healthy family," he told the hundreds employees gathered at USDA.
"The only legacy that I seek is the only one that any grandparent or parent seeks: to be good stewards and to hand off our nation, our home, our fields, our forests and our farms to the next generation in better shape than we found it," Perdue said. "Making sure that Americans who make their livelihoods in the agriculture industry have the ability to thrive will be one of my top priorities. I am committed to serving the customers of USDA, and I will be an unapologetic advocate for American agriculture."
Perdue said at the top of his agenda will be advocating for trade. He drew applause from the room when he said policies will be fact and evidence based as well as based on science. He also said USDA will be "obstacle removers, not obstacle placers."
As U.S. agriculture secretary, Perdue said he will be guided by four principles that will inform his decisions.
First, he will maximize the ability of the men and women of America's agriculture and agribusiness sector to create jobs, to produce and sell the food and fiber that feed and clothe the world and to reap the earned reward of their labor. It should be the aim of the American government to remove every obstacle and give farmers, ranchers and producers every opportunity to prosper.
Second, he will prioritize customer service every day for American taxpayers and consumers who expect, and have every right to demand, that their government conduct the people's business efficiently, effectively and with the utmost integrity.
Third, as Americans expect a safe and secure food supply, USDA will continue to serve in the critical role of ensuring the food we put on the table to feed our families meets the strict safety standards we've established.  Food security is a key component of national security, because hunger and peace do not long coexist. 
Fourth, Perdue said he will always remember that America's agricultural bounty comes directly from the land. Today, those land resources sustain more than 320 million Americans and countless millions more around the globe. Perdue said his father's words still ring true: "We're all stewards of the land, owned or rented, and our responsibility is to leave it better than we found it."
He also garnered much applause when he said, "If you take care of the land, it will take care of you." He noted that his goal is also to leave the agency "better than we found it."
On Tuesday afternoon, Perdue was participating in a farmer roundtable with President Donald Trump to talk about issues important to agriculture as well as the need to roll back regulations hindering the industry.
Subscribe to Our Newsletters
Feedstuffs is the news source for animal agriculture
You May Also Like
---