No deal reached on RFS reform
No deal reached on RFS reform
Senators say meeting at White House did not reach any new commitments on changes required for biofuel program.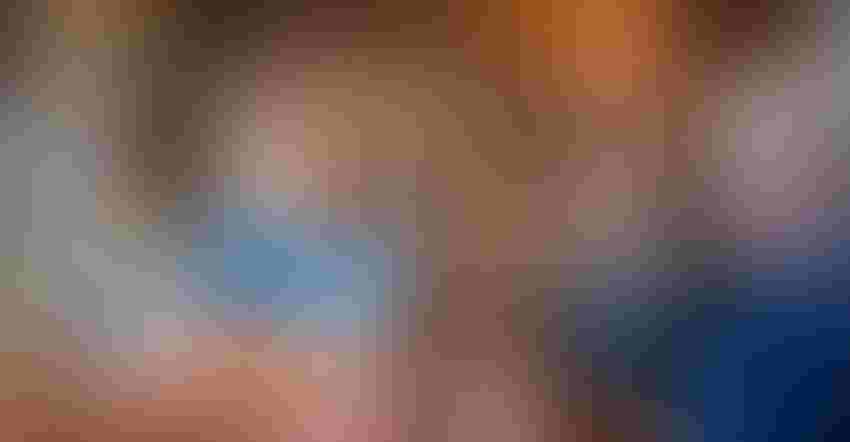 enators Joni Ernst and Chuck Grassley, and Nancy Couser listen to Agriculture Secretary Sonny Perdue during his trip to Nevada, Iowa to tour Couser Cattle Company, May 5, 2017.
USDA
In a meeting at the White House with President Donald Trump as well as Cabinet officials and senators, no new deal was reached on the Renewable Fuel Standard (RFS) reform sought by Sen. Ted Cruz (R., Texas).
In a statement following the meeting, Cruz said, "We had a very positive and productive meeting on fixing the broken RINs (renewable identification number) system. I commend President Trump for bringing the two sides together and for leaning in hard to find a win-win solution that benefits both Iowa farmers and blue-collar refinery workers. We made real progress, and with the President's leadership, I believe we are close to solving the problem."
However, in a call with reporters later in the afternoon, Sens. Chuck Grassley (R., Iowa) and Joni Ernst (R., Iowa) questioned if there is even a problem to solve.
Grassley noted that there was some good discussion in the meeting, but no new commitments. When asked whether a "win-win solution" would include a change in the value of RINs, Grassley said the White House has made no decision.
"I don't think the facts have changed, and the facts are on our side," Grassley said, mentioning earlier in the call how no independent studies can confirm that RIN prices have had any impact on the bankruptcy of Philadelphia Energy Systems (PES). Cruz has used the PES bankruptcy as a battle cry for RFS reform.
Ernst said one thing established in the meeting was a request by the President to convene stakeholders in a meeting on Thursday to state their case of why capping RINs would be devastating to the renewable fuel industry.
Grassley is hopeful that Thursday's meeting will allow those from the industry to tell their story to the President, and it may have a bigger impact. "They're in a position to express directly what sort of compromises might be possible," he said.
Ernst said Gary Cohn, director of the President's National Economic Council and chief economic advisor to Trump, needs to provide the economics of any proposals on the table before making a decision on them. She added that randomly agreeing to any of these proposals before economics are known would be wrong.
Cruz said he believes Thursday's meeting is "likely to arrive upon a win-win solution that: (1) stops the RIN system from imposing billions in unnecessary costs for refineries and threatening the jobs of tens of thousands of blue-collar union workers, and (2) expands the potential market for ethanol, allowing corn farmers to sell substantially more corn each year."
Kyle Gilley, POET senior vice president of external affairs and communications, said everything Cruz has offered would gut the RFSand halt expansion of homegrown biofuels in the U.S.
"A solution exists to both lower RIN prices and expand biofuel use. Relief from outdated Reid vapor pressure (RVP) regulations would give U.S. drivers greater access to high-octane E15 and increase the number of RINs available to refiners," Gilley said.
Growth Energy chief executive officer Emily Skor said the meeting hopefully will start a serious conversation about policy such as RVP relief, "which would open a vital market for American-made biofuels and increase the supply of RINs while protecting surging refinery profits."
Another result of Tuesday's meeting was that Bill Northey was immediately confirmed as undersecretary of agriculture after Cruz lifted the hold on his nomination.
Subscribe to Our Newsletters
Feedstuffs is the news source for animal agriculture
You May Also Like
---