N&H TOP LINE: KPIs identify ranch profit centers
N&H TOP LINE: KPIs identify ranch profit centers
Key performance indicators help identify more profitable areas for ranchers. Also: Post-calving nutrition.

Viewed as a report card for a cattle operation, key performance indicators (KPIs) can assist beef producers in measuring factors crucial to an operation.
Texas A&M AgriLife Extension Service economist Stan Bevers discussed KPIs at the recent 2016 Texas & Southwestern Cattle Raisers Convention in Ft. Worth, Texas.
"KPIs provide a rancher with an analysis of the operation and detail whether the operation is fulfilling the goals of ownership," Bevers said.
These indicators are especially important in the current weakening cattle market, he said.
For example, Bevers said the development cost of a replacement heifer is a KPI. Hay production cost per ton is also a KPI.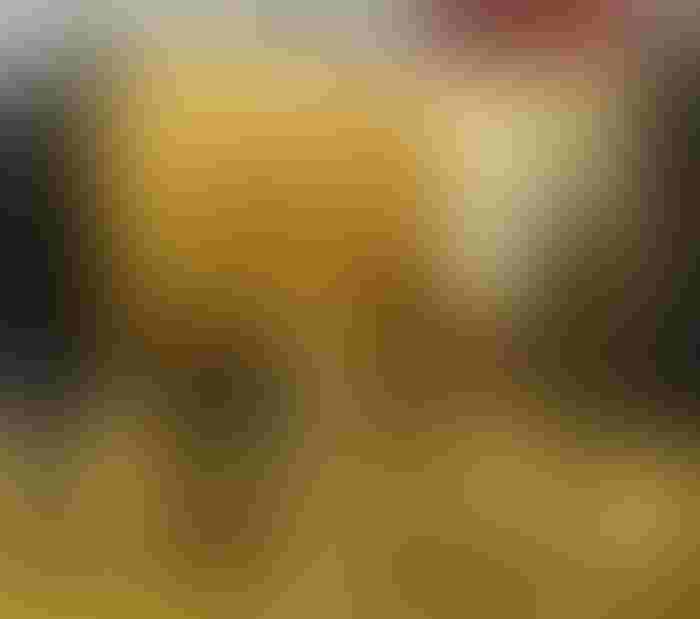 Key performance indicators can assist beef producers in measuring factors crucial to an operation. Photo: Texas A
Bevers told attendees: "I was working with a big ranch in Montana, (and) the members of the board were pretty big financial gurus. I shot all of this information about the ranching operation to them, and they said it was like getting a drink out of a fire hose. They wanted 10 things in about five minutes. That's where KPIs came into play."
To help explain his reasoning, Bevers said when ranchers consider which bull to purchase, they focus on expected progeny differences (EPDs). "The perfect bull, in my mind, would be one with an EPD number that is really high for weaning weights, but we can't focus on one number or one performance metric without sacrificing another," Bevers said. "It's the same thing with KPIs."
Bevers suggested that ranchers also look at these other KPIs:
* Revenue per breeding female;
* Nutrition base expense as a percentage of total expenses;
* Labor and management expenses as a percentage of total revenue;
* Operating expense as a percentage of total revenue;
* Net income ratio;
* Cost per hundredweight of weaned calf;
* Total investment per breeding female;
* Debt per breeding female;
* Equity-to-asset ratio or market basis;
* Asset turnover ratio on a cost basis, and
* Rate of return on assets on a market basis.
Bevers said reproduction is the factor with the most influence on ranch productivity.
"After all, we have to have cows to produce revenue," he said. "Once we identify an open cow, everything that follows is an expense with no revenue to go against it until she is bred again or sold. The nutrition of that female is paramount to getting her bred, yet feed is one of the top three expenses on a ranch that also include labor and depreciation.
"Those costs tend to move around a bit," he added. "We hear all the time (that) feed is the most expensive cost, but that's not necessarily true; it's labor and depreciation. A lot of times, we don't even count or factor in our labor. Now, we are paying twice as much as what we used to for bulls. Depreciation has really jumped up in terms of costs."
With cattle prices already coming down from 2015 levels, Bevers said producers need to continue to watch prices and expenses.
"Expenses won't come down as fast as commodity prices. Cow/calf expenses won't come down as fast as cow/calf prices," he said, adding that calf prices will be lower in 2016, "but not to the extent it will affect these higher expenses. During 2017, expenses still will not be coming down, where calf prices will be in their second year of decline. That's what concerns me."
If ranchers still need things done on the operation, such as putting in new corrals or fences, paying down debt or buying a new vehicle, Bevers said it's best to do it as quickly as possible.
"If there is something in the form of a capital asset, get it done quickly," Bevers said. "Going into 2017, cash flow could be an issue as calf prices are anticipated to continue to come down."
~~~PAGE_BREAK_HERE~~~
Post-calving nutrition
As cattle producers move from winter feed to spring grazing, they should pay extra attention to spring-calving beef cows to make sure their nutritional needs are met, according to John Grimes, a beef cattle expert with The Ohio State University College of Food, Agricultural & Environmental Sciences.
That could mean leading the animals away from early green grass this spring, said Grimes, the beef coordinator for Ohio State University Extension.
If spring-calving beef cows' nutritional needs are not adequately met from calving to breeding, it can cause a reduced body condition score, he said. That can result in a disastrous rebreeding performance.
Livestock generally are assigned a body condition score on a scale of one to nine, where one is an emaciated animal and nine is obese, Grimes said. For cows that calve, a score of five to six is typically the goal for them to be considered healthy and in optimum breeding condition, he said.
Energy, protein needs. "Studies have shown that body condition scores of five to six at calving and through the breeding season give females the greatest opportunity for reproductive success," Grimes said. "Cows that lose nearly one full condition score from calving to the breeding season experienced lower re-breeding rates, at 73% versus 94%, compared to cows that were fed the right nutrition for them to maintain the body condition scores they had prior to calving."
That means producers may need to feed their calving cows quality grass hay, high-energy feed grains or both to ensure that lactating cows get the energy and protein they need, Grimes said.
"It's been a long winter, and while the calving cows may prefer the lush, moist, green growing grass over the dried hay they consumed all winter, it would be more nutritionally beneficial to offer them grains," he said. "These early grasses are full of moisture now and won't provide the females the nutrition they'll need in order to get them re-bred to keep them on schedule to give a live birth every 12 months.
"Yes, it'll be an extra expense now, but the cost of an open cow is a more costly expense. Don't be afraid to spend an extra dollar now to avoid the loss of income next year with a cow that isn't producing any calves," Grimes suggested. "Your feed bill might get higher now, but the more open cows you have will significantly reduce your income later."
Subscribe to Our Newsletters
Feedstuffs is the news source for animal agriculture
You May Also Like
---