Montana Wool Lab aids wool production
Montana Wool Lab aids wool production
Montana State University Wool Lab is one of just three similar laboratories in U.S.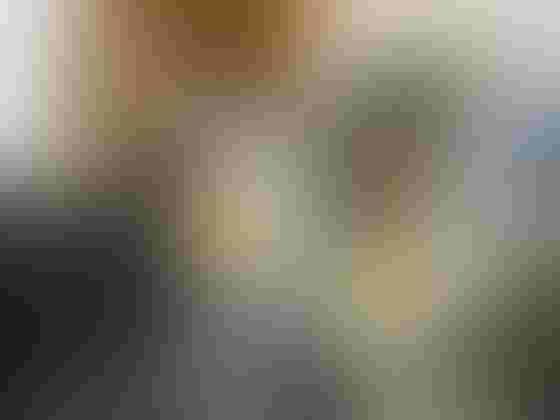 Devon Ragen demonstrates use of a portable wool fiber analyzer at the Wool Lab on the campus of Montana State University in Bozeman on Monday, March 19, 2018.
Montana State University Photo by Adrian Sanchez-Gonzalez
Animal agriculture in the U.S. is a diverse enterprise producing food, fuel and fiber. That fiber includes wool from sheep (as well cashmere from angora goats), and in order for sheep producers to improve wool production and get the top price for the fleece, they need analytical data.
As sheep across the country are shorn of their fleece, wool samples are sent to Montana State University's Wool Lab — one of three labs in the country. The wool samples, which are packaged in small plastic bags, come from sheep ranchers from not just Montana but also Michigan, Pennsylvania and Georgia and other states.
The Montana State Wool Lab provides detailed analyses of those wool samples; this is valuable information for ranchers when it comes to selling their product and breeding their flocks.
New Wool Lab director Devon Ragen already has plenty of practice with the lab's primary tool, a computerized device that scans a finger-sized piece of wool and measures the diameter, curvature and variability of the fibers.
Fine, soft wools fetch higher prices and can be made into shirts or other garments worn against the skin, Ragen explained, while coarser wool will be used by hand-spinners or to make carpet or insulation.
In mid-March, Ragen took a portable fiber analyzer to Helle Rambouillet, a third-generation sheep ranch near Dillon, Mont., that supplies wool to Duckworth Co., a Montana maker of T-shirts, socks and other woolen goods. Over the course of three days of shearing, Ragen measured the fibers from more than 1,500 fleece samples to ensure that Duckworth would receive the consistently fine, soft wool it needs.
The Wool Lab was established and funded in 1945 by the Montana Legislature in response to wool growers' calls for a facility that could provide them with technical information to improve their flocks. That was a great investment, according to Pat Hatfield, head of Montana State's department of animal and range sciences.
"Montana has the best wool in the nation, and that has a lot to do with the Wool Lab here," Hatfield said. For decades, Montana State's wool programs have focused on helping the state's producers breed sheep with high-quality wool, he said, "and you can't do that without the analytical data."
According to the Montana Wool Growers Assn., Montana ranked fifth in the nation for its wool crop in 2016. The state's ranchers produced 1.8 million lb. of wool valued at $3.42 million.
Each year, the Wool Lab receives more than 10,000 wool samples, primarily from Montana, according to Hatfield. The only other wool labs in the country are a commercial lab in Denver, Colo., and one at Texas A&M University in San Angelo, Texas, he said.
According to Ragen, who earned her bachelor's and master's degrees in animal science from Montana State, the Wool Lab can offer its services at affordable prices because it is part of the university.
The Wool Lab also partners with Montana State Extension to operate "wool pools" in which ranchers combine their product to get better prices in a competitive market. Ragen will travel throughout the state to analyze and then sort fleece into different grades of quality, which further helps the participating wool growers sell their product. Last year, 89 wool growers participated in the eastern Montana pool to sell 98,000 lb. of wool — about 5% of the state's total wool crop — for $180,500, Montana State said.
Subscribe to Our Newsletters
Feedstuffs is the news source for animal agriculture
You May Also Like
---