Johanns talks tax credits, trade and more
Johanns talks tax credits, trade and more
Former agriculture secretary Mike Johanns discusses his latest role encouraging producers to take advantage of underutilized R&D tax credit, trade and current ag cycle.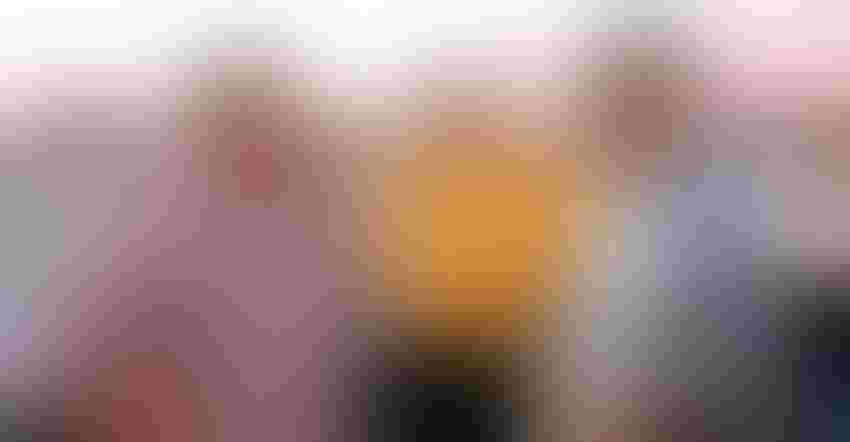 Secretary of Agriculture Mike Johanns (right) visits with Iowa farmer and now Iowa ag secretary Bill Northey (left) and Monsanto chief technology office Robb Fraley (middle) at the Farm Progress Show in 2006.
Jacqui Fatka
Love for agriculture was always at the heart of how Mike Johanns, former secretary of agriculture and Nebraska senator, served farmers. He continues to stay plugged into the goings-on of agriculture and remains an advocate for ways to help producers succeed.
Johanns served as agriculture secretary from 2005 to 2007 under the George W. Bush Administration. During his tenure, Johanns opened or expanded access to 40 international markets and was responsible for multiple agricultural breakthroughs as a negotiator for the World Trade Organization's Doha Development Round.
Johanns knows firsthand the importance of trade to agriculture as he represented the President during 32 international trips to advance trade, international aid and food safety during his tenure. As Nebraska's governor from 1999 to 2005 and a senator in 2009-15, he also led trade missions and championed trade agreements with Colombia, Panama and South Korea.
He said, in his experience, foreign governments emphasize how important a reliable chain of supplies is in creating a predictable, dependable partner. "That's what's worried me with trade discussions today," Johanns said, acknowledging that with countries such as China and Mexico, everyone should get a fair shake in trade.
However, he noted, "If we go too far, agriculture is at risk and will pay a price" -- e.g., if one country says you harmed its steel industry, it will hammer your agriculture industry. "Trade operates on a golden rule: Do unto others as you expect them to do to you. With trade, there's almost always a push and pull. If you push, people tend to fall back or push against you. There's never an isolated event in trade," Johanns explained.
During his time as a senator, Johanns also sponsored legislation that eventually was included in the 2014 farm bill to establish an undersecretary for trade at the U.S. Department of Agriculture. Johanns said he couldn't be more excited to see it come to fruition after it was "stonewalled by the past Administration."
Johanns said there will continue to be challenges ahead for agriculture, and it always comes down to the bottom line and remaining profitable. He said it will be important to continue to be more and more innovative.
"We need to think outside of the box and keep in mind some opportunities to innovate, expand, explore, develop and change processes," he said. "We need to be smarter about what we're doing in agriculture."
Johanns has taken on a new role at alliantgroup, a leading tax consultancy in the area of government-sponsored credits and incentives that helps small and medium-sized companies take advantage of an underutilized research and development (R&D) tax credit.
"In the United States, agriculture is a powerhouse because of innovation," Johanns said. "Oftentimes, a farmer or rancher found a better way of doing something. The federal government wants to promote the idea that research and development are good for job creation and our country."
The R&D tax credit is available to any company that designs, develops or improves products, techniques, formulas, inventions or software. If a company has simply invested time, money and resources toward the advancement and improvement of its products and processes, it may qualify.
For anyone who's interested in exploring whether they qualify for the R&D credit, Johanns said it doesn't cost anything to reach out to alliantgroup about whether they qualify. Those inquiring can visit www.alliantgroup.com.
Headquartered in Houston, Texas, and with offices in New York, Chicago, Ill.; Boston, Mass.; Sacramento, Cal.; Orange County, Indianapolis, Ind.; Orlando, Fla., and Washington, D.C., alliantgroup has helped agriculture-based businesses claim more than $500 million in tax incentives. In total, the firm has helped 20,000-plus American companies claim more than $5 billion in government-sponsored credits, incentives and deductions.
Johanns sees his new role with alliantgroup as a chance to bring real economic opportunity to rural America. "During my years of public service, I was committed to supporting small and midsized businesses, and alliantgroup's mission falls perfectly in line with that commitment. Having grown up on a farm in Iowa, agriculture is a personal passion of mine, and I am eager to help this industry grow and stay competitive in the global market. I look forward to helping alliantgroup educate companies on the powerful business incentives available for their benefit," he said.
In addition to his new role with alliantgroup, Johanns currently serves on the board of directors for Deere & Co. and on the board of managers for Burlington Capital and OSI Group. In 2016, he was appointed by the President and confirmed by the Senate to serve a term on the Millennium Challenge Corporation Board.
Subscribe to Our Newsletters
Feedstuffs is the news source for animal agriculture
You May Also Like
---