Fumonisin not expected to be major yearly problem for corn producers
Fumonisin not expected to be major yearly problem for corn producers
More research needed for corn growers and cattle feeders.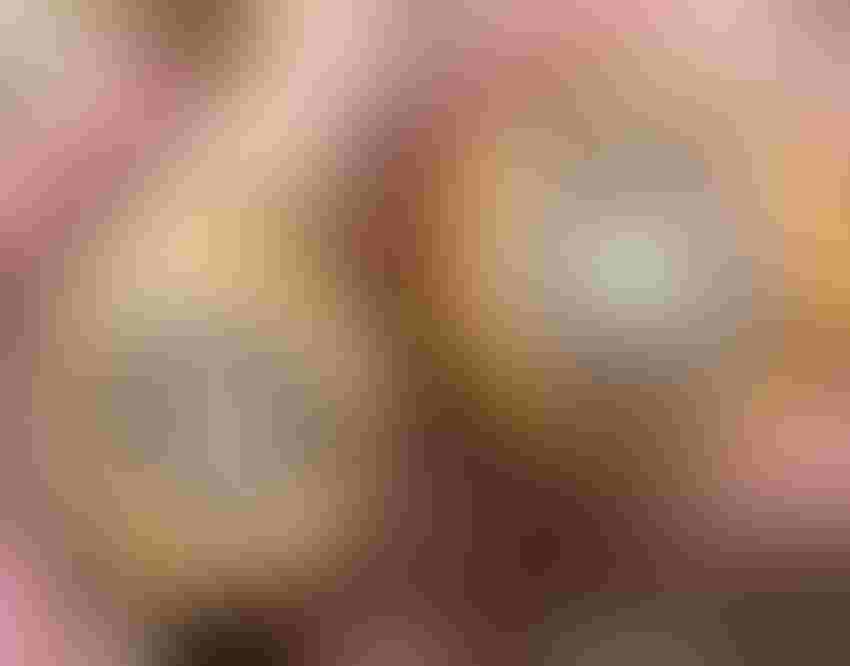 A corn cob broken in half shows silk cut as a result of poor kernel integrity.
(Texas A&M AgriLife photo by Dr. Jourdan Bell)
A "perfect storm" brewed up fumonisin in corn that many High Plains producers won't soon forget, but experts do not think the toxin will be a major recurrence in in years to come due to expected normal weather conditions.
About 80 producers recently gathered in Dumas, Texas, to hear what the Texas A&M AgriLife Extension Service and Texas Corn Producers learned since the outbreak in late September.
Fumonisin is a mycotoxin produced by two species of Fusarium fungi and can be toxic to livestock and humans at high levels, so regulatory limits are set on the amount corn can contain.
AgriLife Extension agronomist Dr. Jourdan Bell said fumonisin occurrence is highly dependent on specific weather conditions, which vary from year to year.
Should producers expect it to return as bad next year? Probably not, Bell said. Weather forecast maps indicate a return to hot and dry conditions next summer and slightly below-average precipitation, which is not good overall for corn but is good news concerning fumonisins.
For fumonisin to develop, the plant must first be predisposed to fusarium ear rot, Bell said. The fungus infects susceptible plants and can result in kernel and ear rot. Later in the season, the Fusarium fungus releases the fumonisin only if environmental conditions are conducive for the mycotoxin to be produced. In some years, it is not uncommon for producers to have Fusarium ear rot but not have any fumonisin produced.
"Many producers have never heard of fumonisin, but we have had varying levels of fumonisin historically," she said. "This year, we just ended up with a perfect storm that increased the incidence. The crop was stressed during flowering with hot, dry conditions, followed by rain and high humidity during grain fill, which favored fumonisin development."
This year was a teaching year that will help producers be better prepared in the future and prompt more research into various areas of concern to help both the growers and cattle feeders face regulations, should they become an issue, she added.
Bell said there are some agronomic steps producers can take to help minimize their risk.
"We know some of the newer 'racehorse' hybrids are having some problems, so when you talk to your seed dealer, make sure you talk about traits such as Fusarium ear rot and heat," Bell said. "Some varieties cannot tolerate drying down in August and September when it is really hot and the kernel integrity is damaged."
Susceptibility increases when kernel integrity issues, insect damage, hail, wind, husk coverage or smut cause stress and act as a doorway to Fusarium infection on the ear, she said. However, ear mold presence does not mean the fumonisin toxin is there.
"The Fusarium fungus needs the correct moisture and amylopectin, or starch, to form fumonisin," Bell said. "Extended periods of heavy precipitation and high relative humidity during grain fill, along with temperatures ranging from 50 to 86°F, are ideal for fumonisin formation. In fact, temperature fluctuations favor rapid development, and we saw that through August and September. That is not normal for the High Plains in August, when our daytime temperatures are in the 90s to even 100°(F)."
Another consideration is smut tolerance, she said. In fields with hybrids that had poor Fusarium ear rot ratings, there seemed to be very high fumonisin levels associated with smut.
"In many areas, we had lots of smut in 2017. Smut can act like a sponge for all the pathogens in that field, so you need a hybrid with high tolerance to both head and common smut," she said. "There are no fungicides to control common smut, and crop rotation and tillage don't help either, so the hybrid is the key. Because head smut can infect the plant systemically, fungicide seed treatments can be effective."
Other considerations for producers include Bt trait selection and husk coverage. Bacillus thuringiensis (Bt) is an insecticidal protein to provide the plant resistance to Lepidopteran insects such as the corn earworm and fall armyworm.
Research by AgriLife Extension entomologists Drs. Pat Porter and Ed Bynum has shown that the level of activity is not the same for all Bt toxins. Also, ears with loose husks allow wet conditions to cause more mold growth on mature ears. Water can get inside the husks and sit there, creating a perfect environment for mold growth.
Texas Corn Producers executive director David Gibson told producers that one change that resulted from the 2017 fumonisin situation is that the U.S. Department of Agriculture's Risk Management Agency reinstated a scale for fumonisin discounts. The scale existed until 2010, then disappeared and now will be back in place for the 2018 crop.
Gibson said the concerns from this year are not over, as anyone who sold corn directly to a feedyard may be getting a letter from the Texas Office of the State Chemist outlining fees and licenses required when selling a feed source into the industry.
Ben Weinheimer, Texas Cattle Feeders Assn. vice president, said the letters are due to a regulation stating that farmers, truckers, brokers and elevators are subject to licensing, labeling and inspection fees if they market direct to an end user.
Also, a Food & Drug Administration guidance in 2001 specifies the levels of fumonisin the industry is to follow when accepting grain, and the Texas chemist office has put these into state regulations. So, the guideline of 60 parts per million isn't negotiable for them; they can just accept or reject loads of corn, Weinheimer said.
However, he said, it is a level they believe needs more research for validation both by the industry and Texas A&M AgriLife because there is not a huge inventory of trial data for fumonisin in feeding rations.
Subscribe to Our Newsletters
Feedstuffs is the news source for animal agriculture
You May Also Like
---