Forage quality a key grazing consideration after March wildfires
Forage quality a key grazing consideration after March wildfires
Fire is not necessarily unfriendly to pastures, but producers need to pay close attention to pasture conditions.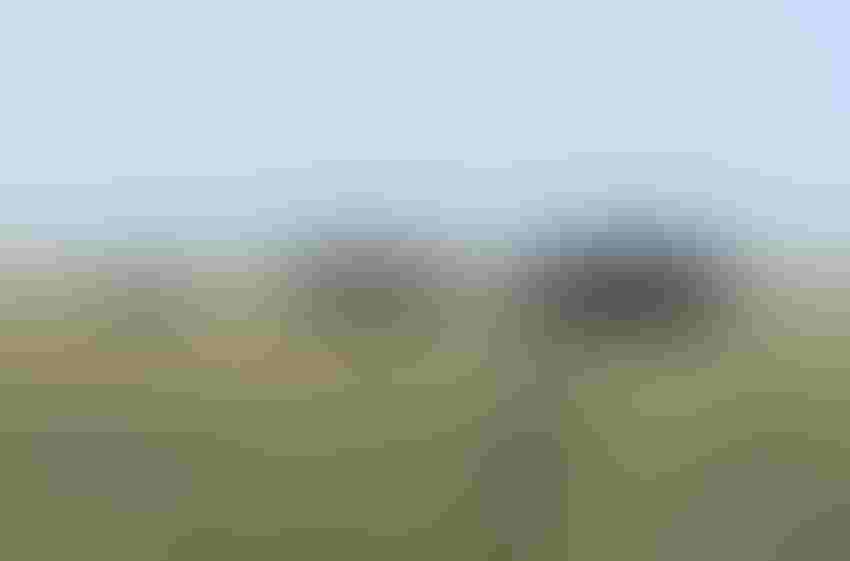 Cattle graze on pasture in the eastern Panhandle.
(Texas A&M AgriLife photo by Kay Ledbetter)
According to Texas A&M AgriLife Extension Service specialist Dr. Ted McCollum, area ranchers headed into the winter months after March's wildfires need to keep three things in mind: precipitation, grazing history and forage quality.
McCollum, an extension beef cattle specialist in Amarillo, Texas, said these three management factors will help producers determine their herd's grazing and nutritional program.
Fire is not necessarily unfriendly, McCollum said, but it can be when it occurs at the wrong time of the year or under the wrong conditions. A fire during the early winter months could have been a lot worse than the fires of 2006 or this year, because they occurred close to the typical timing of prescribed spring burns.
Now, producers need to pay close attention to all of their pastures and what condition they are in to determine the nutritional needs of the herd through the winter, he said.
"How much rain have you gotten? Just because it rains a lot doesn't mean you have great forage quality," McCollum noted. "The more rainfall you have, the more forage you grow and, as a general rule of thumb, the more forage you grow, the lower the quality."
In reality, he said studies have shown that average or a bit below-average rainfall throughout the summer produces better-quality forage.
The second management factor will be grazing history, McCollum said.
Going into the winter months, he said overgrown pasture is more preferable to pasture that was grazed all summer.
"The pasture that has been deferred will have a higher value," McCollum said. "Cattle like to eat leaves instead of stems and green instead of dead and something that feels good in their mouth and certain plants rather than others.
"The deferred pasture has had a chance for grazed plants to regrow and accumulate leaves going into the winter, while the grazed pasture has had the leaves from the preferred plants continually removed going into the winter," he added.
So, it is important to note how much of the preferred plants have been utilized or how much leaf is present rather than stem, he said.
"If you have something that was deferred through the summer, it will be better," McCollum said. "Remember, every day that goes by in the winter months, the forage quality will be lower and lower, because the cattle will graze off the best stuff first."
Fire can improve forage quality and nutritional value in the months following the burn, because it heats up the ground and stimulates microbial activity in the soil, he said. The ash acts as a fertilizer, and the landscape has new fresh growth rather than a mosaic of old and new growth.
"Forage quality after the burn and after a little rain is better than the unburned area," McCollum said. "Cattle grazing on the burned area will gain more weight that first summer, but in the second summer, it all goes back to normal."
He said a pasture that is a mosaic of unevenly grazed plants before a fire starts will be back on a level playing field afterward when everything is green, immature and leafy. So, the immediate response can be good.
A little longer term, though, heading into winter, "when you look at the plants, you will see more seed heads show up early, more reproductive activity," McCollum said. "It's a survival response. For the plant to survive, it goes into reproductive mode, and reproductive growth is lower quality than the vegetative growth."
In general, he said, the forage quality this winter on the burned areas will probably be lower than a normal year.
McCollum said his advice to producers is to keep livestock off a burned area "until your plant vigor and production have had time to recover. In general, it will be at least two years before you will be able to go back to full stocking rates. It all depends on rainfall and grazing management."
He said not to be in a hurry to spray to control weeds, because the function of those forbs is to cover the ground and hold the dirt in place. "They are there for a reason. They may suck up some soil moisture, but you have to make a decision if you want to forgo some of that moisture to keep the ground from blowing," he added.
McCollum categorized the plants in three categories: mass, quality and bonus. Mass includes the primary grass species that account for the majority of the forage produced on an area. Second is quality.
"A lot of these plants we think are bad are actually high quality, and cattle will use them," McCollum said. "You might not think so, but they will eat ragweed, Russian thistle, pigweed, kochia and a lot of little plants that you can't identify. That's a quality component."
The bonus plants, he said, are the annual plants that sprout up if it rains and don't sprout if it doesn't rain. This would include any kind of annual grasses or forbs that come up. He suggested figuring out how to take advantage of it when it is there, but don't plan on it being there all the time.
McCollum said the most important category for those running cattle is mass and how much they can grow.
"As you are evaluating your pastures, learn your plants and what mixture of grasses and forbs you have out there," he said. "If we start early in the spring and look at the nutritional value of the various grasses, you probably won't find a big difference, but they spread apart as they mature and we move into the winter months. The mixture of the grasses becomes an important consideration.
"As you move into the dormant months, those tall grasses produce a lot of yield, but by wintertime, they have relatively low quality," McCollum said. "The shorter grasses, such as blue grama and buffalo grass, will have higher quality."
Knowing what is out there and what role it plays nutritionally will help producers determine a grazing and feeding plan for the winter and also for the future of the ranch, he said.
Subscribe to Our Newsletters
Feedstuffs is the news source for animal agriculture
You May Also Like
---