Forage may lower ruminal acidosis risk
Forage may lower ruminal acidosis risk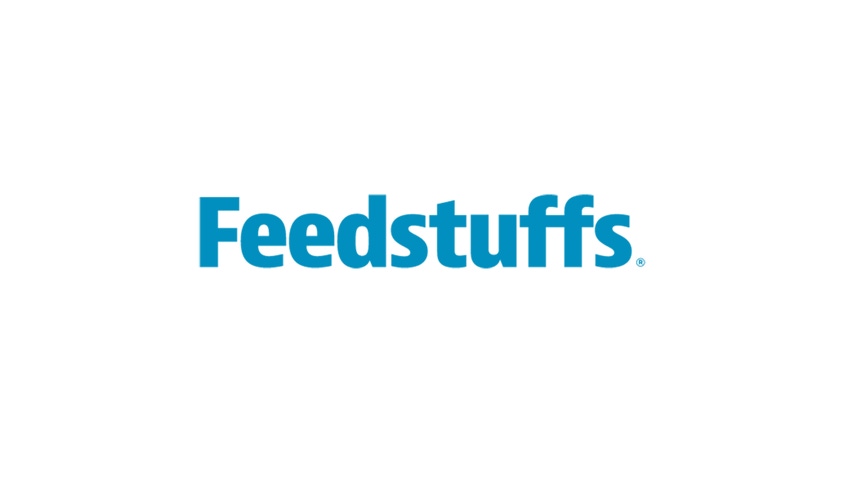 GROWING beef cattle in North America are typically fed high-grain diets with a limited amount of forage to cost-effectively maximize productivity, said K.M. Koenig, G.E. Chibisa and K.A. Beauchemin of Agriculture & Agri-Food Canada's Lethbridge Research Centre and G.B. Penner of the University of Saskatchewan.
At the recent joint annual meeting of the American Society of Animal Science and American Dairy Science Assn., the researchers noted that distillers grains are now commonly fed as part of the concentrate portion of growing rations, lowering the amount of fermentable starch in the diet and the potential risk of ruminal acidosis.
Koenig et al. conducted a study to determine the effects of varying the concentration of forage in barley-based diets containing distillers grains on feed intake, growth performance and carcass traits of feedlot finishing cattle (abstract 1565/poster M279).
The researchers stratified a uniform group of 160 crossbred beef steers according to initial bodyweight (349.7 kg) and randomly allocated them to 20 pens — five pens of eight steers for each of four treatments.
The treatments contained barley silage at 0%, 4%, 8% and 12% of diet dry matter. The remainder consisted of 80%, 76%, 72% and 68% barley grain for the four respective diets, 15% corn dried distillers grains plus solubles and 5% supplement (monensin at 28 mg/kg of diet dry matter). The diets were fed as a total mixed ration for ad libitum intake (minimum of 5% orts) once per day.
Koenig et al. said cattle were weighed on two consecutive days at the start and end of the experiment and on one day every three weeks throughout the 124-day experiment.
There was a trend (P = 0.10) toward a linear increase in dry matter intake by steers fed an increasing percentage of barley silage, the researchers reported, but there was no effect (P > 0.05) of the barley silage treatments on final shrunk bodyweight (612.7 kg), average daily gain (1.86 kg per day) and carcass traits.
Feed efficiency linearly decreased (P < 0.05) with the increasing percentage of barley silage.
Increasing the proportion of barley silage in a barley grain-based diet with distillers grains may reduce the incidence of subacute ruminal acidosis, but feed conversion efficiency also is reduced, Koenig et al. concluded.
Regarding ruminal acidosis, Chibisa, Beauchemin and Penner said, based on past research, there are indications that an increase in salivation could possibly compensate for a potential decrease in acid removal from the rumen via epithelial absorption during a bout of ruminal acidosis (abstract 1566/poster M280).
However, they said there is limited information on whether similar changes in the relative contributions of salivary bicarbonate and passive and/or facilitated absorption of short-chain fatty acids (SCFAs) to pH regulation occur when the dietary forage content is altered.
Chibisa et al. conducted a study to determine the effects of feeding a low- or high-forage diet on ruminal fermentation, salivation and SCFA absorption. Eight ruminally cannulated cattle were used in a crossover design with 49-day periods.
The treatments were barley silage at 30% (low forage) or 70% (high forage) of dietary dry matter. The diets contained 45.3% and 30.9% starch and 26.4% and 38.3% physically effective fiber (dry matter basis), respectively.
On day 35, ruminal fluid was collected to determine SCFA concentration. Ruminal pH was continuously measured from day 29 to day 35. Eating or resting salivation was measured by collecting masticate on days 39 and 40 or saliva samples on days 42 and 43, respectively. On days 42 and 43, the temporarily isolated and washed reticulorumen technique was used to measure total absorption and chloride-competitive absorption (an indirect measure of protein-mediated transport) of acetate, propionate and butyrate.
The total ruminal SCFA concentration and osmolality were higher (P < 0.02) in cattle fed the low-forage diet than the high-forage diet, Chibisa et al. reported. Additionally, feeding the low-forage diet resulted in a longer (P = 0.02) duration and a larger (P = 0.05) area for which pH was below 5.5.
Although there was no diet effect on total and chloride-competitive SCFA absorption, eating salivation was lower (P = 0.02), whereas resting salivation tended to be lower (P = 0.10) in cattle fed a low-forage diet, the researchers said.
Chibisa et al. explained that the lower ruminal pH in cattle fed the low-forage diet compared to the high-forage diet could be attributed to the increase in SCFA production and decrease in salivation, which were not compensated for by an increase in SCFA absorption.
Prairie conservation
Carefully managed cattle grazing can improve weed control, plant health and plant diversity on native prairies, according to anecdotal evidence from Washington State University (WSU). However, no systematic study has attempted to track the effects of managed grazing on native prairie plant communities in western Washington, an announcement added.
WSU researchers, in partnership with the U.S. Department of Defense and the nonprofit Center for Natural Lands Management, will study how "working landscapes" might support habitat conservation goals.
Much of Washington's remaining native prairie lands are in the southern Puget Sound area, including on the Joint Base Lewis-McChord (JBLM) in Thurston County, Wash. These prairies support a diverse array of plant and animal species, including the native golden paintbrush, Taylor's checkerspot butterfly and the Mazama pocket gopher, which was recently listed as threatened under the federal Endangered Species Act.
These prairies are the focus of the Sentinel Landscape pilot project — a federal, local and private collaboration intended to preserve agricultural lands while restoring and protecting more than 2,600 acres of public and private prairies and wildlife habitat, WSU said.
At the same time, the $12.6 million project — funded by DOD, the U.S. Natural Resources Conservation Service and the U.S. Fish & Wildlife Service — will reduce restrictions to military training activities on JBLM land.
"This is a unique partnership between agricultural and conservation professionals looking to improve productivity and conserve species," said Lucas Patzek, director and agriculture faculty member of the WSU Thurston County Extension. "It's part field research to study how we might be able to integrate native plant species into working livestock operations, ... and it's part outreach."
The three-year study includes plots on Fred Colvin's 550-acre black and red Angus cattle ranch. Fencing and research plots were set up last fall to measure differences between excluding cattle and allowing them to graze.
Certain fields are managed to improve native plant diversity and cover, while others are managed for a mixture of non-native species such as orchardgrass and tall fescue, the announcement said.
"They're trying to figure out whether cattle can be part of a commercial operation plus help as far as the prairies are concerned," Colvin said. "Frankly, if you don't have ag on these prairies, you might as well write the prairies off, because what's the other alternative use? Forestry? That won't work. Pavement? I'll tell you the pocket gopher can't live under pavement."
As the Sentinel Landscape project moves forward, Colvin wants to be sure the landowner's needs — the ability to have a productive and profitable farming operation — are a priority.
Managing intensive grazing. To introduce producers to the concept of integrating livestock with prairie habitat conservation, Patzek developed a unique, three-part course on managed intensive grazing.
Colvin and more than 60 other participants who took the course learned about the importance of designating areas for livestock to graze when native plant pastures are dormant and deferring grazing during critical growth periods of the native species.
It's too early for results, but Patzek expects to find that, through prescribed management, cattle will selectively graze non-native perennial grasses that limit the establishment and growth of native species. He also expects that cattle hoof action will more readily return organic matter to the soil and promote seed contact with soil for improved rates of germination of native plants like golden paintbrush.
It can take a couple of years for native plants to get established, so Patzek expects the research to continue as part of a long-term restoration and management project.
Volume:86 Issue:38
Subscribe to Our Newsletters
Feedstuffs is the news source for animal agriculture
You May Also Like
---