Farmers file class action lawsuits over dicamba losses
Farmers file class action lawsuits over dicamba losses
Suit alleges company sales representatives encouraged improper off-label use.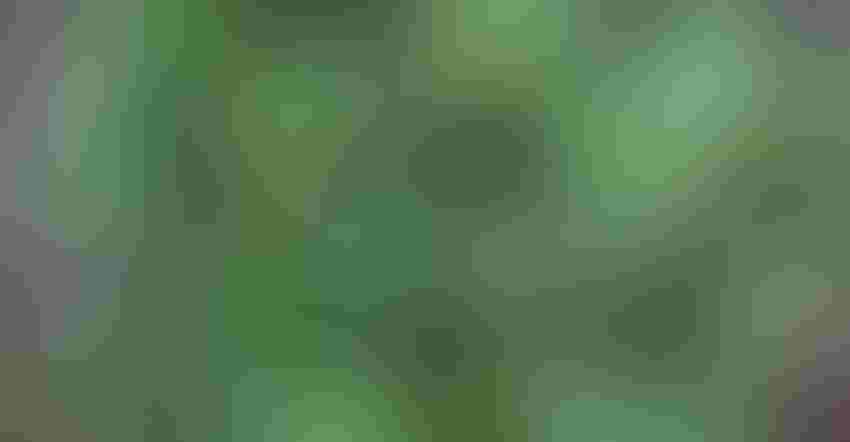 Pictured are soybeans which have experienced dicamba spray-drift damage.
Farm Progress - Mindy Ward
Farmers in Arkansas, Mississippi, Missouri and Tennessee are suffering losses to their crops, and dicamba drift appears to be responsible. As a result, many farmers have filed lawsuits seeking compensation for their losses.
Monsanto and BASF are the companies approved to sell the herbicide dicamba, which was developed to help combat weeds that have become troublesome to manage.
Dicamba is a powerful and volatile herbicide that has a tendency to drift. For this reason, dicamba was not approved for on-crop use until late 2016, after Monsanto and BASF developed new formulations of the herbicide that would be less prone to drift.
However, despite these new formulations, complaints of dicamba misuse are up in Arkansas and neighboring states. One possible explanation is that many farmers still use the old formulations of dicamba (brand names: Banvel, Diablo, Oracle and Vanquish), which are not approved for on-crop use. Another theory is that the new formulations of dicamba are no safer than the old ones.
While local authorities have leveled some fines against farmers who misuse dicamba, these fines often run just $200-1,000 — a meager number that pales in comparison to the damage done by dicamba misuse. (In some cases, the culpable party only received a warning.) Farmers affected by dicamba drift could lose an estimated 10-30% of their annual crop yield.
Because the fines are minimal, and because Monsanto and BASF are unlikely to face criminal charges, many farmers in Arkansas and neighboring states have filed lawsuits seeking restitution for the damage done to their crops.
According to the Purdue University Plant & Pest Diagnostic Laboratory, signs of dicamba crop damage may include twisted leaves, upward cupping on leaves, narrow, strap-like leaves on the youngest growth and aboveground roots on the stems of some annual flowers.
The class action lawsuit filed in federal court in St. Louis, Mo., accuses company sales representatives of giving farmers assurances that using unauthorized, or "off-label," spray varieties would be all right.
Arkansas, Tennessee and Missouri had instituted dicamba bans, whereas Missouri later lifted its ban to require certain specifications on how it could be used. According to the department, farmers can apply dicamba between 9 a.m. and 3 p.m., but only if winds are less than 10 mph. The ban on using or selling older forms of the herbicide remains in place.
Brian Naber, U.S. commercial operations lead for Monsanto, said the company continues to hear from many farmers across many states that its dicamba product and overall weed management recommendations are delivering clean fields without incident. He said in Illinois for example, where 10.4 million soybean acres are planted, roughly a third of the acres are Roundup Ready 2 Xtend soybeans.
"A key to this success is stringently following the application requirements for this new dicamba technology," Naber explained. "When farmers and applicators follow these instructions, they work. Consider, for example, that in Georgia, where a large number of cotton acres are planted and sensitive crops like peanuts, vegetables and legumes are popular, there have been virtually no reported claims to date. Farmers were required to participate in programs where they received robust training in the use of our product."
Altogether, Monsanto has trained nearly 50,000 farmers and applicators across the country. BASF reportedly has trained another 15,000 applicators. "I think it is telling us that the rigorous training done by the state of Georgia and the industry following the label recommendations is working," Naber said.
Arkansas, alone among the 34 states where Monsanto applied for a state label, did not approve XtendiMax. "As a result, we were not able to help train growers in the use of approved products in that state, and by a wide margin, Arkansas leads the country in complaints, with about 700," he added.
Subscribe to Our Newsletters
Feedstuffs is the news source for animal agriculture
You May Also Like
---