Did cancer announcement affect bacon demand?
Did cancer announcement affect bacon demand?
Relative value of bacon dropped roughly 26% after IARC cancer report.


The International Agency for Research on Cancer (IARC) released last October a report designating processed meat as carcinogenic. While the announcement garnered a lot of media coverage, the actual market impact hasn't been assessed.

Oklahoma State University food and agricultural economist Jason Lusk recently assessed daily reporting of pork primal composite values by the U.S. Department of Agriculture's Agricultural Marketing Service (AMS) but said it is probably impossible at this point to conclusively identify whether the IARC report caused a shift in demand.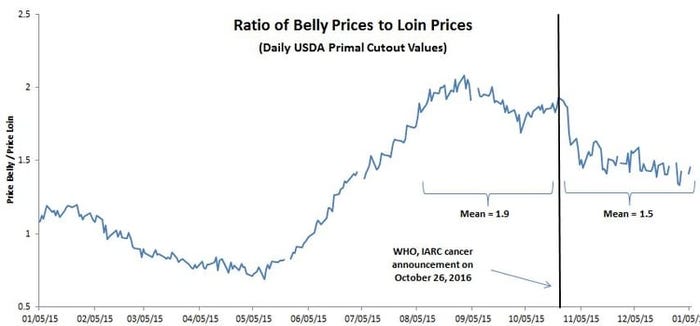 Source: Jayson Lusk
"Rather than just looking at what happened to the prices of bacon (or, rather, pork belly) in isolation, it is probably useful to look in relation to another cut that may be less affected by the announcement," he explained. "I chose the pork loin. This is an attempt to control for any changes over time happening on the supply side (the quantity of loin from a pig is, at least in the short run, in fixed proportion to the quantity of pig belly)."
Lusk calculated the ratio of pork belly prices to pork loin prices over the past year and graphed the price ratio before and after the IARC announcement (Figure 1). 
In the few weeks before the announcement, Lusk said pork bellies were selling at 1.9 times the price of loins. In the few weeks after the announcement, bellies were selling at only 1.5 times the price of loins. Thus, there was roughly a 26% drop in the relative value of bacon, Lusk said.
"At this point, I'd be hesitant to say that the IARC announcement is THE cause of this change, but the large immediate drop just following the release date is suggestive of some impact," he said.  
Lusk also said the decrease was clearly not a seasonal decline since a graph of the same prices from August to December in 2012, 2014 and 2015 showed a sharp drop on Oct. 26, 2015, that did not occur in the other years (Figure 2).
Subscribe to Our Newsletters
Feedstuffs is the news source for animal agriculture
You May Also Like
---