Derecho storm damage estimates rising
Derecho storm damage estimates rising
USDA Risk Management Agency revises Iowa cropland affected by storm higher to 14 million acres.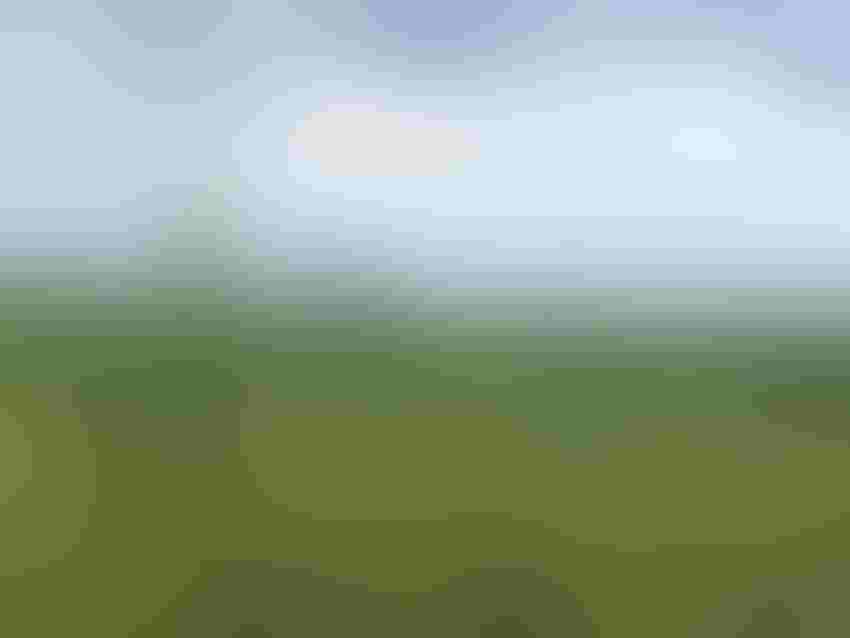 USDA Photo by Jeremy Davis
The number of Iowa cropland acres affected by Monday's derecho has been revised higher to 14 million acres, the Iowa Soybean Assn. (ISA) reported Friday after receiving an update from the U.S. Department of Agriculture's Risk Management Agency (RMA). Early estimates had suggested 10 million acres.
The new Iowa total includes 5.64 million acres of soybeans and 8.18 million acres of corn.
ISA also noted that USDA is estimating total Midwest acres affected at 37.7 million acres.
RMA has reported 58,000 policy holders affected, with a liability of around $6 billion.
ISA said RMA is urging farmers to expedite the filing of loss claims with their agents as the rule for claims is that they must be filed within 72 hours of identifying loss. However, allowances are being made for those unable to communicate due to disruptions in telephone/communications services.
Iowa Gov. Kim Reynolds said during a press conference on Friday that she has been in contact with state agriculture officials and stakeholders.
"It is unbelievable the damage that we're seeing, and how widespread it is. It's significant…beyond significant," Reynolds said.
In Marshall County, the crop destruction was county wide, she said, adding "I've never seen anything like it."
The storm that lasted up to 14 hours and covered more than 770 miles "was basically a forty-mile-wide tornado with wind gusts up to 140 miles per hour."
ISA president Tim Bardole, who raises soybeans, corn and pigs with his family in Iowa, met last week with Vice President Mike Pence to discuss challenges farmers are facing, including the damage from the storm.
Bardole told Pence that his family farm had dealt with tornados, ice storms, flooding and droughts, but that nothing compared to the devastation their farm incurred from the derecho.
"Never before has the damage been so widespread. Every square inch of every acre of every field was impacted. My soybeans have significant hail damage. My corn crop is flattened, with damage so significant that there may not be anything to harvest."
After three tough years in agriculture stemming from trade impasses, renewable fuels attacks and the COVID-19 pandemic, Bardole said the storm makes it hard to remain optimistic.
"And it wasn't just my crops. I found one of my vehicles smashed, augers and fertilizer tenders destroyed and hog buildings damaged," he said.
Bardole told Pence that he and his father have leveraged balance sheets to "the breaking point" to support the farm through these obstacles, adding "this cannot continue in perpetuity."
"I urge the Administration and all elected leaders to be mindful of this disaster in America's breadbasket and to consider the impacts of domestic policies that either burden our markets or allow us to farm efficiently and provide for our families and communities."
USDA announced Aug. 12 the availability of assistance for agricultural producers in the Midwest affected by the recent severe weather.
"Our agricultural producers provide Americans and consumers around the world with such abundance, it's critical that we stand with them when confronting disasters like the derecho that has devastated so many in America's heartland," said Bill Northey, USDA under secretary for farm production and conservation.
Iowa State University Extension & Outreach agronomist Mark Licht reported that Iowa's corn is currently in the milk dough, or maybe even early dense stages, of reproductive development, which means plant recovery is "very, very minimal."
As such, anything that is horizontal will likely stay that way, he explained.
The biggest thing farmers need to be thinking about is how the crop is going to get harvested, he said.
"It's going to be stressful on the operator, but it's also going to be stressful on the machines themselves."
He said farmers with livestock will need to determine in the coming weeks whether they can feed it green out of the field or make it into silage.
As for the rest of farmers, the future for the corn depends upon the damage. Corn that is root lodged will continue to fill grain but will not develop as well while corn that has pinched or broken stocks will have reduced grain fill. There is also potential for rot or mold
Assessment will determine whether a farmer harvests it for grain or uses it for forage, he said.
Iowa secretary of agriculture Mike Naig said he had seen a variety of damage as he toured the state.
"We've seen everything from a crop that's completely flat, a crop that's bent over, and everything in between, some of it all in the same field. This will truly be a situation where we'll have to kind of wait and see what the next few days and weeks bring. Ultimately when folks get into the field this fall, we'll know the full extent."
However, he pointed out that well over 90% of Iowa farmers carry crop insurance, urging them to file claims with their insurance providers.
"That's not something that ever makes a farmer whole, but it is an important safety net, an important risk management tool, and a lot of folks will be dealing with those and working through that process this year," Naig said.
Overall, there are a lot of compounding issues that farmers are having to work through as they head into fall and even look ahead to 2021, he said.
Subscribe to Our Newsletters
Feedstuffs is the news source for animal agriculture
You May Also Like
---