Corn growers point blame at Mosaic for high fertilizer costs
Corn growers point blame at Mosaic for high fertilizer costs
Farmers could find soaring input relief If the anti-dumping and countervailing duties were removed.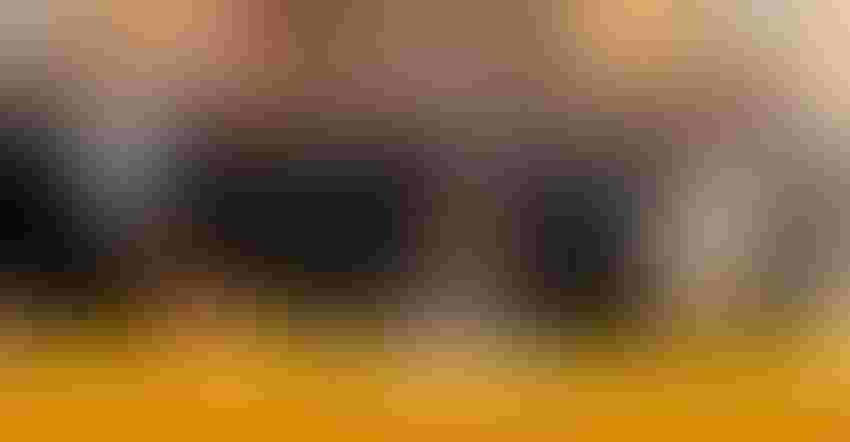 SPEAKING OUT: National Corn Growers Association President Chris Edgington continues to sign the alarm about fertilizer companies' role in high fertilizer prices. The latest action comes in a signing of a letter by state corn affiliates seeking the removal of the tariffs.
NCGA
Leaders from the National Corn Growers Association and its state affiliates sent a letter to one of the nation's largest fertilizer producers taking to task the tariffs that were imposed in March at the request of the fertilizer company. Fertilizer prices have since skyrocketed, and NCGA continues to make noise about the fertilizer market situation.
Since 2020, all nitrogen fertilizers are now more than double in price: anhydrous is up by 131% and urea by 110%. Potash is up by 120%. In October of 2021 alone, the price of anhydrous fertilizer jumped 26% from the previous month to levels not seen since 2008. Urea increased 21% from the previous months, and the price of potash is now 13% higher, according to a letter to the Department of Justice seeking an investigation into the fertilizer price hikes.
The letter to Mosaic says the company has erected an "insurmountable tariff barrier" to keep its top competitors out of the U.S. market at the expense of America's farmers since the tariffs were imposed in March by the U.S. International Trade Commission.
"Mosaic's posture to date has been a masterpiece of irresponsible corporate social responsibility," the letter says.  
Related: DOJ investigation sought for fertilizer price hikes
The letter highlighted the stranglehold Mosaic has placed on its customers and suggested the company's monopoly is creating serious problems for farmers.
"…only 15% of phosphorous imports now come into the U.S. without tariffs," the letter notes. "And experts say that using Commerce and ITC to manipulate the supply curve does indeed dictate price to farmers."
To illustrate their point, the corn grower signatories say estimates show that tariffs between 30% and 70% on phosphate imports would equate to roughly $480 to $640 million in added fertilizer bills on U.S. farmers.
Sen. Chuck Grassley, R-Iowa, also sent a letter to Attorney General Merrick Garland calling on the DOJ to investigate concerns raised by farmers. In an industry with limited participants, fertilizer companies have the means available to manipulate the price farmers pay, he says.
"The DOJ should initiate an investigation of the fertilizer market so that farmers across the country can have assurances that there are no violations of U.S. antitrust law in the fertilizer industry," Grassley writes to Garland.
Chris Edgington, NCGA president, says, "Fertilizer tariffs are placing an incredible financial burden on American farmers. There is no reason that corporations like Mosaic Co. and CF Industries should be using the government to expand their monopolies at the expense of farmers. That's why we were so grateful that Sen. Grassley met with us, listened to our story and then took immediate action."
Mosaic asked to reverse course
The corn growers say that now is a good time for Mosaic to reverse course.
"We ask that you voluntarily withdraw your countervailing duties and allow critical supply back into the U.S. at a time of inadequate supplies and soaring phosphate prices," they explain.
In an interview with Ben Pratt, Mosaic senior vice president of government and public affairs, says if countervailing duties were driving fertilizer prices domestically, you would see higher prices in the United States compared to other world markets. "And that's not the case either. The price of phosphates certainly is high, and it has risen sharply, and we empathize with farmers about that. But farmers in Brazil are paying the same prices as farmers in the United States and there are no duties on Moroccans or Russians there."
"One of the reasons that phosphate prices are so high right now is because the prices of materials that we use to make them are all high," Pratt adds. Ammonia, for instance costs $200 per ton of fertilizer as a raw material.
Shelby Myers, American Farm Bureau Federation economist, details how there are too many factors to count on what's driving fertilizer prices higher and higher. However, if the anti-dumping and countervailing duties were removed, it would provide a level of relief to farmers.
"Price increases, especially price increases that can be mitigated or avoided, such as the application of import duties, can have an impact on a farm's bottom line. Imports are an important part of the fertilizer supply to farmers. The application of the duties that are potentially in effect for five years, with the possibility of extension, will result in a continued constricted supply and an imposed higher price for users," Myers says.
Myers says she expects fertilizer prices to remain high through springtime, which may compel some farmers to shift planted acres away from corn to commodities that use fertilizer at a lower rate, like soybeans or wheat. "With the price of ammonia about 85% correlated with the price of corn, farmers must consider whether the increased cost of fertilizer and other inputs can be recovered by cash receipts from crop revenues in order to break even," she says.  
Preserving critical minerals
A group of seven Republican senators wrote a letter to U.S. Geological Survey Acting Director Dave Applegate urging him not to remove potash from the U.S. Geological Survey, Department of the Interior 2021 List of Critical Minerals and to add phosphate as a critical mineral.
The letter says in part, "We write to you to strongly urge you not to remove potash from the U.S. Geological Survey, Department of the Interior 2021 List of Critical Minerals and to add phosphate as a critical mineral. As you are aware, we are facing a serious supply shortage of fertilizers for our farmers and ranchers leading to prices more than doubling for potash and phosphate fertilizers. Nothing is more core to national security than food security, and without fertilizer, American agricultural yields will quickly suffer and so too will Americans who have long enjoyed affordable food prices."
The letter was signed by Senators John Boozman, R-Ark., Grassley, John Hoeven, R—N.D., Mike Braun, R-Ind., John Thune, R-S.D., Roger Marshall, R-Kan., and Tommy Tuberville, R-Ala.
Jacqui Fatka, long-time policy editor at Farm Futures, will bring her valuable agricultural policy insight to the stage of the Business Summit in Iowa City, IA Jan. 20-21, 2021. Featuring industry experts and in-depth training sessions, it's an opportunity to gain clear insights for a profitable future. Use code BOGO22 to receive discounted rate for a guest. Learn more and register now! 
Subscribe to Our Newsletters
Feedstuffs is the news source for animal agriculture
You May Also Like
---