CFTC chairman Massad resigns
CFTC chairman Massad resigns
Massad listened to agricultural producers and processors; Giancarlo will work toward "smooth transition" to chairman.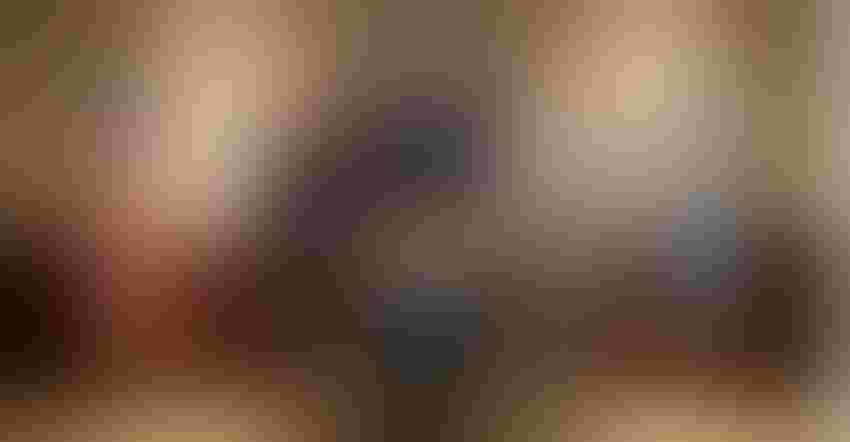 Pictured in the chair is outgoing CFTC Chairman Timothy Massad. Behind him (from left to right) are Commissioners Sharon Bowen, Scott O'Malia (who previously left the agency) and Chris Giancarlo who will take over the chairman position upon Massad's departure.
CFTC
Commodity Futures Trading Commission (CFTC) chairman Timothy Massad announced that he will step down on Jan. 20. His term as commissioner was due to expire in April. The move paves the way for Republican commissioner Chris Giancarlo to take the lead at CFTC and gives President-elect Donald Trump one more commissioner slot to fill when he comes into office.
"I came to the CFTC with a number of priorities, and I am proud we have made significant progress in every area. We have largely finished implementing the regulatory framework for swaps and have concentrated on the areas posing the greatest risk to the financial system. We have taken many actions to make sure commercial businesses can continue using the derivatives markets efficiently and effectively to hedge routine commercial risk and engage in price discovery," Massad said in a statement regarding his resignation.
House Agriculture Committee chairman Michael Conaway (R., Texas) thanked Massad for his work at the helm of CFTC, noting, "During his confirmation process, he committed to listening to the needs of farmers and other traditional hedgers, and I am happy to have watched him follow through on that pledge. Both as chairman and as sponsor of the Agricultural Advisory Committee, Tim has given agricultural producers and processors a seat at the table and offered them meaningful input in the rule-making processes."
Giancarlo is the sole Republican commissioner left, with Democrat Sharon Bowen. Giancarlo said he and Massad have discussed the importance of a "smooth transition," and he expects to work closely with the CFTC staff in the coming days to ensure this outcome.
Ahead of the holidays, agriculture industry groups again highlighted the need to quickly fill the CFTC vacancies with individuals well versed in agricultural commodity markets and issues.
"We respectfully request that President-elect Trump, with the consent of the U.S. Senate, ensures the CFTC has at least one commissioner with a background in, and familiarity with, issues important to production agriculture and agribusiness. We appreciate your consideration," the groups said in a letter to Vice President-elect Mike Pence.
The letter notes, "While derivative markets have grown beyond agricultural commodities and the CFTC's regulatory footprint has been expanded, the agricultural futures markets remain as vital and integral to our farmers, ranchers and businesses as they were before the financial innovation that led us to today's derivatives markets."
With Massad's departure, there will be three commissioner positions open.
Subscribe to Our Newsletters
Feedstuffs is the news source for animal agriculture
You May Also Like
---