Building exports priority No. 1 for Vilsack at USDEC
Building exports priority No. 1 for Vilsack at USDEC
Former Agriculture Secretary Tom Vilsack discusses his goals as he plans to embark on his new role as CEO of the U.S. Dairy Export Council.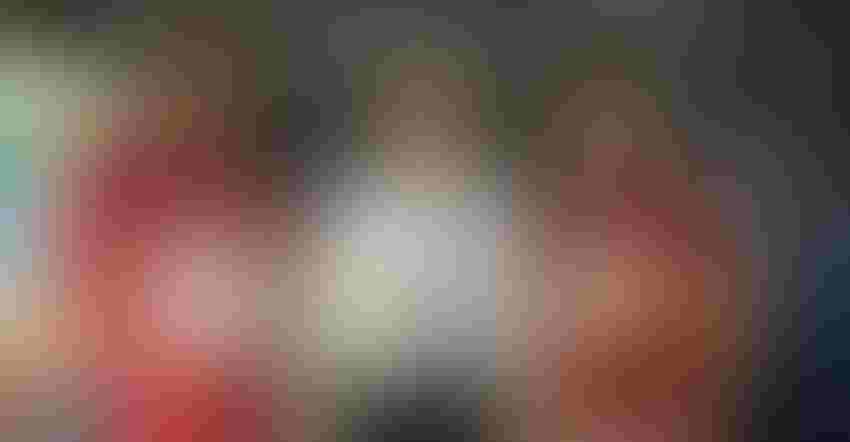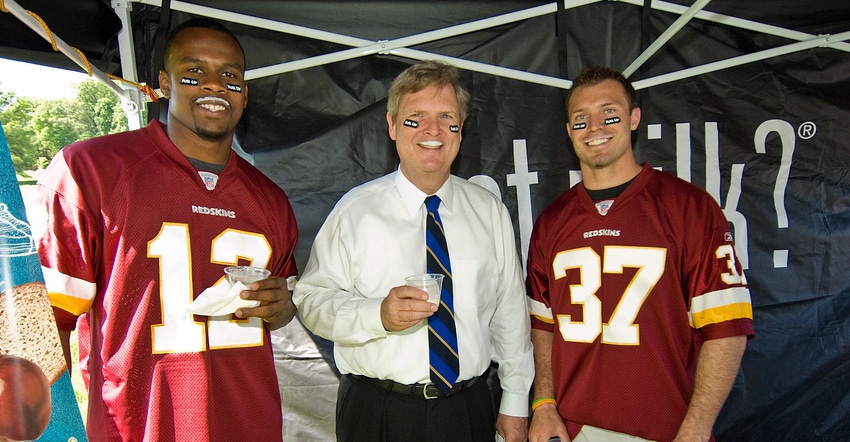 Tom Vilsack will continue to do a lot of milk promotion in his new role as president and CEO of U.S. Dairy Export Council. Pictured he is with National Football League Washington Redskins wide receiver Malcolm Kelly (left) and safety Reed Doughty (right) displaying their milk mustaches at a 2010 promotion event.
USDA
Dairy farmers see the announcement that former Secretary of Agriculture Tom Vilsack will be leading the U.S. Dairy Export Council (USDEC) as a "shot in the arm and shot of hope" for a struggling dairy industry, according to Tom Gallagher, chief executive officer of Dairy Management Inc. (DMI), the umbrella organization that represents the broad interests of U.S. dairy and that founded USDEC in 1995.
Gallagher hosted a media call Tuesday morning shortly after the news became official of Vilsack's new position at the export council. He noted that Vilsack brings credibility with other countries, a deep knowledge about U.S. agriculture and great relationships that already have been established around the world.
During the call, Vilsack did most of the talking in embracing his new role, which he sees as a continuation of being able to advocate on behalf of farmers. That role first started when he was a small-town lawyer in Iowa, then his two terms as governor of the state before spending his last eight years in the top position at the U.S. Department of Agriculture.
Vilsack said his main focus at USDEC will be to promote exports as well as to be a voice for the dairy industry generally. He said he's excited to see markets maintained and demand increased for products in Mexico, Southeast Asia and Canada.
The dairy industry has been vocal in recent weeks in calling out protectionist trade actions by Canada as well as the need to support trade. Vilsack reiterated those messages in the media call, again saying that the goal is an open and competitive market.
"We can compete with anyone as long as the rules allow greater access," Vilsack added. He said USDEC will continue to shed light on barriers, including sanitary and phytosanitary, whether they exist, and it will do everything it can to bring down those barriers.
Mexico, which imported nearly $1 billion worth of U.S. dairy products in the first 11 months of 2016, shows that the relationship needs to continually be maintained as there was a slight decline in overall sales to the country. "We've got a tremendous product that is safe, stable and affordable and a wide variety," Vilsack said. "Our goal is to work with our customers to understand the full scope of what's available."
He said the goal throughout the entire dairy industry it to continue to be increasingly sensitive to demands of different markets and then promote aggressively.
He added that USDEC's team works very closely with the U.S. Trade Representative's Office and the Foreign Agricultural Service at USDA. He said USDEC is constantly on the lookout to identify any regulatory barriers and to state clearly that any such barriers need to be taken down. He also mentioned that USDEC is "extremely sensitive to geographic indicators" that the European Union imposes on the rest of the world.
Vilsack does have some ethical restrictions on the role he can play with the executive branch over the next two years, but once those requirements expire, he will be more involved in the leadership and oversight in advocating for the removal of those barriers.
During his tenure as agriculture secretary, he regularly spoke about some of the struggles facing U.S. dairy producers and need to potentially re-tweak the next farm bill to address some of the shortfalls. Although he said he'll leave the policy formulation up to the policy team, he added that will be "supportive and weigh in" when necessary.
Vilsack will assume the role of president and CEO at USDEC on Feb. 1.
Subscribe to Our Newsletters
Feedstuffs is the news source for animal agriculture
You May Also Like
---