Ag secretaries: More food education, focus needed
Ag secretaries: More food education, focus needed
Five most recent agriculture secretaries featured in a panel discussion at Iowa Hunger Summit.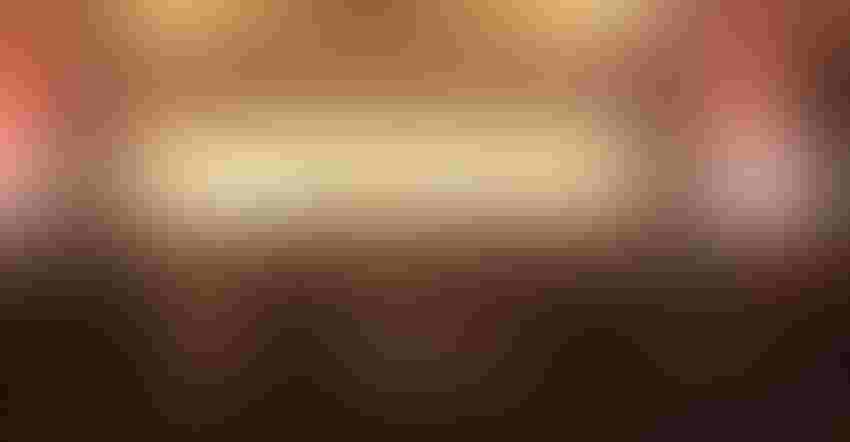 Iowa Hunger Summit Twitter Feed
There's a growing recognition that the U.S. health system needs to get away from just treating an illness and move toward using food and government funding to empower consumers to make better food decisions. This was a featured discussion Oct. 16 by a panel of the five most recent agriculture secretaries at the Iowa Hunger Summit in Des Moines, Iowa.
The bipartisan conversation was moderated by World Food Prize Council of Advisors member secretary Tom Vilsack, with secretaries Dan Glickman,  Ann Veneman, Mike Johanns and Ed Schafer. Among the topics discussed were access to nutritious and safe food, the future of the Supplemental Nutrition Assistance Program (SNAP), restricting SNAP benefits and able-bodied work limits and the importance of the food and farm coalition.
"We need to take a holistic approach to combating hunger," Johanns said.
More people are dying of non-communicable diseases like heart disease and diabetes than communicable diseases, and that is a major shift in the world, Veneman said. "If we don't pay more attention to nutrition and not just hunger, we will continue to see it as a global problem."
Veneman said a new proposal in the upcoming farm bill looks at individuals with serious health conditions and provides medically prescribed nutrition. She said the potential of food as medicine could enhance SNAP benefits to increase the impact on one's health.
Veneman added that it is important to look at what has happened to the health of this country largely as a result of people being overweight. Currently, the government doesn't coordinate very well the nutrition money that is used as part of the school lunch program, the Women, Infants & Children program and food stamps. "It should be an integrated government issue," but that's not the way the government is designed, authorized or assigned, she explained.
The former secretaries also each voiced their opinions on whether the government should restrict SNAP purchases for items like soda or high-sugar or high-calorie items.
Johanns told about a time during his tenure on the Senate Appropriations Committee when someone added a resolution that would prohibit SNAP from banning a specific food item. "All of a sudden, we were deciding what are the best food items, but (there was) no science-based discussion," Johanns said. Instead, the decision was based on one senator who wanted to secure market share for a product in his state.
During the budget process or farm bill discussions, the last thing talked about is any money left over for a pilot education program. "I think we're short on educating people on what good food choices are," Johanns stated. He said pilot programs, or even nationwide use, would show demonstrable results if they give consumers good information on what to do with their diet. In most cases, he thinks they would make good decisions, especially if their resources are limited.
Johanns added that a certain amount of restriction on applicable items is warranted, but if anyone believes they're going to solve the entire problem with broad restrictions, they are not. "You have to build in an educational approach" to give people proper understanding of how to make good decisions regarding their family's diet.
Another topic of discussion was able-bodied workers who receive SNAP benefits. Johanns said he anticipates it continuing to be a point of discussion as the next farm bill debate picks up. "As policy-makers start sorting through this, I see more and more pressure to put additional work or training requirements," he added.
Who's driving food conversation?
Vilsack said coordination is one of the problems that tends to separate today's farmers from the food industry. "By failing to connect food and agriculture together in the same phrase, we limit the ability to say it is the most significant industry we have," he said, noting that 23 million jobs are the result of food and agriculture -- significantly higher than any other sector of the economy.
Glickman said he previously believed Walmart was the most powerful entity of agriculture; today, it's the consumer.
Referencing the popular line from "Field of Dreams" in the context of agriculture, he said it used to be, "If we grow it, they will buy it." However, today's consumers are turning that saying on its head. Instead, consumers get to decide whether they want it, if they like it, if it looks good or if it's produced without pesticides or genetically modified organisms. "Agriculture is going to be more consumer-driven than it has in the past," Glickman said.
Subscribe to Our Newsletters
Feedstuffs is the news source for animal agriculture
You May Also Like
---